Smartphone batteries tend not to go for longer than a day, and Apple's iPhone 6 is no exception, but the latest case from accessory maker LifeProof isn't just about pushing the battery life, but also about protecting the phone from danger.
Features and performance
Few people out there leave carry their iPhone without some form of protection, and that's because these phones — like so many others out there — can succumb to the odd scuff, scratch, fall, or even break. No one wants it to happen, but making a phone as good looking as the iPhone look less attractive doesn't take much, and it usually happens without thinking.
Cases can help with this area, however, and whether the case has been designed to look pretty or be more than that with some function over form, a smartphone external chassis can do a lot to keep a $1000 pocket supercomputer looking as good as the day you removed it from the box.
These aren't created equal, though, and for those looking for something that offers protection from the elements, a few choices exist. One of these choices even comes with a battery built into its casing, providing an extra charge while protecting the phone itself.
That's what we're looking at in the LifeProof Fre Power, an external case made from plastic and rubber that doesn't just aim to offer ruggedisation and resistance to liquids, but also packs in a 2600Ah battery to recharge the iPhone when need be.
The case itself features the Apple Lightning dock connector to plug into, and is custom designed for the iPhone 6 specifically, modelled on LifeProof's "Fre" case, but with the battery built into the back element and increasing the thickness of the case.
Ruggedisation is there from the design, with the casing certified for military standards on drop resistance for drop of up to two metres, while the Fre Power case also supported IP68 certification, meaning it is dust-proof and water-resistant for up to 2 metres of fresh water immersion for up to an hour.
A screen protector is built into the case, offering scratch resistance for the iPhone 6's 4.7 inch display, while a small piece of soft plastic sits above the home button allowing you to use the Touch ID fingerprint sensor through the screen protection.
On the back, you'll find a button to start the battery recharge when the phone is plugged in, with the battery supporting an "auto-stop charge" feature that automatically cuts out the battery power when the iPhone 6 reaches 100%, with four small LED dots above the recharge button informing you of just how much life the battery has left in it.
Charging the Fre Power up happens by way of the microUSB port at the base of the smartphone case, which is also protected with a small plastic door on a hinge that can lock in place to protect the port from liquids. Apple iPhones can also be synchronised through this microUSB port when they are docked with the Fre Power.
Also protected from liquids is the 3.5mm headphone port, which has a small screw-in port stopped in place. If you need to plug a pair of headphones in, the case of the LifeProof Fre Power is probably a little too thick for your ordinary headphones and its ordinary headphone jack, so the company includes a 3.5mm extender that screws into place, allowing you to quickly plug in any headphone. Alternatively, you can keep the 3.5mm headset jack closed up and rely solely on Bluetooth for your audio needs, though you will need a pair of Bluetooth headphones.
Now that the specs and features are out of the way, we can get stuck into the review, because the most important question on a battery extending case is does it work as advertised?
There are obviously quite a few of these out there, and having just checked out the Mophie equivalent, we're keen to get our hands on another variant that offers something like this, but without as much emphasis on pocket resizing.
And by pocket resizing, we mean something that is comfortable to sit down in. Most of these cases come with the same or similar price tags, so pocket changes are a physical thing, not a wallet thing in this instance.
After spending some time with the LifeProof Fre Power, we can tell you that this doesn't do much to reduce the inflated size of your pocket when you add a battery case, providing a more bulky iPhone to carry, unless of course you have large pants, and in that situation, it will be harder to notice.
Despite this, LifeProof's Fre Power does score some wins over its major rival which are worth noting.
One of these is obviously the casing, providing more ruggedisation compared to the none offered in the majority of its competitors. We're still not game to do lots of drops for the iPhone 6, but this at least feels more protected than without any casing, than without any plastic screen protectors.
In fact, the LifeProof Fre Power is so resistant, it can be hard to get the case off when you're trying to.
So far, the best way we've found to release the top section from the bottom is to place a key in the few parts that don't join up and flip it up, the force of which usually forces the top section up and lets you disconnect the top from the bottom, prying it apart.
Over to the battery built into the unit, and here you'll find a day of charge is offered by the Fre Power for the iPhone, and it does a pretty good job of delivering it.
That means if you're struggling to get a full day out of your iPhone 6, you'll get that easily, and if you already get that full day, you can supersize that to two.
We're also liking what LifeProof has done with the battery as it only powers on when you tell it to, done so by holding down on the charge button on the back of the unit, with the iPhone 6 taking in as much as it needs before cutting the power off and leaving the battery reserve to be what it is.
For people who would rather recharge from 40 or 50%, they'll find a return to 100% will keep some battery charge left over for when they need to squeeze every ounce of life left from the Fre Power, which could be especially handy in emergencies.
One thing the Fre doesn't have going for it is comfort, because no, it's not a very comfortable case, especially if you have particularly slim or skinny pants.
While other battery bases offer a large battery in a slick soft almost circular extension case of their phone, the LifeProof Fre is a little different, with a slimline battery mounted to a case that can survive a bit of pressure.
There's a thick plastic exterior with rubberised elements reinforcing the edges, a small screw out mechanism blocking up the 3.5mm jack, and some clear plastic covers for the camera and flash, as well as one for the screen, so that's protected, too. The fingerprint reader under the home button even works here, so that doesn't get lost to the extra casing.
Your comfort will, however, and there's no comfortable way to shove this thick plastic iPhone case in your pocket easily unless you have fairly relaxed or baggy pants. Backpacks will be fine, as will handbags, but so many bottom garments won't find this comfortable with an almost tripling of the thickness.
At least your phone is protected though, and protected from the odd drop, as well as the odd fall into water, which is more than most of the battery packs can claim.
One other point we feel we should make is that after water immersion, you may find a little bit of water has seeped in.
It's not much, and we suspect it won't reach anything particularly dangerous, but it did seem to enter the microUSB port area that had been closed up.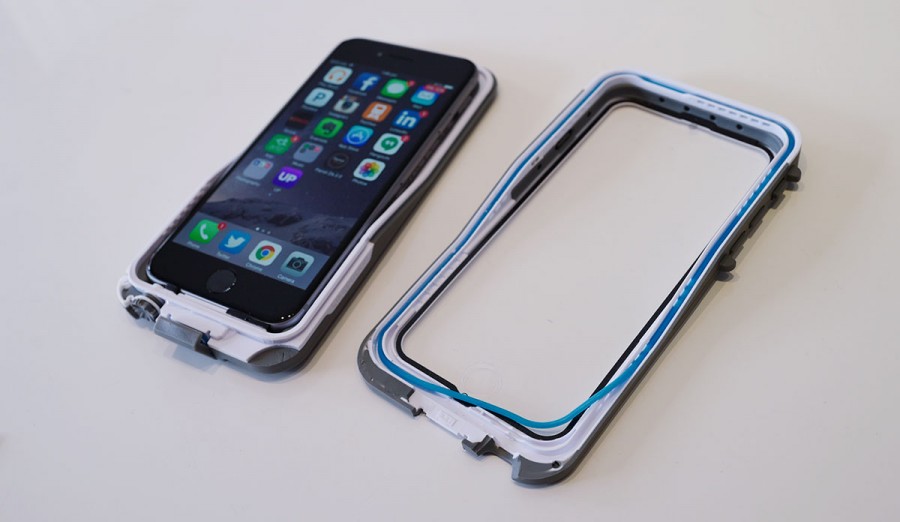 Again, it's not a lot, but should be worth checking out, when you eventually open and close up the case, because it's not the only thing you'll need to check, as the rubber blocker inside the case can fall out and will need to be pushed back into its recess to make the LifeProof Fre Power stay resilient to liquids.
Conclusion
LifeProof's take on the battery-based smartphone case market hits a win with us in the iPhone 6-specific Fre Power.
While it won't be comfortable for all to keep in the pocket of a pair of pants, if you're at all concerned about your iPhone taking a leap onto asphalt or losing power mid-way through the day, this is one case you'll want to check out.
Protects your phone from falls and the elements complete with a screen protector; Packs in a battery good for an extra day of charge; Adds a microUSB port to the iPhone 6, offering synchronisation through a more readily found standard; Battery case charges through microUSB;
Uncomfortable to keep in your pocket; Easy headphone jack access goes out the window, though a 3.5mm extender is included;