The OWC USB-C Travel Dock Gen 2 supports up to 100W of pass-through power and has the expansion ports you need when travelling.
The OWC USB-C Travel Dock Gen 2 has HDMI 2.0, 2 x USB-A 3.1 Gen 1 (5Gbps), SDXC card reader and at up to 100W power USB-C power passthrough, so it works with devices up to 15" MacBook's and Window's laptops.
We put the OWC USB-C Travel Dock Gen 2 through its paces and happily report it lives up to OWC's great name and standards.
OWC USB-C Travel Dock Gen 2 with 100W power pass-through
Note this is not the Gen 1 with 60W power pass-through
Website here
Price: $104.99 plus freight from MacFixit
Warranty: 2 years
Why a dock or dongle?
Most modern PCs and Macs have USB-C. It is a step up from USB-A and carries power, data and video. If you need to know what USB-C, Thunderbolt and PD charging is (and you will) read our Dummies Guide here.
So, to add one external monitor or extra USB-A ports, you can get away with a lower cost self-powered dongle (that means the computer provides the downstream power).
But to do much more, you need a dock. This mini-dock uses 8W. Power Pass through means just that – it sends the balance (92W) power upstream to the PC.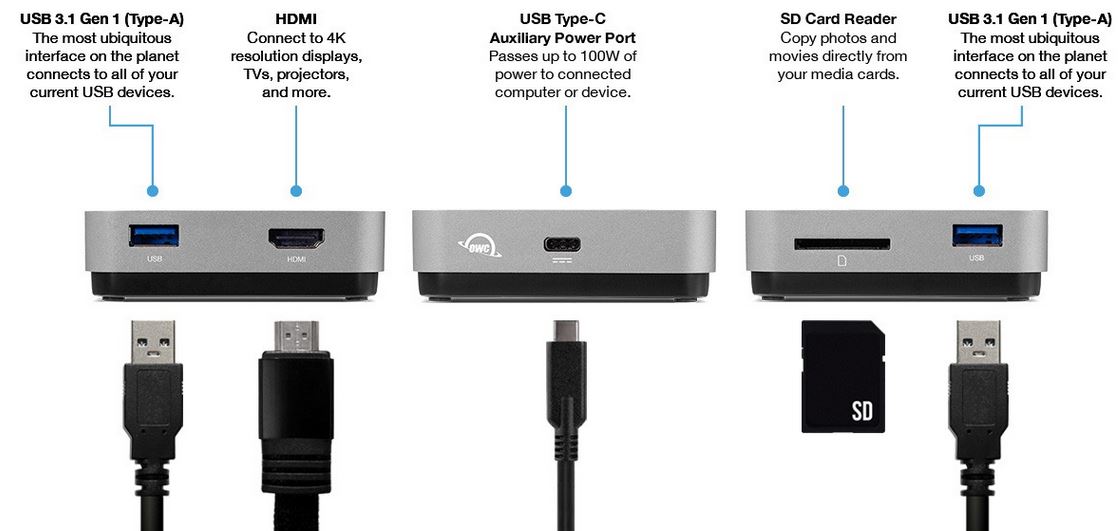 HDMI – EXCEED
It supports one [email protected] (or lower resolutions) via HDMI 2.0. We also tested with a [email protected], and it was fine.
USB-C – EXCEED
It will also work with Thunderbolt 3 devices, so it's a low-cost way to add some dock functionality.
APPLE support – EXCEED
To enable support for the Apple Super Drive, Apple USB Keyboard, and charging for iPad 1/2/3 generation devices on the dock's USB ports, install the Dock Ejector application for Mac.
SDXC card support – EXCEED
Supports SD, SDHC, and SDXC media cards. Compatible with UHS-II (Ultra High Speed). Can achieve speeds up to 156MB/s (SDHC) or 312MB/s (SDXC).
Smartphones as well – EXCEED
If your smartphone supports OTG, then you may be able to use this to add a =n external monitor, keyboard and mouse (tested with Samsung Galaxy S10 but most brands should be fine).
Build – EXCEED
OWC makes good gear, and this is a keeper. We like the stowable cable.
GadgetGuy's take – OWC USB-C Travel Dock Gen 2 is now part of my travel kit
I have been using a variety of lower-cost dongles but beginning to see the limitations, especially with Thunderbolt 3 Window and Mac devices.
This solves a lot of angst and provides just enough expansion for a traveller or a desk jockey. And adding smartphone support is the icing on the cake.
Premium build and construction
Flexible – smartphones, tablets and laptops (including the new Surface Pro 7)
Stowable cable
None really – may be an Ethernet port?