So many laptop bags follow the same design, with a zipper along the front following the arch of a bag and opening up the main bag, but STM's Drifter takes on a different approach, and if you've ever admired how backpackers can bring everything, you can too with an STM take on the category.
Features and performance
We're all carrying different gadgets with us all the time — phone, tablet, laptop, camera — and many of us are reliant on more than just the technology that goes with us from place to place, with a need to carry clothes and bits and bobs.
All of this takes up space, and our luggage can only carry so much, so wouldn't it be nice if there was a laptop bag that offered protection for the work computer and space for everything else?
STM thinks it might have the answer in a neat little bag called the "Drifter", a concept that appears to take the design of a typical backpacker piece of luggage and shrinks it down to something a little more usable.
Looking at the Drifter, it's easy to see how we make the connection to a backpacker piece of luggage, the traditional hiking bag which is tall, lanky, and generally offers space for someone keen to pack deep into the cavity of a long bag.
The STM Drifter is like this, with three obvious horizontal zips on the front of the bag, suggesting space along the front, while a zip sits at the back and top to let you open the main cavity of the bag and get your goods inside.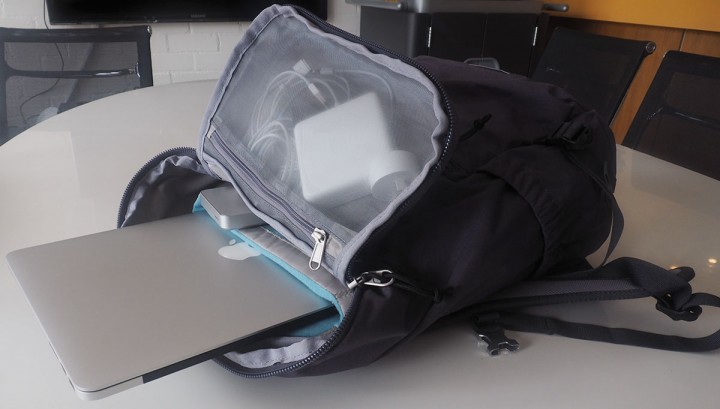 Open this up and you'll find a space for a 15 inch laptop, a smaller tablet, some accessories, and then a cavity for larger items, such as clothes and shoes, or anything else you'd normally want to carry. We've been using it with a camera, a virtual reality headset, and a tablet or two recently, with space to spare in the test of this backpack.
The laptop and tablet section have been lined with a soft fleecy lining, too, meaning tablets and phones thrust into these areas shouldn't be easily scratched, with the soft fibre protecting displays almost as if they were surrounded by a fleece cloth.
Fabrics used inside here are relatively strong polyester, with a capacity inside the backpack to hold roughly 18 litres of goods (luggage tends to be measured in litres, similar to fridges, though we wouldn't necessarily fill this bag with water, as it's not made for this).
Some nice touches can be found in this bag, too, such as the inside zip compartments that offer space for cables and computer accessories, with one of these able to fold out and have the zipper become the top, making it easy to get those spare bits and pieces out without any issues.
Close it up and you can look to what is on the outside, with the top and bottom exterior zip compartments offering more fleece-linings for your precious bits, while the middle one keeps the polyester there, ideal for things you know won't get scratched and won't worry if they do.
But three flat compartments and one large inside one isn't all this backpack has to offer, with three more thrown in for good measure.
On one side of the backpack, you'll find a small compartment, zipped up for something small — say keys or a snack — while the other side caters for a large water bottle, essentially providing you with the food and drink to go side of the backpack.
Interestingly, the water bottle holder doesn't have the usual elastic pull cord to keep the water bottle secure with, though it does present itself with a deeper cavity than we normally see, one that should hold your drink without any problems.
In fact, we had no problems holding a very large 750ml bottle, with it staying in the STM Drifter as we walked across town.
The last remaining section is definitely one worth writing about, and that's the inclusion of an all-weather rain padded section.
Found at the very bottom and underneath the bag, you'll find a zipper protecting an elasticated-nylon raincoat for your backpack, connected by a small stretch of fabric and easy to pull out and apply if you need it in a pinch because it's raining outside.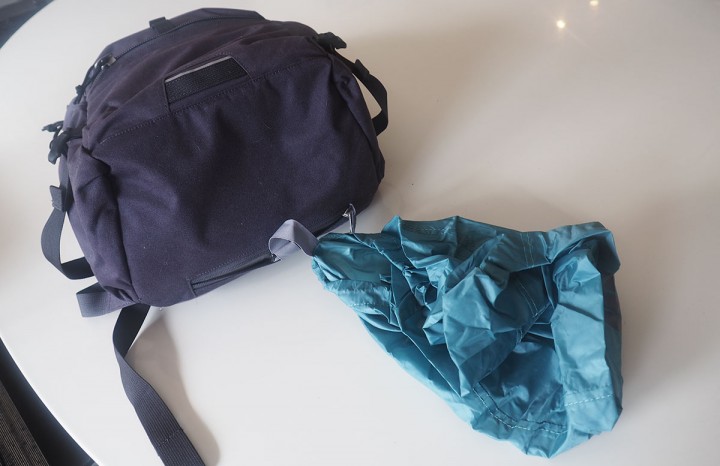 All-weather inclusions aren't provided with all backpacks, so it's nice to see one here, out of the way and in a section at the bottom that can be zipped up, instead of just being forced to be flat packed into and held in place with velcro, as we so commonly see things.
Unfortunately, we never had to use this side of things, and when we threw our luggage inside, we were lucky enough to make it through our test with only a spot of rain, none of it heavy enough to warrant the use of the all-weather cover.
If anything, STM's Drifter is a breath of fresh air in the whole backpack design game, borrowing the look of a backpacker's staple design and applying it to the world of laptop bags, with a slim padded laptop area, a soft lined area for a tablet, and enough room for anything else you plan to throw in, such as shoes and clothes for heading to the gym, or with our gadget heavy needs, space for excess computers, cameras, and the large amount of headphones we generally keep with us.
Loaded up with our 12 inch Surface Pro 3, an Apple iPad Air 2, Sony Xperia Z3 Tablet Compact, and several types of gadgets, the backpack was fairly stocked and relatively well weighted, with a honeycomb mesh on the back providing basic padding to separate your muscles from what's going on inside the pack.
When we say basic, however, we mean it: STM's choice in back padding is thick, easily noticed, and pushing quite heavily against the top of the back muscles. You get used to it, you do, but it's one of the first backpacks where it didn't feel as if our body wasn't conforming to the shape.
Perhaps with time we'll see a more comfortable fit for heavy packing, but it's certainly not there in the first week or so of use.
One thing we did note was the stitching, with one pocket up top losing its stitching quickly in use, possibly because our little tidbits were flexing the material a little too much.
It's not a major issue, though is something worth pointing out, and even though we started flexing the other areas excessively to see if they were strong — they certainly appear to be — the inside of the zipped areas may fray a little, so check them out to see if anything is happening.
Conclusion
STM's Drifter may not appeal to all with its backpacker-esque style, but those of you carrying gear for both work and play will find something to like, especially because of how it has all been put together. Definitely worth a look.
Unique laptop bag design; Quite a few pockets; Zippers feel quite strong; Includes an all-weather rain cover at the bottom; Fairly light;
Stitching in some of the pockets can tear easily; Back padding won't really shape to your back quickly, so can take some time to get used to; Not a style all will like;