Everyone has a different take on what a laptop should be, especially in the world of touch-devices, but what if you could have a machine that was part laptop, part tablet, and part all-in-one desktop?
That's the premise with Acer's Aspire R7, an experimental concept that tries to deliver the best of every PC world available today.
Features
Part laptop, part all-in-one desktop, the Acer Aspire R7 is one of the more intriguing concepts to come out of Acer's R&D labs.
Encased in an aluminium shell, this machine is the first to use an idea Acer calls the "Ezel" hinge, which is a new long metal hinge that marries a 15.6 inch Full HD In-Plane Switching ten-point touchscreen to a laptop base in a unique way.
Unlike most computers that feature the hinge solely at the rear of the computer and allow for a clamshell type of open and closing, this hinge sits in the middle of both the screen and the computer to allow the screen to be positioned in several ways.
For instance, you can flatten the screen against the body for a big tablet experience, or you can set the screen up at an angle behind the keyboard to create a similar look to an all-in-one desktop computer.
There's the option of raising the screen from a tablet point of view and turning it into a desk where the screen and keyboard are both visible, and you can even press the screen against the back of the hinge and turn the R7 into your basic clamshell laptop. Or you can skip the computer experience altogether and flip the screen backwards so that you have a 15.6 inch screen to watch movies on.
Ultimately, the Ezel hinge presents every hybrid form-factor in one device, including the laptop we're all familiar with, tablets like the iPad (albeit a bigger and thicker one), and even the hybrid pop-up screen machines build by LG and Sony.
There's also a third-generation Intel Core i7 processor here (Ivy Bridge), paired with an impressive 12GB of RAM, NVidia GeForce GT750M graphics card with 2GB video memory, and a convention 1TB hard drive with 24GB of solid-state storage working alongside.
Windows 8 is the operating system of choice here, which should work nicely with the big touchscreen, but you do get a trackpad mouse if you're more about precision.
Interestingly, the trackpad and keyboard have flipped locations in the Aspire R7, with a keyboard at the bottom and the trackpad up top, reversed from what you normally find on laptops these days.
While the R7 isn't an Ultrabook, there's still no optical drive here, but you do receive a decent amount of connectivity regardless, including a full-size SD card slot, two USB 3.0 ports, one USB 2.0 port, HDMI, headset jack, and a "converter" port that makes it possible to make up for LAN or a VGA port. Wireless is also here in the form of 802.11 a/b/g/n, with Bluetooth catered for in version 4.0.
As is the norm these days, a webcam is included at the top of the screen, and there's even a Kensington Lock at the back of the machine in case you feel like tying this model down.
A metal stylus is included in the package.
Performance
Solving the question of what type of computer you want has never been harder than it is these days. There are laptops, tablets, and computers that combine both without any problems.
Then there are the desktop replacements which afford you the ability to take high-powered computing on the go with you, but in a slightly smaller form factor.
And then there are all-in-one computers, which generally take the innards of a laptop and throw them into a big screen that sits on your desk. You won't take this last one with you, but the form-factor is so stylish and sleek these days that you won't care.
Interestingly, Acer's Aspire R7 is a new concept that tries to blend all of these into one product.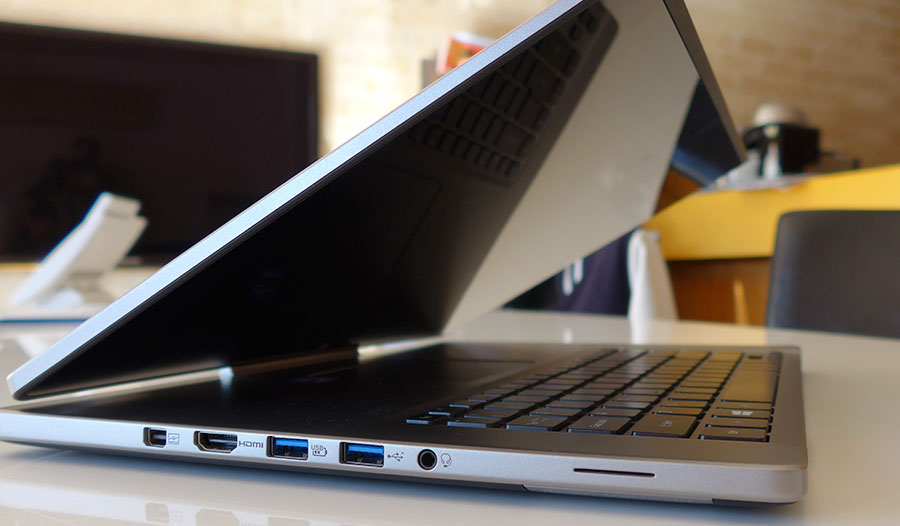 To do this, Acer has had a long hard look at how the laptop is designed, and changed one of the basic properties: the hinge.
With Acer's specialty Ezel hinge, a notebook can be redesigned and pushed into a variety of form-factors whenever the user wants it to.
Outside of this, there's still a Windows 8 computer working underneath, with the position of the screen changing around it.
For the operational side of things, Acer is using an Intel Core i7 from last year's set of processors, also known as Ivy Bridge. Our system was clocked at 2GHz which should be more than enough for most people, with a decent notebook graphics solution also included from NVidia.
One impressive specification is the 12GB of memory, which is between 4 and 8GB higher than most of the competition.
Even with these impressive specs, the system does feel a touch slow, with apps loading after a second or two of waiting, though it's not likely to be enough to concern most people.
The slowdowns tended to be in the Windows desktop mode, with Windows 8 apps flying, multi-tasking working perfectly, and there being no problem running multiple tabs in Google Chrome.