One of the first Ultrabooks to be announced last year, the Acer Aspire S3 aims to bring simplicity, speed, and solid state storage for a little over fifteen hundred. Does it succeed, or is it a little too simple for its own needs?
Features
Designed to be thin and stylish, the Aspire S3 continues the trend of metallic simplicity that started when Apple first unveiled its MacBook Air. The S3 features a brushed aluminium lid, with the rest of the body made up of grey plastic.
Thirteen inch laptops seems to be the main type of Ultrabook coming out, and the Aspire S3 is no different. This laptop features a 13.3 inch LED backlit screen showing a resolution of 1366×768.
Like many of the Ultrabooks being released, the specs are pretty much standard fare. For our review Aspire S3, this included a 1.6GHz Intel Core i5 processor, 4GB RAM, and a 256GB solid state drive with a little under 200GB available to you.
It shouldn't be a surprise that Windows 7 takes much of this up, with Windows 7 Home Premium 64-bit the operating system of choice out of the blue.
Wireless connectivity includes 802.11 b/g/n WiFi and Bluetooth 4.0, while wired options feature two USB 2.0 ports, one HDMI, and an SD card slot.
A 1.3 megapixel webcam is included with microphone, as well as a combined headphone and microphone 3.5mm port. Sound is provided from two speakers and the battery is a 3-cell.
Performance
Starting the computer up for the first time, you can really see the Core i5 and solid-state drive work hard, bringing the machine out from a cold boot and into Windows in under thirty seconds.
In fact, it was 22 seconds from powered down to Windows and a little over a second to bring the computer back from standby, proving just how quick the combination of parts can be, something we'd expect in an Ultrabook.
The look of the Aspire S3 is fairly subdued, and it's a look we like. Like the MacBook Air, brushed metal looks excellent, although on the S3, it's mostly a look. Instead of keeping with an all-metal body, Acer has only used metal on the display list, going with plastic for everything else.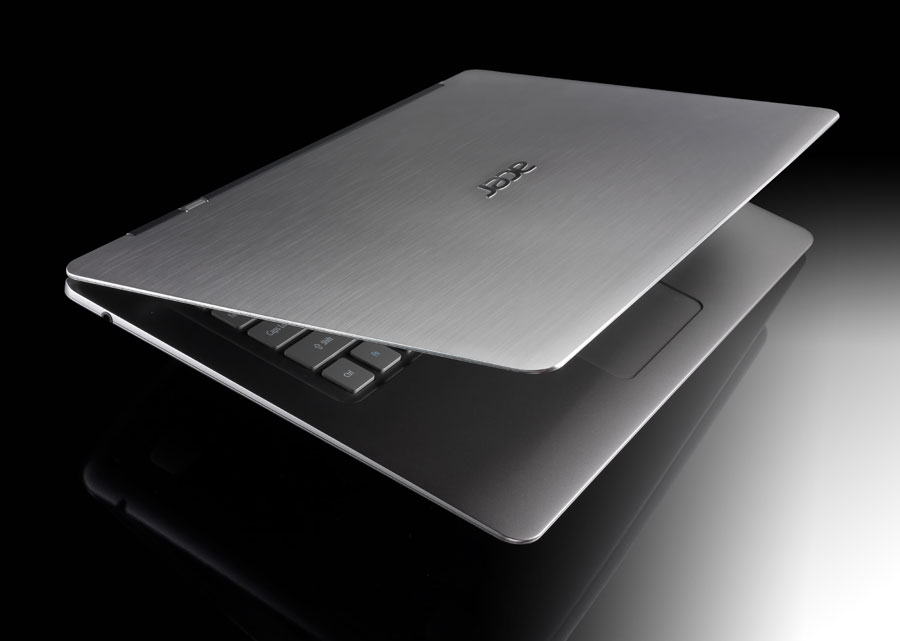 While we're a little concerned about the durability of the machine, comfort appears to have won out, the plastic providing a comfortable wrist rest.
Out of the few Ultrabooks we've reviewed, the S3 also wins points for having one of the better keyboards thus far. You don't need a heavy touch with the Acer, the keys making a satisfying click with every press – light or hard.
It's fairly obvious that the button-less trackpad has been inspired from the laptop mice Apple uses on its computers, although it's also nice to see that Acer hasn't forgotten about right clicking either. Multitouch gestures like pinch-to-zoom and two finger scrolling do work, though it seems to take a second or two for the drivers to notice what you're doing and respond.
Battery life is fine on the S3, managing around five to six hours for surfing the web, checking mail, social networking, and doing the odd bit of image editing. Acer says seven hours are possible, but we think you'd have to limit yourself to mostly word processing to achieve that sort of life.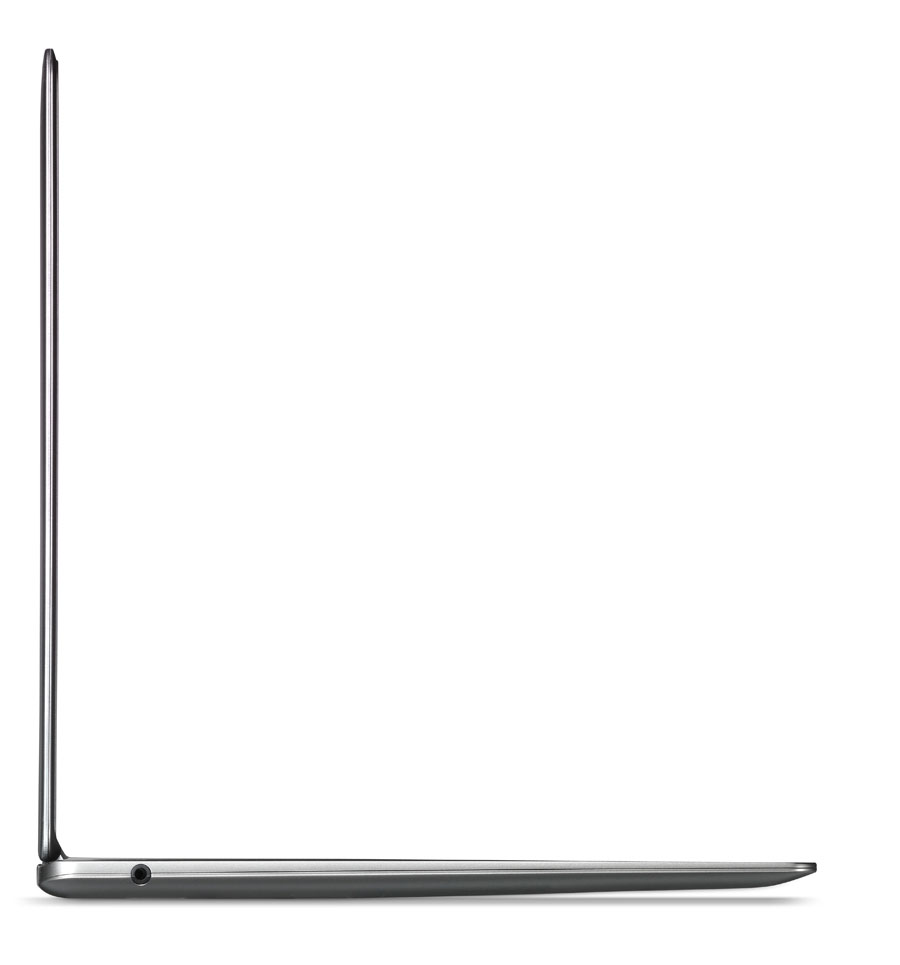 While it's not all perfect, the Aspire S3 manages to deliver in most areas. There are some places, though, where we're particularly fussy on, and that's where the Acer misses out on features its competitors have in spades.
For instance, while Toshiba, Apple, and Dell are all releasing Ultrabooks with backlit keyboards, the Aspire misses out, forcing you to go without typing in darkened environments.
Connectivity isn't really up there for being future proofed either. Acer has left you with two USB 2.0 ports and one HDMI, but that's really all there is. While most Ultrabooks have USB 3.0 and Ethernet, we're left wanting in the S3.
You also get an SD card slot, a nice touch, although one that is left hampered due to the fact that it's a half-height slot, forcing you to leave an SD card half stuck out of your machine. We must admit, we're not thrilled with the concept of having someone accidentally brush the card and break it while it's inside our computer. We might even accidentally do it.
Acer's choice of screen isn't the best we've seen either, being adequate for most purposes, but still feeling a touch too reflective for our needs. Typing in our well-lit office, we could easily see the reflections of trees and light behind us. The resolution on offer isn't the best either, offering a fairly standard 1366×768 HD-capable screen. We've certainly seen higher and Acer could have done a little better here.
There's also a lot of movement from the screen when you type, shuddering and shaking as your fingers deliver the presses to each key. A stronger hinge would have helped here, and we worry to think what will happen in turbulent environments including an aeroplane cabin or bus.
Interestingly, the Aspire S3 is the first computer we've seen in a long time that lacks a Kensington Lock port. Maybe Acer thought the S3 would be carried with the buyer all the time. Whatever the reason, you can't lock this laptop down with one of the Kensington products.
Conclusion
While there's a lot to like about Acer's debut Ultrabook, it's not all perfect. Most of the issues we've highlighted are easily ignored, and at $1599, it's $200 less than the Apple equivalent. Windows users after a good deal will probably be pleased with Acer is offering here, but it's not perfect.
Keyboard is very comfy to type on; Clean and simple look;
SD card slot is only half-height and leaves cards sticking out; No backlit keys; No USB 3.0; No Kensington lock; Screen shakes... a lot;