Every man, his dog, and their subsequent company has a Bluetooth speaker, and this is an area that has big growth at the moment. There are budget options out there, and then there are better options with better sound and design, and without a doubt, Harman/Kardon's Esquire fits that bill.
Features
Harman/Kardon's Esquire speaker isn't your typical speaker.
While most Bluetooth speakers seem to be built in a cylindrical chassis, the Esquire goes for a more square-like shape, or something akin to the squircle, the softened square that was previously found on Microsoft's Zune products and can now be seen as the modern icon shape on Apple's iOS.
The Esquire speaker has three main materials found in its construction, with aluminium around the frame, plastics — on the grill and on the bottom, and a piece of leather on the back.
Inside the speaker, there's a small amplifier with two 10W channels, working with a bass port for some of the low sounds. Sending music to the speaker is done through either Bluetooth or a hardwired 3.5mm input jack, which will take a feed from anything else.
There are controls on the speaker, found along the top as metal buttons, with a choice of the staples: power, microphone mute (on/off), volume down, volume up, play/pause, Bluetooth pairing, and a call answer/hang-up button. A small power and Bluetooth link light can be found next to the power button.
Ports on the speaker are few, with the aforementioned 3.5mm headset input jack and a microUSB charge port underneath it. A battery check LCD meter can be found just above these ports, showing you how much of the battery is left through five dots.
A power pack is included that has three USB ports and can charge more than just the speaker at once, with two other devices — say a phone and a tablet — able to be charged all at once.
A protection case for the Esquire is also included in the box.
Performance
Even though it's one of the better premium sound brands, Harman/Kardon has, for the most part, steered clear of common consumer sound concepts. There are a few headphones and speakers, but most of the range of products caters to the home theatre, with stereo and surround receivers, Blu-ray players, and a few speakers, as well.
Harman has also tried its hand at some computer speakers in the past, with the iMac-era SoundSticks, which are still sold today.
But PC speakers aren't as in demand as they used to be, and Harman/Kardon has had to work on another style of speaker, which we're pleased to see the brand entering: Bluetooth speakers.
For its first, the company has made the Esquire, a premium speaker that brings with it a refined look made of aluminium, leather, and plastic that really doesn't look like other models out there.
As a point of difference, this speaker looks like a softened square, framed with aluminium that is cool to the touch and with plastic over the grill and rubber at the bottom to keep the speaker standing upright. The back is very different from your regular speaker, with a full panel of brown leather that smells and feels real, compared to the pleather that you find on most gadgets.
That feature alone is something that few gadgets will come with, and really helps sell that yes, this is a premium speaker.
Also included is support for Near-Field Communication, meaning there's a quick way for Android phones and tablets to link up with the speaker, finding the product and sending music to it over Bluetooth. If you don't have NFC — maybe you own an iPhone or an iPad — you can simply hold the Bluetooth button down and send the speaker into pairing mode, looking for the speaker that way instead.
Once you're connected, you'll find the speaker ready to work with, capable of working as both a voice conferencing product thanks to the included microphone and also a music speaker, which is mostly what we're interested in.
We started off with classical and jazz, which seemed like strong choices for this speaker, and we were right: the tracks were clear with warm recreations of Nigel Kennedy's take on Satie's "Gymnopedie No. 1" and Dave Brubeck's "Maria" respectively.
Both songs were balanced across the mids and highs, with some bass there, though less than we generally prefer. Likewise John Coltrane's "Blue Train" had some bass, but less than we're used to, the double bass not as obvious in our listen through, even though the other instruments shone over the top of everything else.
That said, the ability to play back bass is present in the Esquire speaker, it just only seems to make itself available when the bass is more pronounced in tracks. As such, we heard an attack and felt a minor thump on the back of the speaker with the pop noises on the Mirror's Edge soundtrack, and one of our favourite bass-filled tracks, Mooro's "M66R6."
But it could still do with something, to be honest, as the balance in the Esquire is stronger around the mids and highs than it is with the lower part of the range, making it better for music that doesn't rely on deep sounds like electronica or heavy rock.
Music in that last category was tested too, with Muse's "Supremacy" and Closure In Moscow's "Sweet#hart" all sounding balanced and detailed in most parts of the tracks, with the exception of the low sounds, which were there, but could have had more oomph.
Hip-hop had the same issue, detailed in Macklemore's "Can't Hold Us" and Kanye West's "Jesus Walks," and it wasn't until we started turning the Esquire up that we found where the bass was: in high volume.
Once you start pushing the volume to room-filling levels, the bass starts to creep in, not just barely noticeable, but actual bassy amounts that'll bring the music to life.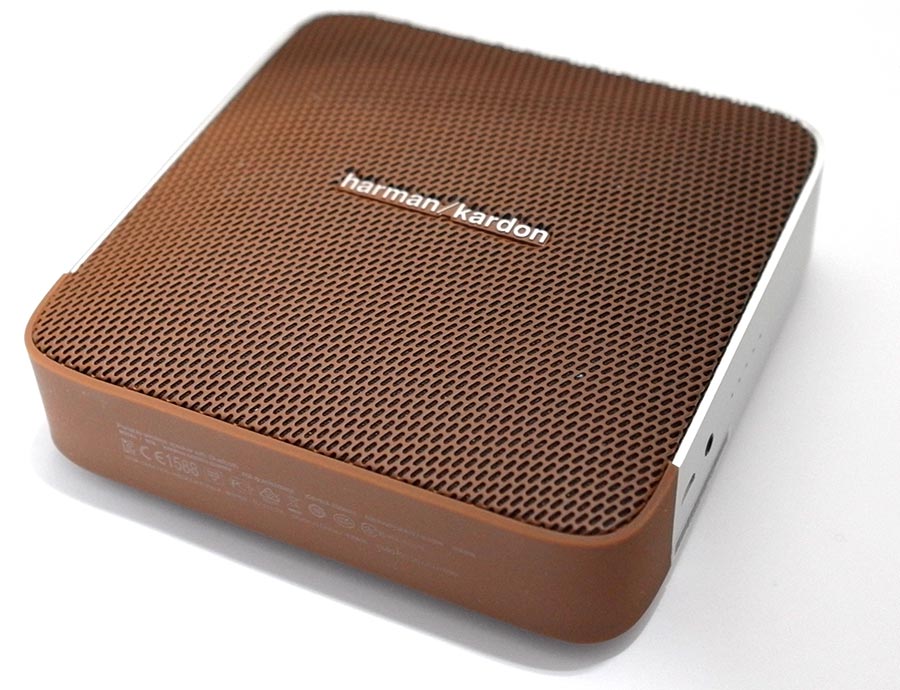 The warmth was also noticeable, but this was at all levels, and it's something that so few Bluetooth speakers seem to get across. It wasn't just that the sound was clear, but rather that it rang true in our ears, even though the bass could have, as we've said before, a little more power behind it.
One highly positive thing is that the Esquire has plenty of volume to work with, making it ideal for parties or days out when you're with friends, and that's a good thing. The blow out and fuzz you might expect doesn't appear to make itself apparent even at high volumes, which is something other Bluetooth speakers can struggle with.
Unlike other Bluetooth speakers, though, HK's Esquire isn't omnidirectional, meaning you'll have to listen to it from the front, and only the front, because listening from the back delivers only muddled sounds with mostly bass.
That's fine, and that's just the way some speakers are setup, so make sure to position the Esquire accordingly, otherwise you'll hear some muddled and messy sounds, and that's not really what you want out of a $400 speaker.
Conclusion
If you don't mind less of an impact in the bass, the Harman/Kardon Esquire is a top choice as far as Bluetooth speakers go, providing a premium look, build quality, and sound that few manufacturers can keep up with.
In the grand scheme of speakers, especially portable ones, there are better value options out there, but it's a solid first effort for Harman/Kardon, so next time, we're going to expect nothing less than perfection. That's just all there is to it.
Warmer than most Bluetooth speakers; Lovely finish; Comes with a charging brick than can charge two other devices simultaneously;
Bass should be deeper at lower volumes, not just noticeable; Can sound tinny and empty if you're slightly out of earshot;