I had a feeling right from unboxing the Huawei MateBook X Pro that is was going to be a little special. The more I poked and prodded, the more boxes I ticked – and then some.
I write a review serially – start with the outside and work in. The outside – what makes a first impression (and don't call me shallow Hal) was a matte Mystic Silver polished aluminium, almost impossibly slim, yet amazingly solid feel of a well machined (Chrome cut edges) and made notebook.
The MateBook X Pro does not have the same visceral appeal of the scantily leather-clad HP Spectre, nor the absolute sexy spun finish of an ASUS ZenBook, nor a cool coffee colour of a Lenovo Yoga – it was just subtle, classy. And for MacBook lovers there is Apple's Space Grey colour too (boring).
Opening the notebook reveals a huge 13.9-inch screen in a body that would normally house a 12" screen. There are almost no screen bezels accounting for a 91% S-T-B-R. And there was something else that just clicked – it has a 3:2 screen ratio (like a Microsoft Surface Pro/Laptop), not the typical 16:9 on everythng else.
We will dig deeper in the review but let me tell you that I was surprised and delighted at every turn. As a spoiler the MateBook X Pro starts at $1899 for the base i5 version and $2599 for the i7.
Review: Huawei MateBook X Pro
Website here
Review unit as tested
13.9-inch, 3:2 ratio, 3000×2000, 260ppi, 91% S-T-B-R, 100% sRGB, 1500:1, 450 nits LTPS screen
Intel i5-8250U 1.6/3.4Ghz four core (option i7-8500U)
8GB RAM (option 16GB) LPDDR3 2,133MHz
Intel UHD Graphics 620 and NVIDIA GeForce MX150 with 2 GB GDDR5 (the latter may be an option on some SKUs)
256GB PCIe NVMe SSD (option 512GB)
Thunderbolt 3 port (20Gbps), USB-C (5Gbps PD 2.0), USB-A 3.0 (5Gbps 5V/2A) and 3.5mm audio
57.4Wh battery and 65W USB-C PD 2.0 charger 20V/3.25A, 15V/3A, 12V/2A, 9V/2A, 5V/2A
304 x 217 x 14.9mm x 1.32kg (barely larger than an A4 page)
It is a clamshell laptop format opening to about 150°.
Setup
It is a standard Windows setup where you can disable 100% of Windows snooping and use a local off-line account (instead of a Microsoft account) if you value privacy.
Then brave the potential gigabytes of Windows 10 updates. Next use Huawei PC manager (quite good) to update all the hardware drivers and finally NVIDIA GeForce Experience to update the Graphics card.
Then select your CPU performance requirement (under Battery Management). By default, it is set at 88% maximum and you may want to leave it there. But we wanted 100% for our tests. Unfortunately, nothing we could do gave us full use, so I guess 88% is the maximum Thermal Design Power for this chassis.
This screen is amazing
It uses an LTPS (Low-Temperature PolySilicon) LCD screen that provides higher pixel density, better colour gamut, higher refresh rates and lower power use than IPS screens. Its picture quality is closer to AMOLED although that has the edge via an infinite contrast ratio. LTPS also allows the MateBook X Pro to have small bezels.
The screen is a delight. Beautiful colour (100% sRGB), semi-gloss (not too reflective) and OK in direct sunlight. It is from Tianma, one of the iPhone XR LTPS screen suppliers. It uses 10-point On-Cell Touch under the Gorilla Glass to reduce the thickness. As far as we know no other manufacturers use this screen although the Microsoft Surface Laptop has a 13.5″, 2256 × 1504, 3:2 ratio. Huawei has nailed it.
3:2 is best for productivity displaying an A4 sheet (portrait) or two A4 sheets (landscape scaled). When viewing 16:9 video content there is a slightly larger bar top and bottom.
Our tests confirm that 450nits and 1500:1 contrast is conservative, and it is far brighter than the Surface Laptop (350nits). We could not detect any perceptible backlight bleed. Delta E shows very accurate colours. G-t-G times were over 40ms – a little slow for gamers but otherwise fine for video content.
It does not have HDR or make any other claims – it is just a great screen, even better than the Microsoft Surface screen.
Thunderbolt 3
It is 20Gbps (2,500MBps), not 40Gbps. The reason is that it borrows 2 of the CPU's 12xPCIe lanes to accommodate the 4 lanes for the NVIDIA GeForce GPU.
Half-speed Thunderbolt 3 has no real effect on day-to-day activities and all makers with a second GPU do the same.
We tested this on a Kensington SD5200DT Thunderbolt 3 dock (our pick for Windows 10 docks) and it supports an external 4K@60Hz monitor from the DisplayPort and another 4K@60Hz from the Thunderbolt 3 port.
The other port is a USB-C Gen 1 (5Gbps) and it works flawlessly with USB-C docks. There is also a full-sized USB-A – it is worth its weight in gold to have that.
Processor
The Intel i5-8250U is a four-core, 8-thread CPU from 1.6GHz to 3.4GHz. It has a 10-25W TDP with 12x PCIe lanes which explains the need to borrow two for the NVIDIA GPU.
The official PassMark is 7678 (note our PassMark Test is 8633). That is above an AMD Ryzen7 2700U and well above Ryzen5 2500U (its direct competitor).
The i7-8550U 1.8/4GHz option does not offer a lot more power. Its PassMark is 8316.
CPU temperature starts around 45° and after 100% load reaches 60°. It has a fan that can spin up to 8,000 RPM and a small exhaust slit at the rear. Fan noise never exceeded 40dB. There is extensive copper pipe cooling to draw the heat to the fan. The top of the keyboard area reached about 44° – all good.
Intel UHD Graphics 620 and NVIDIA GeForce MX-150
The device defaults to the Intel Graphics for most programs until it encounters one that can use the NVIDIA GPU. You can force it to use NVIDIA all the time at the expense of battery life. The Intel has about 30% of the NVIDIAs 384 CUDA core speed.
It uses the 1D12 version of the NVIDIA GeForce MX-150 for 10W TPD meaning that the 3D Mark is around 3,500 where the normal high-power version is around 4700. Again ASUS, Lenovo et al use the 1D12 version for battery management. It is not a gamer's GPU although has respectable 3D speeds.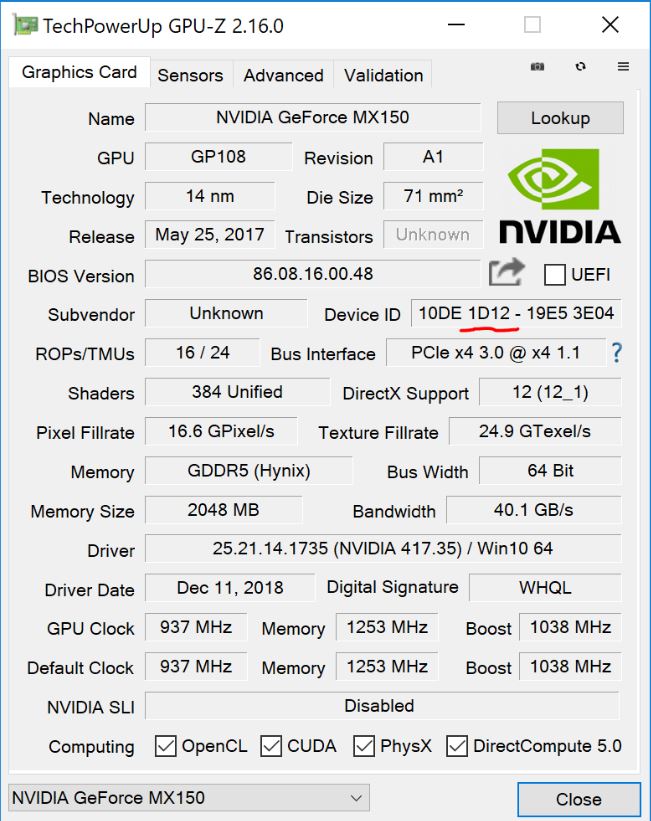 I am of two minds if an ultralight needs the NVIDIA – 99% of its use will be on the Intel 620 and maybe Huawei should offer that at an even lower price.
Storage
It uses a Liteon 256GB CA3, PCIe NVMe, 3.0 x 4 lane SSD. It achieves a very respectable 2986/1086MBps sequential; read/write speed and its also good for random file read/writes.
I do have a gripe here. On the 256GB model, there is really only 142GB free on D: The system C: drive is 80GB and mostly unused. If it were mine, I would remove all the partitions and make it one large C: drive.
The bottom panel is removable to upgrade the RAM and SSD.
Wi-Fi and Bluetooth
The Intel AC-8275 tops out at 866Mbps at one metre from our D-Link AC5300 reference router. At six metres it is 650Mbps – overall very acceptable speeds. It is a dual-band, 2×2 antenna, MU-MIMO card.
Embedded Bluetooth is 4.2. It supports the SBC codec and Dolby Atmos for headphones.
While the Intel chip is among the most common in use, some notebooks now use the later Intel AC-9260/9560 that supports HT160Mhz and Bluetooth 5.
Keyboard/trackpad/fingerprint reader
It is a spill-proof, chicklet style, keyboard with two levels of brightness. Throw is 1.2mm and actuation force is 60g. I would have liked a bit more throw and less actuation – it feels a little firm. Still, in typing tests it achieved 80% of my usual speed to no complaints there.
The oversized 120 x 78mm Microsoft Precision trackpad is excellent – glass smooth and perfect. It is large enough to use multi-finger gestures.
The Goodix fingerprint reader is the power button. It was very fast and supports 360° finger rotation so accurate finger placement is a thing of the past.
Webcam/mics
Due to the small screen bezels the webcam is located on a popup key between F6-F7. It is a .9MP unit capable of 1280x720p stills or 720p video. However, the pop-up nature emphasises double chins – I don't need that. It also acts as a privacy switch. Still it is is a good compromise – I would rather have the narrow bezels any time.
There are four far-field mics under the front lip (of the keyboard deck) that can pick up voice to 4 metres away although the Realtek chip only supports stereo mix recording. I suspect their real use is in noise cancelling for video conferences.
Speakers
The MateBook X Pro has four speakers. Two x top-firing adjacent to the keyboard sides and two x side-firing vented underneath towards the front.
The Realtek ALC256 sound chip supports Dolby Atmos content (if you have it – otherwise it is 2.0) over the speakers or headphone (BT or corded). This has pre-sets for Movie, Music, Games, Voice and custom. In effect, this means you can adjust sounds from 240Hz (mid-bass) to 14kHz (mid treble) by +/- 12dB. In reality it is hard to change a small speakers 'tone' that much.
Try as we may the speakers did not reproduce Dolby Atmos content well – there was not sufficient spatial separation to justify the Atmos sound stage.
But our Sony WH-1000MX3 refernce Bluetooth headphones were fine with Atmos content and otherwise deliver up to 7.1 simulated sound.
Our sound tests show bass creeping in a 125Hz to 400Hz (good bass starts about 40-60Hz), mids from 400Hz to 2kHz were flat (good) and highs from 2-12.5kHz flat (good) dropping off then to almost no upper treble. This is more of a Bright Vocal signature suited for clear voice. It is not the best for movie sound but then few ultralights offer the ideal warm and sweet signature – use headphones.
We achieved 75dB at 100% volume but there was slight distortion – backing off about 10% fixed that.
Subjectively I would say it is one of the better sounding ultra-lights, but Dolby Atmos is really for headphones or soundbars that support it.
Battery
Battery life depends on whether you measure with the NVIDIA GPU always-on or the Intel UHD Graphics 620. We tested the latter.
Under full load – everything maxed out – it lasted just over 2 hours. In a 1080p video loop at 50% screen brightness it lasted just under 10 hours (Huawei claims 12 hours). In general office use I expect about six to eight hours.
The 65W USB-C PD 2.0 fast charger can go from 0-100% in under 1.5 hours. It keeps up with charging under any load.
We also used a Cygnet 60W and 45W Belkin USB-C PD 2.0 charger and a full recharge was a little under 3 hours. In theory, you can even use a 5V/2A phone charger at a pinch that we estimate would take 12-14 hours to charge. It also worked well with USB-C Power banks.
Accessories
It includes a Matedock2 – USB-C dongle to HDMI, VGA and USB-A and pass through power. Our review unit also came with a USB-C to Ethernet adapter. You will not need the expense of a Thunderbolt 3 dock unless you have a lot of accessories needing external power.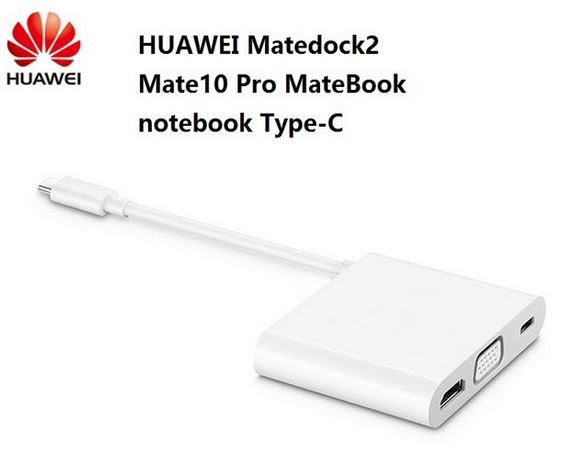 Despite Microsoft's Australian site mentioning Active Pen support we were unable to get it to use any of the active stylus we had. It will support a capacitive (finger) stylus.
GadgetGuy's take: MateBook X Pro is one of the best
In the 16:9 market you have HP Spectre, Lenovo Yoga, Dell XPS, Asus ZenBook, and Acer Spin 5. These are all very good – there is not a lot to recommend one over the other. So, in part price – value for money comes into play.
But as a 3:2 screen its only competition is the Surface Laptop and it has a huge edge if only via USB-C/Thunderbolt, the NVIDIA GPU, a far better screen and slightly better keyboard. Although the Surface supports an active pen and Windows Ink.
I think the i5 version is all you need. The i7 has 16GB memory and a 512GB SSD but if you need that then fit it later – maybe when a 1TB SSD has come down in price. I would even look for an SKU without the NVIDIA GPU – ultralights really don't benefit that much from this graphics power.
But I do have one other gripe. Despite it being portrayed as an X-hinge in most marketing, it is not! It is a clamshell notebook and that is fine.
Price
The MateBook X PRo is officially available only from the Microsoft Store for $1899/2599 (i5/i7 with 8/16GB and 256/512GB SSD). Both models have the NVIDIA GPU.
There are also academic and student discounts of approx 10%.
I can't recommend buying at other online merchants as you will want local warranty and support.
Great screen – perfect 3:2 productivity format
i5 is all you need
Walks all over the Surface Laptop (apart from the stylus)
Decent battery life and recharge times
NVIDIA GPU if you need it
Solid quality build
X Pro does not mean X-hinge – it's a clamshell laptop
Thunderbolt 3 is 20Gbps – no biggie
Webcam accentuates double chins