Once purely the domain of the call centre, a headset with a microphone allows people to talk for hours while keeping their hands free to type or write. More importantly, a good set can even help prevent back and neck pain. GadgetGuy has Jabra's latest Evolve2 75 headset in the labs, which are designed for hybrid work. So, can a headset be good for both work and play? (For more on choosing the right headphone for your business, be sure to check out our Headsets for Business guide on our sister publication, Small Business Answers.)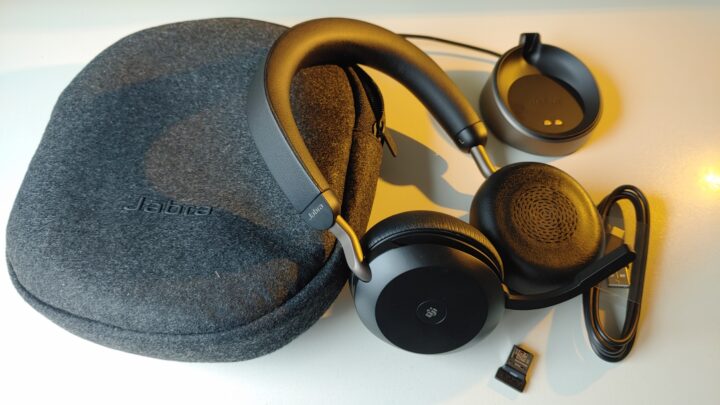 Details: Jabra Evole2 75
| | | |
| --- | --- | --- |
| Website: Jabra Australia | | |
| Manual or Support pages: User guide, video | | |
| Price: A$539 | | |
| From: Jabra direct and leading retailers | | |
| Warranty: 24 months | | |
| Country of Manufacture: China | | |
To be a good headset for business, it needs to be comfortable and durable. While it takes time to test durability, the Jabra's construction is excellent, with a steel headband fully enclosed in foam and leatherette cushion. I am indeed wearing them as I write this story. After using them for a few weeks, I have found them so comfortable that while I would often take other headphones off when not on a call, these can stay on.
The Evolve2 75 come in 4 variants. There are two colours, black and beige, and a model for Microsoft Teams and a model with Unified Communications (UC) support for Zoom and Google Meet. Note that the Microsoft teams model GadgetGuy tested works fine with Zoom, except the function button.
To overcome the confusion of whether you are on a call, a red light will appear on the rear of the headsets. This also indicates to workmates that you are not available.
Now you hear it, now you don't
When taking the headphones out of the box and pairing them with the downloadable APP, you go through a set up routine that includes a hearing test with tones. This test customises the audio to your specific hearing profile. Beyond this, you can select preset settings to enhance voice or music, and even fine-tune the sound with a customisable equaliser. The audio is delivered via a 40mm speaker, ensuring a full range from 20Hz to 20,000Hz. Clever inbuilt software will also protect your hearing from sudden volume increases.
All my calls have been clear thanks to the retractable boom with a microphone and mute button. This same mute button acts as an activation button for your smart assistant. Jabra uses software to distinguish between background noise and your voice, ensuring your calls are clear to the other party. Calls can be made with the boom deployed or alternatively in discreet mode with the boom retracted if you don't want to look like you are wearing a headset in public.
The Evolve2 75 headset comes with Jabra's Active Noise Cancellation technology or 'ANC'. Pressing a button on the left headphone, you will hear that either the ANC or a 'Hear Through' mode is engaged. The Hear Through mode enables you to listen to the noises around you, such as someone talking, as well as what you are listening to. Otherwise, you can focus without distraction by switching to ANC mode. This is especially useful in a noisy open-plan office or crowded train carriage.
Having tested these modes at my desk and on the street, Jabra meets and exceeds expectations, except for wind noise caused by a strong breeze when on a phone call. This symptom will plague most devices, but I know Jabra has overcome this in other models, such as the Jabra Elite7 Pro earbuds.
Practical use
Pairing your headphones with your mobile is a breeze, especially if your phone is Android and supports Google Fast Pair. Alternatively, just connect as you would any Bluetooth device. The Evolve2 75 can be paired with up to 8 devices. The headset allows you the flexibility to wander up to 30 metres away from your phone or computer, giving you impressive mobility.
As the Evolve2 75 is a wireless headset, it comes with a handy charging base but you are unlikely to keep one at home and work. To overcome this, simply plug the headsets into a USB-C charger, which most non-Apple products are now using. A 15-minute charge will provide 4 hours of listening time, and fully charged, you can talk for up to 24 hours or listen to music for up to 36 hours with ANC off. When not using the headset for extended times, it's best to turn it off.
I especially like the head detection feature, which means removing the headset will pause playback of what you're listening to. While on a call, removing the headsets will mute the call.
Beyond the desk stand, the package includes a USB Bluetooth adapter, separate 1.2m USB-C to USBC-A cable, and a felt carry pouch. The headset weighs in at just 200 grams. Beyond tuning the headphone's sound, the Jabra Sound+ app also facilitates firmware updates. Jabra's Direct Computer software can control your headset's settings from Windows PC or MacOS.
GadgetGuy's take
The thought of spending $500 odd dollars on a headset may put you off at first. But when you consider that these are high-performance headphones that are as great at home as they are in the office. It's really 2 pairs of comfortable/quality headphones for home and work, making it a much more palatable proposition. Especially if you can convince the boss to pay for them. Except for a mild wind noise issue that a software upgrade could fix, these headphones are not left wanting for features, functionality or listening quality.
More headphone news and reviews on GadgetGuy
The Jabra Evolve2 75 Bluetooth headset are high-performance headphones that are as great at home as they are in the office.
Positives
Comfort + durable, well-made product
Tuneable to your earing
Home and work usability
Negatives
Wind noise when on a call outdoors