RIM returns: BlackBerry's Z10 reviewed

Price (RRP): $TBA; Available on Telstra and Optus in March
Manufacturer: BlackBerry
It's been a long time coming, but BlackBerry has finally announced the handset that will debut its next operating system, BlackBerry 10.
Coming in March, the Z10 will also be BlackBerry's first touchscreen 4G smartphone, with expandable memory, multitasking, NFC, and more. Is it enough to bring BlackBerry back into play against Apple's iPhone and the big range of Android devices, or is it an empty hope?
Features
New BlackBerry devices are few and far between – we don't think we've seen one for almost a year. But with 2013 well and truly here, a new handset has come, and with it, a brand new operating system.
Coming to Optus and Telstra in March, the BlackBerry Z10 is a full touchscreen handset with no front facing buttons, though you will find a power button up top and three buttons – volume up, down, and a middle voice control button – on the right.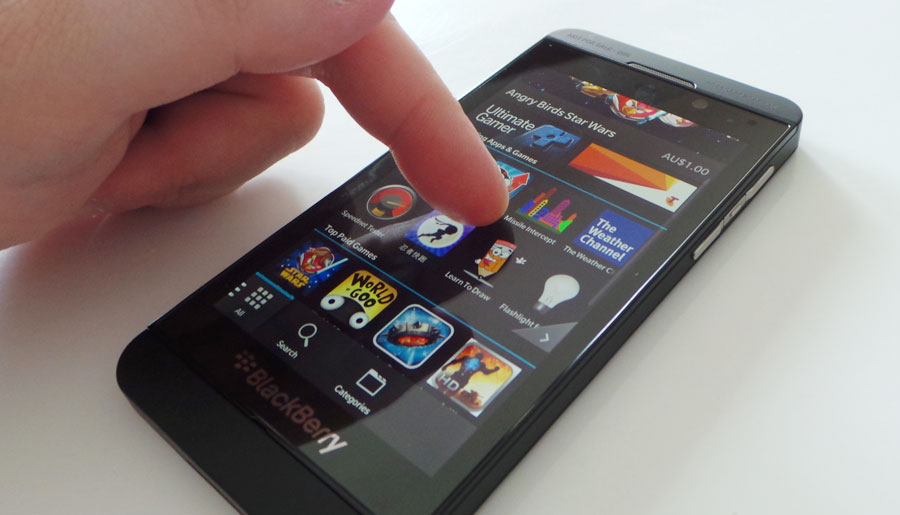 The screen is a big one for BlackBerry, with the company's first 4.2 inch display. This supports the HD-friendly resolution of 1280 x 768, and manages a pixel-per-inch count of roughly 355 – higher than that of the iPhone 5.
Inside the handset, BlackBerry has thrown in similar technology similar to that in the flagship Windows Phone products. In fact, like the Nokia Lumia 920, the BlackBerry Z10 features a dual-core 1.5GHz Qualcomm Snapdragon processor, as well as the same Adreno 225 graphics chips.
Unlike the Nokia, BlackBerry has included 2GB RAM, which should help to make the operating system feel faster. It's provided 16GB of storage, but made it possible to upgrade this using microSD expandable memory.
Multimedia and connectivity features are pretty standard here, with Bluetooth 4.0 and A2DP included, as well as Near-Field Communication, WiFi 802.11 a/b/g/n with a dual-band antenna for quicker operation, GPS, a rear 8 megapixel camera with 1080p Full HD video capture, and a front 2 megapixel camera with 720p HD video capture. Access to the fourth generation mobile networks is included, offering faster downloads provided you're using Optus and Telstra in Australia (at this time).
The back is removable on this handset, and you'll find an 1800mAh battery underneath, as well as slots for a microSD and the microSIM, required for connecting this handset to the mobile network.
Outside of these two covered slots, ports are limited, with only microUSB and microHDMI ports on the left edge of the device, and a 3.5mm headset up top next to the power button.
Performance
There's a lot of competition out in this space, and we're changing phones so often that this reviewer sometimes finds it hard to remember which phone is actually his own.
What we do know is what phones should feel like, and the Z10 is off to a good start in this area, even in this pre-production build model.
We already mentioned in our hands-on with this smartphone that the Z10 looks and feels like it the lovechild of an Apple iPhone 5 and a Nokia Lumia. After a weekend of use, we're even more convinced of this.
This handset features the soft angles of the iPhone while using a similarly plastic body from the Nokia Lumia handsets – although it doesn't feel as strong or durable as the full polycarbonate bodies Nokia uses in its Windows Phone-based devices.
The screen is nice, big, and reasonably sharp, though could be a touch brighter; this dullness was the first thing GadgetGuy staffers tended to comment on.
Outside of this, the Z10 is quite comfortable, with a small enough width that your hands and fingers don't feel as if they're fumbling to use the handset.
Next up is the operating system, which feels like it has evolved from BlackBerry's tablet, the PlayBook. Similar to that device, everything in the Z10 works by gesture, with swipes from the left, right, top and bottom edges of the device taking you through the operating system.
There are no physical buttons here for you to use, hardly a surprise given where touchscreen phones are going, and BlackBerry is instead asking you to work through its new operating system with simple swipes from any of the four main directions.
It's relatively simple to get your head around, and you'll find a tutorial when the device is first set up in case you need help.
No matter what you do, you'll generally find settings for each app when you swipe from the top down. Dragging your finger from the bottom edge up will always push any app you're in way into the background, minimising it for display on what BlackBerry has as your home screen, which will show any apps you're running.
Outside of this, there is no real home screen. You can see apps as currently-running tiles, which take up a quarter of your screen. These can be scrolled depending on how many you're running, and closed whenever the little "x" is pressed.
Swipe from left to right from that home screen and you'll be greeted by the BlackBerry Hub, which will connect all your messages, emails, texts, and social networking mentions together, making it easy to see anyone trying to connect with you. The Hub makes it possible for you to show specifically which account you're looking at, but you can see everything globally, which is useful, too.
Or there's swiping from right to left on that main home screen, which will bring up your app menu, which can be moved around and reordered when you want.
Overall, it's a surprisingly easy system to move around, though navigating your way through settings menus can take time. All in all, we found that minimising apps worked quite well; it allowed us to run quite a few apps at once, and made multitasking easy.
The operating system is also reasonably fast, and while we didn't see many crashes, the few that did occur  during our review period seemed to come from specific apps, not the operating system itself.
Much of the focus for BlackBerry OS 10 is in the keyboard, and since that feature has been a primary reason for people to choose BlackBerry devices, it's a necessary area to look at.
In this handset, there is no physical keyboard, though there will be one of those coming in April, in the form of the Q10.
Rather, like most Android and all iOS devices, the keyboard here is all onscreen, with predicted words appearing above each letter you type. For instance, if you type "awesome," presumably, the predictive text will offer you the word "awesome" to flick up and use by the time you've reached the "e" in the word. If you miss it and press the "e" instead, it will offer the word over the next letter, the "s" in this case.
The idea is an interesting one, but because the word location changes each time, it's actually a little harder to type quickly when relying solely on this method. Over time, we noticed the predictive word system would offer us words we wanted to use before we typed anything, with the words appearing over their starting letter (such as "and" appearing above the "a" and "for" appearing above the "f").
As neat an idea as this is, it's no Swype, and we actually found it easier to type on the BlackBerry keyboard without flicking up on various characters.
Smartphones also need to have decent cameras these days, and the eight megapixel model on the Z10 is good. The autofocus is not, however.
You're likely to be waiting a second or two for autofocus to kick in after you load up the camera. We often found that the first shot we fired was out of focus, rather than when we waited that precious second for the camera to know what it was looking for.
When focus does kick in, the camera is actually capable of some decent depth and clarity, at least when there's ample light.
In short, we don't think this camera will beat some of the current top-ranking camera phones, including the iPhone 5 and Galaxy S3. It needs faster focus as well as more shooting options, because there aren't many modes to jump to here.
A few little things show BlackBerry has been putting some serious effort into this handset. Things like adding payment systems directly into the phone so you can change how you pay for apps and publications, how you share files over DLNA, and the amount of data you've sent and received when a hotspot is activated.
Software is required to link this BlackBerry up with your computer, but don't worry, it comes with the phone. Simply plug it in and run the installer to allow the handset to link up, making it possible to transfer music from either iTunes or Windows Media Player, as well as photos and videos back and forth.
While BlackBerry has made inroads with its new device, not everything is perfect.
Maybe it's because we're spoiled, and maybe it's because we think a phone should last at least day, but we were not impressed with the Z10's battery life.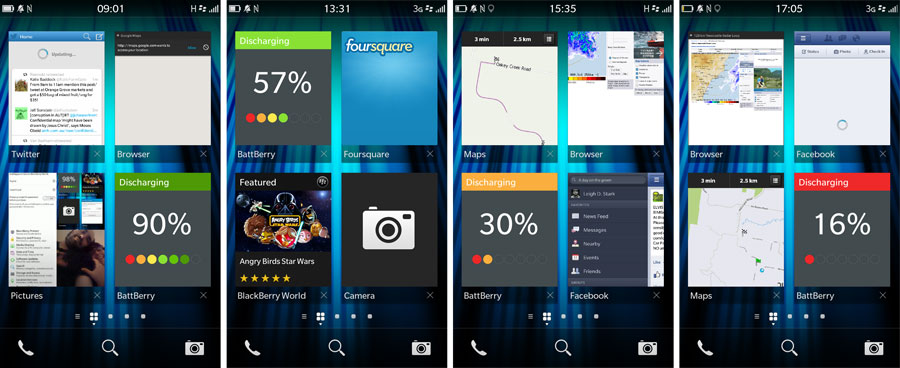 Our regular day consisted of making a few calls, surfing the web, some GPS and mapping activities, using the camera, social networking, emails, and texts – all things we'd expect BlackBerry users to  be using – and yet the Z10 barely managed 12 hours of operation.
It was taken off charge around 6.30 am and by 5.05pm, we were giving up, the battery reporting only 16 percent, (which essentially means a max of one hour more).
It's possible that our experience is a function of the review sample being a pre-production model, and there may be no similar issues when the handsets is marketed in March.
The app ecosystem is another area that could use improvement.
BlackBerry boasts more 70,000 apps for its new ecosystem, but while it has some of the big ones – Twitter, Facebook, LinkedIn – it's also missing some big ones, including Google Chrome, Skype, Instagram, and even the public transport app, TripView.
As a point, you can quickly add frames and Instagram-like retro effects to images natively in the photo editing parts of the phone, but it's not Instagram, and doesn't include the same network sharing on offer through Instagram.
Official favourites like YouTube and Dropbox are also missing in action, though compromises have been made. BlackBerry has made its own connector for Dropbox that integrates with the service quite well, while YouTube escapes with a pre-installed shortcut to the website, as opposed to an official application.
It's useful to note that there are some decent apps and games in the BlackBerry App World, and while 70,000 apps may seem like a lot, like every app store, the question is more about how good or useful all of these apps may be. For instance, when we searched for an official YouTube app, we were surprised to see the number of apps based around the users of YouTube, with special apps developed around the videos people were posting.
That might seem strange, but we suspect many of these are coming from a special tool BlackBerry has put together that makes it possible for anyone to create an app quickly with an RSS feed, the constantly updating news feed that comes straight from websites.
A quick development time like this is good for people who want an app for their business or homepage, but also means the store will likely be cluttered with small apps that only a few people want, all the while increasing the number of apps on the ecosystem. Good for BlackBerry, but not necessarily good for you.
Conclusion
The Z10 is the phone BlackBerry should have released last year, taking advantage of an intuitive workflow that evolves the operating system.  It makes things easier for BlackBerry users than they have been before, with the fluid OS allowing you to get around to what you need to do quickly.
And for the first time, you don't need to be so dependent on the whole BlackBerry "way" of doing things – like connecting to a BlackBerry account or server just to grab email and activity. (This is still necessary for some features we were unable to test, such as the way of virtualising workspaces through BlackBerry Balance).
Battery performance needs work, but overall the Z10 is a welcome first step towards a true touchscreen from the company formerly known as RIM. It's probably not enough, however, to reclaim users who have already migrated away from their Blackberry past.
Its real test, then, will be if it can keep loyal users focused in face of the number and quality of options from Android, iOS and Windows. We reckon we'll know the result in less than a year.
Note: the BlackBerry Z10 we were reviewing from is a pre-production model, which could carry some bugs with it. It carried Telstra identifiers on it, but because of it's build status, aspects of the performance may have been impacted. 
RIM returns: BlackBerry's Z10 reviewed
Price (RRP): $TBA; Available on Telstra and Optus in March Manufacturer: BlackBerry
Well balanced handset; Quite easy to use; 4G; Payment systems handled by the new operating system; BlackBerry Hub does a good job of connecting every message and account;
Not the greatest battery life; App ecosystem lacks some of the big apps you may want to use; Camera autofocus could be quicker;