Review: Nokia Lumia 820

Price (RRP): $699
Manufacturer: Nokia
Interested in Nokia's flagship Lumia 920, but not sure if you can justify the massive size or weight? Well it has a 4G brother that offers similar performance, but without the same bulk.
Features
The second of Nokia's Windows Phone 8 Lumia range to come out, we're getting our hands on it a little later than expected, especially since we've recently covered a mid-range Lumia, the 620.
This model plays little brother to the 920, a handset we reviewed when it first came out late last year, and shares a few of the things it has.
As a result, you'll find similar innards to that model, such as the dual-core 1.5GHz processor, 1GB RAM, Adreno 225 graphics chip, and similar connectivity, including 4G LTE support, 802.11 a/b/g/n WiFi, Bluetooth 3.1, and even Near-Field Communication.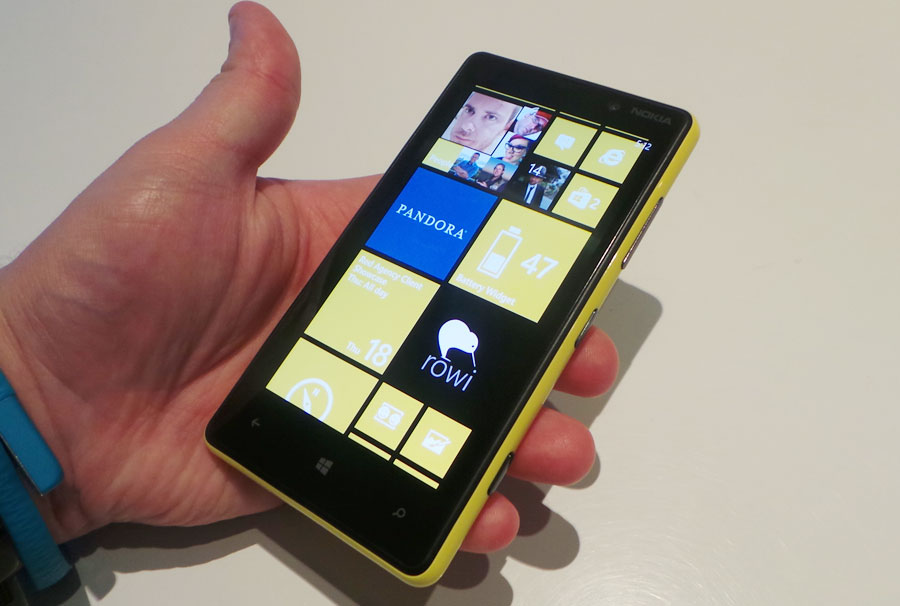 Some things are different, however, and Nokia has changed the screen size and resolution, with the Lumia 820 featuring a 4.3 inch 480×800 screen, a drop from the 4.5 inch 1280×768 (HD) screen on the 920.
Storage is also different, and while the 920 featured a set amount of memory for you to store things on – 32GB – the Lumia 820 drops that to 8GB, but also includes a microSD slot to expand that considerably.
The cameras are similar, though not the same, as both handsets feature an 8 megapixel rear camera with dual-LED flash and Carl Zeiss glass, Full HD video capture, though the 820 lacks the optical image stabilisation found in the 920. The front camera on the Lumia 820 is also lower in spec, with only a VGA 640×480 front camera.
As with most smartphones, ports and buttons are sparse, but the Lumia 820 has pretty much the same ones that we're used to, including a 3.5mm headset jack up top, a microUSB charge port at the very bottom, and three buttons on the side: a volume rocker, power button, and dedicated camera button.
The three soft buttons specific to Windows Phone are, of course, here, with back, home, and search all catered for.
Underneath the handset and inside the removable case, you'll find the slots for microSD, the microSIM, and the battery, which is rated for 1650mAh.
The Lumia 820 also supports wireless charging, something shared with the Lumia 920 that few of the lower priced Nokia handsets support.
Performance
Bright colours, plastic, and a contrasty easy to read interface seem to be the hallmarks of Nokia's Lumia lineup, and with the 820, that hasn't changed.
The sibling of the unibody Lumia 920, there are things about the 820 that are shared, and then there are the things that are completely separate.
Over in the different category is the look, and while the 920 featured a look and build that made you think it was chiselled from one piece of heavy plastic (hint: it was), the 820 is a two-part device: there's the main bulk of the phone with all its parts screwed together, and then the casing, which you need to pull off and remove if you want to take out the battery, which in turn lets you put in your microSIM card and microSD.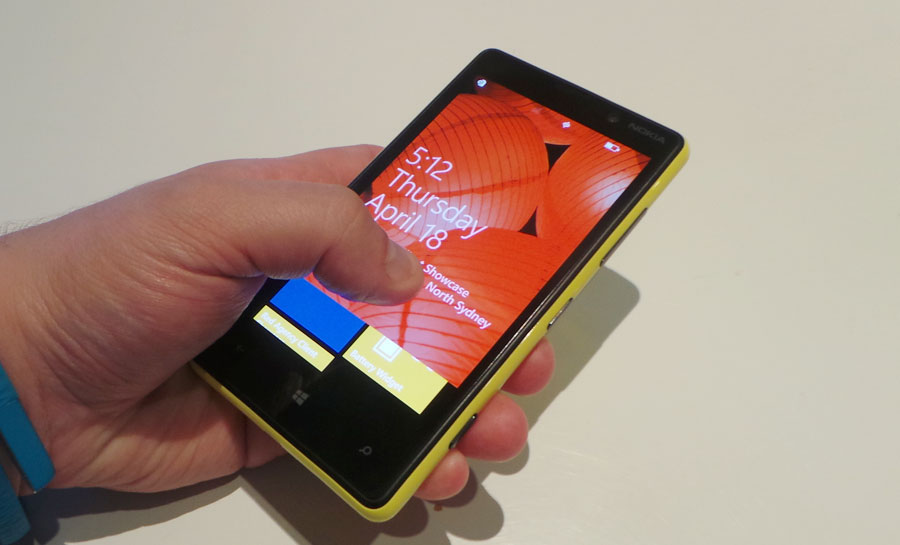 In the hands, it's another similarly plastic affair, with a glossy and slightly slippery finish that feels a little cheap, even if the overall heft of the handset subsides that feeling considerably.
Like other Nokia devices, we're seeing a constant in its design, and that is a smooth circular brick, which, with bevelled edges, flows into the hands nicely making it thoroughly easy to grip, even if you have smaller hands.
From there we move onto the experience of the handset itself, and it is, as we expected, a smaller Lumia 920.
The 4.3 inch screen is a touch smaller, and while the resolution is vastly different, you wouldn't notice it from the menu.
Windows Phone 8's contrasty screen layout is still as clean as ever, but it's when you start browsing the web you wish that Nokia had brought that high definition screen over, or at least something better than the Lumia 820's lesser pixel per inch count of 216, around one hundred lower than the iPhone 4's Retina grade level.
Here on the Lumia 820, full-size webpages show text with a slight blur, as the pixels are too large to discern an obvious difference without zooming. Compare that with the HD-capable 920, which is readable from afar.
Windows Phone 8 has a few things that we love, such as the volume meter which has 30 points of control, and not just the 10 or 15 most smartphones seem to stick with. We love the simplicity between two menus, and it's easy for anyone to pick up and use.
Performance of this device is more or less the same, however, with the same clock speed, memory, and even 4G capable modem.
As such, we were able to run multiple applications easily, with speedy performance jumping between menus and different apps.
Mobile performance was equally speedy, with our 4G download speeds rating between 24Mbps all the way up to around 50.
There are some downsides to having a smaller version of the Lumia 920, though, with some of the same problems shared through the design.
One of these is the weight, and this is one hefty handset. Despite the Lumia 820 not being made from the same unibody polycarbonate design, it still manages to be heavier than you might expect, with the 4.3 inch device weighing down our pockets more than any other similarly-sized handset out there.
Overall, it's a balanced handset, but it will feel heavy in your hands, and that's not a good thing.
Battery performance also needs to be improved considerably.
Before Windows Phone 8 rolled around, we found that the battery life in Windows Phone 7 would often pull in more than a day.
In the Lumia 920, it only reached barely a day, and here in the 820, there's not much difference, with this phone needing an overnight charge if you plan on using it daily.
The eight megapixel camera isn't as good as the one we saw on the 920, either. Images seemed slightly soft when we looked at them, and similar to the 920, the metering wasn't great, handling only one type of light balance, and generally not the one we wanted.
Conclusion
Making a decision between a flagship smartphone and something of slightly lesser quality has never been easy, but if you don't want a taste of Windows Phone and desire 4G without the heavy weight of the Lumia 920, this is an option.
We're not sure if it's the best option entirely, especially since it competes with the slimmer and lighter HTC Windows 8X, but it does bring with it an SD card slot, which is an option we prefer usually over fixed storage by itself.
Review: Nokia Lumia 820
Price (RRP): $699 Manufacturer: Nokia
Performs like its brother, the Lumia 920; We're always fans of a 4G connection; Inclusion of a microSD slot makes it more expandable than its big brother; Supports wireless charging;
A reasonably heavy handset; Battery only lasts for a day;