Mid-range meets 4G: Sony's $499 Xperia SP reviewed

Price (RRP): $499
Manufacturer: Sony
Fourth-generation connections make mobile broadband fantastic, but not everyone can afford the ticket price for a smartphone, and that's where a new handset from Sony comes in, delivering 4G alongside an 8 megapixel camera, Android 4.1, and a high definition screen for not too much dosh.
Features
The second 4G phone from Sony this year, the Xperia SP continues some of the hard work Sony has made with its current range of devices, but cuts the price and size into something people who don't want a five inch device might look forward to.
First there's the touchscreen, which on this device sits at 4.6 inches and offers the 2012 high resolution of choice 1280×720, also known by the masses as "high-definition." As is typical for Sony mobile products, the Mobile Bravia Engine will be making the colours nice and contrasty, while the protection for the display will come in the form of Corning's scratch-resistant Gorilla Glass.
Under the screen is the innards, and while the rear case is removable, the insides are not, with every soldered and screwed down into one hefty phone.
Here, you'll find a slight step down from the chip seen on the flagship Xperia Z, with a dual-core processor clocked at 1.7GHz and paired with 1GB RAM and the Adreno 320 graphics chipset. Storage is set to 8GB inside, though you can expand this considerably with the microSD slot which sits under the removable back cover.
Google's Android is the operating system of choice, with Sony sticking with Android 4.1 "Jelly Bean" for the version. Sony's Android overlay is still here, just in case you were expecting stock Android.
You can expect a camera on the Xperia SP, with an 8 megapixel rear module, as well as a VGA front camera for the small amount of video chat and self conferencing you might be planning on doing.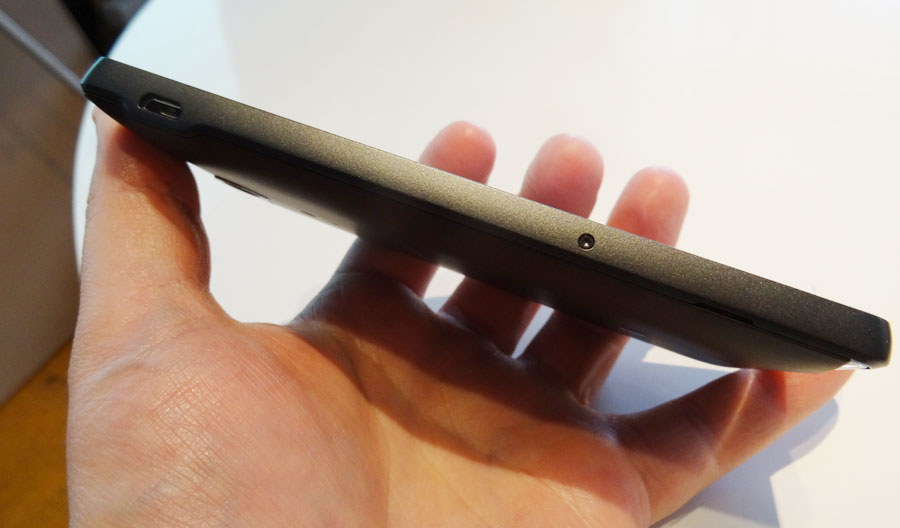 Connection options are pretty standard for a 2013 phone, with Sony including support for 802.11 a/b/g/n WiFi, DLNA, GPS, Bluetooth 4.0 with A2DP, and the wireless handshake protocol that is Near-Field Communication.
People with a need for speed will also find that 4G mobile connections are supported, as Long-Term Evolution technology is on-board here.
Ports are typically minimalist, just like the included physical buttons, and you'll find only a microUSB charge and data port on the left side, while the top of the handset features a 3.5mm headset jack.
Buttons mostly work via the touchscreen on the Xperia SP, and so you'll find very few physical push buttons here, with everything located on the right side. From top to bottom, you'll find a volume rocker, the circular power button in the style used on the Xperia Z, and a dedicated camera button.
Another similar feature to the Z is the lack of a removable battery, which in this handset is build right into the unit and is set to 2370mAh.
One other feature borrows from a phone we looked at last year, the Xperia S, and that's a small transparent strip at the bottom that acts as your notification bar, lighting up with a different colour when various things are happening.
Performance
One of the trends we absolutely agree with in mobile technology is that of 4G: if you haven't tried it yet, it's a must have, with speeds faster than that of the 3G mobiles we've all been using for the past few years. A downside to this trend, however, is that the 4G phones are often set as flagship phones, and therefore carry high price tags.
Take the Sony Xperia Z, for instance: you might not need a water-resistant or five inch Full HD smartphone, but really desire a 4G phone with Sony's take on the Android interface.
Now with the launch of the Xperia SP, you can, as Sony has produced a smartphone that throws 4G connectivity into a mid-range device.
We'll start with the feel, and with a 4.6 inch screen, this isn't a small device by any stretch of the imagination, closer to the 4.8 inch bodies of the Samsung Galaxy S3, but still managing to be a little thicker too.
Design-wise, Sony has stuck with the simple minimalistic rectangular design we saw on the Xperia Z, adding curves only at the corners. The back of the phone is plastic with an almost rubbery feel to it, and is so thin (the rear cover, that is) that it practically hugs the all-in-one body of the handset, providing a slight curve as the smartphone pushes into the back of your hand.
That curve and plastic finish makes the handset feel quite nice, while being easy to grip, and the buttons along the right side mean your fingers as always in the right place when you want to switch the handset on or off, or even control the volume.
The screen is the next logical part to look at, and while Sony did quite well in our microscopic screen analysis test, we doubt this one would fare as well. While we still think 720p is a great resolution for a smartphone, and Sony is managing a close-to-Retina value of 319ppi in this handset, it can suffer from a slightly washed out look when you change angles.
That issue isn't enough to push people away from the handset though, and overall, it's not a bad screen, just one with an issue.
Using Android is just as easy as it's ever been, and Sony's overlay sure is simple to get the hang of. We're loving that you can change the dock, something that's not possible on the Samsung Galaxy S4, and the regular Android features – multiple homescreens, app menu with different sort orders, and a drop down notification bar – are all present.
Also included are some features specific to Sony's smartphones, including a new gallery app that responds to the zoom in pinch gesture to change thumbnail sizes, a Sony specific app store, an integrated social network app, and mini-apps (like a timer or a calculator) that can be pulled in from the task manager to sit on top of anything you're doing.
The included translucent notification bar is certainly useful, and we like seeing a glowing green, red, white, and other colours when there are alerts.
Viewing images in the photo album also works with the notification strip, so that the most dominant colour in the photo will light up in the bar, like a blue sky shines a blue light or a green chair will shine a green light, and so on.
Sony's light isn't over powering either, so when you charge up overnight, the red light coming from the phone isn't likely to keep you awake.
Over in the performance part of town, it's not the speediest of handsets out there on specs alone, but with a 1.7GHz dual core chip and reasonably up-to-date graphics chip, as well as 1GB RAM, you'll find this handset manages quite well.
Synthetic benchmarks put this handset well above the HTC One X, slightly above the LG Optimus G, and only slightly below the Sony Xperia Z, the latter of which is impressive given the difference here is a dual-core processor against the Z's quad-core variant.
Moving from app to app, you might experience some minor slow downs and lag, seen sometimes when touching the screen and waiting for Android's on-screen controls to appear. Overall, though, it's not a bad effort, and we'd be surprised if anyone really complained about what they were getting performance-wise here, especially in comparison to the $499 tag.
Fourth-generation mobile speeds are just as good as other 4G handsets, with speeds ranging from 20Mbps to around 50Mbps in our download tests, though much of this will be dependent on the network you're using and where you're located.
Battery handles itself as well as the system, which isn't bad at all, especially for the price.
With our regular test cycle of using the phone day-to-day through making phone calls, texting, surfing the web, listening to music, social networking, and checking and writing email, we found the Xperia SP was capable of roughly two days of life.
That battery life was actually more impressive than we expected, especially since the Xperia SP's brother – the Z, which we reviewed earlier in the year – barely managed a day itself.
Use your phone even more than us, rely entirely on Bluetooth streaming, or play video games on your smartphone and you'll see this life drop, though heavy usage is suggesting a day battery life, which is just as good as Sony's flagship model.
One thing we're not fans of, though, is the weight, and at around 155 grams, this isn't a light phone by any stretch of the imagination.
Sony's Xperia SP is built quite well, and the handset is encased in aluminium, with one side encased behind the glass covering the touchscreen and the other with a removable plastic casing, but that doesn't help the weight in the slightest.
In fact, this handset is 30 grams lighter than the bulky Nokia Lumia 920 which weighed down our pockets when we reviewed it last December, and is almost ten grams heavier than its five inch Full HD brother, the Xperia Z.
That's not easy on the pockets or the hand, though many people won't mind it. In fact, the heft might make some feel more secure, especially since it doesn't way next to nothing the way other handsets can.
The camera could also be a bit better than what it is, with a focus system that isn't very fast and some mediocre low light ability.
It's not a terrible eight megapixel camera by any stretch of the imagination, but it's also not a great one, and while we found some detail up close in macros, images taken in bright daylight were often overexposed, while night images yield very little differentiation in darker sections.
Sony's camera button can also be a touch sticky, and seems to require a heavier press to activate it.
Conclusion
At its mid-range price, Sony's Xperia SP is a hard model to argue with, offering excellent 4G speeds and solid battery life in a package that won't let the wallet down.
We wish the handset weighed less, and those light-up notifications can get annoying, but overall, it's a top effort from Sony, and will make a great phone for anyone who can't decide if they need a flagship but still wants some of that 4G love. Recommended.
Mid-range meets 4G: Sony's $499 Xperia SP reviewed
Price (RRP): $499 Manufacturer: Sony
Great battery life; Solid 4G speeds; Notification bar can be useful;
Reasonably heavy; VGA camera on front; Dedicated camera button isn't sensitive at all; Eight megapixel camera isn't the best out there; Screen viewing angles need some work;