The Swann Alert Indoor and Spotlight Outdoor security cameras, are both 1080p, motion sensing, Wi-Fi cameras. They also work with Google Assistant and Alexa.
Swann Alert Indoor and Spotlight Outdoor Security Cameras are part of its 2020 line-up announced at CES earlier this year. Swann now has one of the more complete line-ups of wired and wireless security solutions that integrate entirely in the Swann app and with Google Assistant and Alexa.
Before we get into the review, you should read Wi-Fi Security Camera's 101 to understand better the types of security camera and why you would select one over another.
Swann Alert Indoor and Spotlight Outdoor Security Cameras
Swann Alert Indoor website
Price: $119.95
Swann Spotlight Outdoor website
Price: $189.95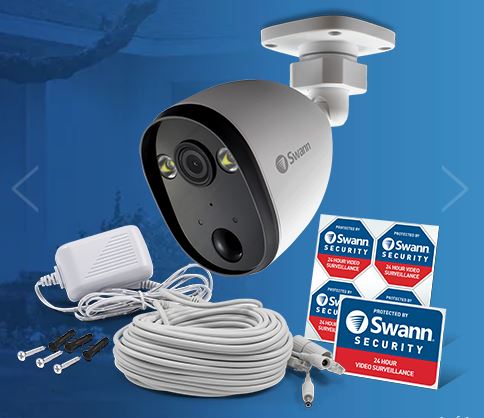 Let's look at the Swann Alert Indoor and Spotlight Outdoor Security Camera in more detail.
Both cameras use the same sensors, lenses and electronics. Also, the Spotlight Outdoor has dual white LEDs to add some colour to night vision and IP66 weather resistance.
Placement
The Indoor can stand on its mount or screw to a wall or desk. The outdoor must be screwed to a wall /fence/etc using the integrated mount. Both need to around head height placement.
Both have a 110° Field-of-View (a 90° angle is ¼ of a circle), so you can place it in a corner or on a fence etc. The maximum motion/viewing distance is 10m but after 3m, it is hard to pick out details.
The app has no activity zones to define what areas to view, so proper placement is more critical.
Power
The Indoor has a 5V/1A brick and a 1.5m micro-USB cable. That cable is frustratingly short, but most micro-USB cables are. You can get a Comsol 3m cable USB-A to micro-USB cable for $19.88 from Officeworks et al. and use any USB-A 5V/1A (or 5V/2A) charger (you can't extend the one with the camera).
The Outdoor has an 18m cable that you need to route to an indoor power point for its 12V/2A 24W power brick. The cable has power, a reset switch and Ethernet just in case the Wi-Fi signal is not strong enough. There no reason you cannot extend the Ethernet via another cable or Ethernet-over-Power Powerline adaptors to the router.
Swann does not have any battery-powered cameras in the 2020 line-up. To a degree, I understand that external power is more reliable but there are some occasions where battery or solar is a better 'location' option which means using another brand.
Spotlight Outdoor
The two white LEDs output 100 lumens each. A total of 200 lumens is about the same as a torch or a single 25W incandescent light bulb. It tends to create a hazy glow out to about 3 meters and provides just enough light to bring some colour to night vision.
It is IP66 rated that means dust and rain resistant.
If you need more light, Swann also has a 2500 lumen floodlight camera that does a better job for more extensive areas – for most Aussie home this is probably a better choice.
Alert Indoor
Unless you have adequate light levels (200 lumens or more) it records in mono using nine infrared LEDs. Again, while PIR/noise detection works to 10m night vision is strictly close range.
Picture Image
These are 1080p cameras. While PIR can detect movement/heat out to 10m, these need to be as close as possible to the target – certainly no more than 2-3 metres away.
You will notice a 5-10 second lag viewing live video. It is not sharp, nowhere near accurate colour, and tends to overexposure but it is better than many 1080p cameras I have tried.
But you get what you pay for – a 2K or 4K camera costs substantially more and needs a dedicated base station.
The App
Download the Swann Security app from Google Play or for iOS. Set up an account.
See live footage from multiple cameras, wherever you are
Receive push notifications (less false positives with True Detect)
Capture, playback & share video and still recordings on your mobile device
Can recognise up to 10 people or pet faces
The one app controls all of Swann's wired and wireless devices (wired DVR and NVR systems, powered Wi-Fi cameras, wire-free cameras and video doorbells etc.) from multiple sites so you can stream live video, receive notifications and know what's happening.
It has a free secure cloud (rolling seven-day), and local recording (rolling two-day on internal memory) is great if the internet is down. If you need more cloud storage details are here.
Remote view reliability
By far, one of the most significant complaints about Wi-Fi security cameras is remote viewing reliability. To be fair, that is more an issue with mobile broadband, data allowances and NBN speeds (do no use if you have slow internet).
It appeared reliable but we have 100Mbps NBN and fast mobile data.
GadgetGuy's take – Swann Alert Indoor, and Spotlight Outdoor, security cameras
Think about what you need
Swann has a security ecosystem – video doorbells, indoor, outdoor etc. It is also a DIY system – pop into Bunnings and buy all you need to get going.
I would buy it if
I needed up to four cameras/video doorbell
The house has at least 50/25MBps reliable NBN (it won't work if you have ADSL or slow speed)
I could place all cameras well within 20 metres of a Wi-Fi router
The router is well placed and not over congested or too slow (AC3200 minimum)
If internal 240V power is near to where I wanted to mount them
And I would likely buy the Spotlight version and use it indoors
I would not buy them if
I was looking for number plate quality detail (buy 2K/4K)
If the area to cover was larger than 2-3 metres away
And external power placement was an issue (buy battery of solar)