UMIDIGI Ubeats – the company claims it is the best value and performance BT 5.0, in-ear, neck strap style headphones today. If enthusiasm counts and UMIDIGI has that in spades – the company and its products deserve to succeed.
GadgetGuy has covered this largely unheard of company (in Australia) – its F1 smartphone (n relation to the F1 motorsport) offers incredible value at $279.99 and has a 4.4-out-of-5 rating. If the UMIDIGI Ubeats (no relationship to Beats by Dr Dre) follow a similar formula, then they are worth several times what they are charging.
Review: UMIDIGI Ubeats, BT5.0, in-ear, neck strap style (called necklace), headphones
Website: here
Price: US$32.32 but there are special prices on-line at AliExpress  and elsewhere
Brief specs
Qualcomm QCC3003 BT5.0 stereo and mic chipset (compatible with earlier BT versions)
BT 5.0 SBC codec means multi-point connections, higher data transfer to 2Mbps, 10M range, and use 25% less energy than BT 4.2 (LE)
12-hour playtime with micro-USB charging (cable supplied). 300 hours standby – idle
140mAh battery, 1.5 hour charge time (off a standard 5V/1A USB-A port) with red/white LED indicator
8th generation Qualcomm CVC noise reduction algorithm  for clearer audio, automatic gain, wider stereo separation and more
10mm dynamic coils, 20Hz-20kHz frequency response
MEMS ( micro-electromechanical system) silicon mic
Small, medium and large ear tips and the silica gel necklace. 33g.
Magnetic earphone shells (stick together – but does not act as a power switch)
Voice assistant compatible
No app required
Setup
Press power on
Pair with any BT device – that is is.
No app – thank goodness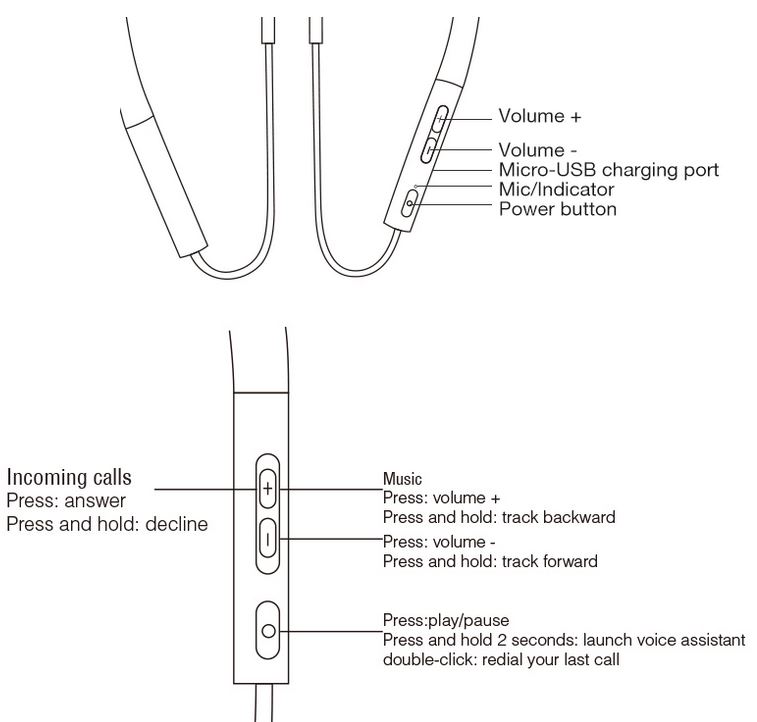 Sound
Maximum volume is 70dB, which is very loud in the ear. It is good clear sound with no apparent distortion.
Sound is interesting in a good way
(Note: Frequency response is from 20Hz to 20kHz)
Deep Bass: 20-40Hz – none
Middle Bass: 40-100Hz – strong from 50Hz
High Bass: 100 to 200Hz – flat (good)
Low-mids: 200-400Hz – flat
Mids: 400-1000Hz – flat
High-mids: 1-2kHz – flat
Low-treble: 2-4kHz – flat
Treble: 4-6kHz – peaking
High Treble: 6-1kHz – declining but solid enough
Dog whistle: 10-20khz – amazing – does not deteriorate until about 16kHz
There are six basic sound signatures – the nirvana for music and movies is Warm and Sweet.
Analytical: (bass/mids recessed, treble boosted)
Balanced: (bass boosted, mids recessed, treble boosted)
Bass: (bass boosted, mids/treble recessed)
Mid: (bass recessed, mids boosted, treble recessed)
Warm and Sweet (bass/mids boosted, treble recessed)
Bright Vocal (bass recessed, mids/treble boosted)
This is Warm and Sweet but has lots of potential to use an EQ to go mid-centric (for clear voice) or a little more bass. For a US$19.99 headphone, this is crazy good – far better than headphones for ten times the price.
OK Google and voice
A short press on the power button summons OK Google or Siri. It can then play song lists etc. You don't get voice foldback.
Callers said I sounded clear and not at all in a 'tunnel'.
Battery
Our tests confirm up to 15 hours at 50% volume (comfortable) and correspondingly less for higher volumes – let's average that at 12 hours for most users. BT 5.0 devices usually report battery levels.
Quality, fit
The silica gel necklace – the closest analogy looks wise is that black rubber insulation piping you see on air-conditioners – is durable, flexible and well made. It has a 1-year replacement warranty.
GadgetGuy's take – all buds should be as good as Umidigi Ubeats
I am impressed. I prefer over-the-ear, ANC headphones costing 20X times this. Frankly, the sound quality was as good as I have heard, and the snug ear tip fit reduces noise to acceptable levels.
Nice style, great sound, long battery life
Amazing low price
The magnetic clasp does not turn them off – it can power off automatically after five minutes
Not IP rated