An Intel NUC is a NUC – next unit of computing – a small form factor, ready-to-go or barebones, and all unobtrusive powerhouses. This time it is the NUC 8 Mainstream-G Mini PC, and we set out to discover what it can do.
The Intel NUC 8 Mainstream-G Mini PC is ready to go with Windows 10, one M2 slot and room for a 2.5-inch DSS/SSD in a diminutive package.
NUC 8 refers to 8th generation Intel Core, although it still makes the 7th generation NUCs as well.
You buy a NUC for a specific purpose. The form factor is perfect for a media PC, signage controller, disk/less thin client/workstation (mounts behind a monitor) or anywhere you need a small, 4.6 x 4.4-inch Windows 10 (or Linux) based PC.
Intel NUC 8 Mainstream-G Mini PC (NUC8i5INH)
Website here
Earlier GadgetGuy NUC reviews here  
Our NUC 8 review unit has
i5-8265u 4 core/8 thread 1.8/3.9Ghz
Radeon 540X 2GB GDDR5 and Intel UHD graphics 620
8GB LPDDR2-1866 (soldered and not upgradeable)
Option of Intel Optane or 128/256GB, SATA 600 M2 SSS (in M.2 slot)
Option 2.5-inch SSD or HDD
SD Card slot
HDMI 2.0b and Mini-DP output
USB-C and USB-A front and 2 x rear USB 3.1 Gen2 (10Gbps)
7.1 digital (HDMI); 3.5mm combo jack
Wi-Fi AC 9560, BT 5 and gigabit ethernet port
This is as complete as any larger desktop – except that you cant add PCI expansion cards and all you can change is the memory and SSD.
Processor Performance – i5-8265U
This is a great low TDP (low wattage and heat) processor achieving 7992 on the CPU Benchmark. It's about 10% faster than an AMD Ryzen 5 2500U.
We did not experience any throttling during a 10-minute, 100% load test.
Video performance
Intel has embedded a Radeon 540X into the unit to provide more GPU power than its UHD graphics 620. The Radeon fires up when you need advanced graphics power. You can read its benchmarks here, but to my eye, it is not a gaming powerhouse averaging about 1080@30fps across common games. It is fine for League of Legends.
Meanwhile, it's great for 4K@60Hz for big screen TV – it's ideal as a media player.
Expansion
I am disappointed that the ram is soldered in and a maximum of 8GB, still Windows does not need more.
There is one M.2 slot (PCIe NVMe x 4 lanes)
The review unit comes with a SATA 600 M.2 drive that achieves sequential read/write speeds of 552/380MBps. It's not too bad on larger files either.
If you want disk speed at a lower cost, you should consider using the M.2 slot for Intel Optane 16GB that for about $20 will almost double the SATA 600 SSD performance. Or get a 1 or 2TB PCIe NVMe SSD for around $300/700 approx, and you will have spectacular read/write speeds over 3000MBps.
USB-C 10Gbps
We did not test the port, but some of the NUC 8 models state they have alt DP mode for the USB-C data/audio/charge from the port.
Because it has so many ports, we don't see the need to add a USB-C dongle to gain extra HDMI or  USB-A ports.
Note there are Thunberbolt 3 models as well.
GadgetGuy's take – a NUC for most uses is all you need
Apart from the review units non-expandable 8GB memory (it does have 2GB of dedicated GDDR video ram), it is a NUC format that I am familiar with. The Intel Core 8th generation is not so much faster but uses less energy and creates less heat.
If you want a NUC (and why not) investigate the options. It comes as a half-height (M.2 only) and full-height (M.2 and 2.5-inch HDD/SSD) as well as a gaming format with it all. Barebones mean all it lacks is an OS, and M.2 or SSD. Some have 2 x SO-DIM RAM slots as well.
As you can get Windows 10 Pro legally online for under $30, 2x8GB SO-DIM for about $120, and a Samsung EVO 970 or WD Black 1-or-2TB for about $300/650 that makes it a very attractive package. If you do not need blazing disk speed there are far lower cost options from Crucial, Seagate and others in M.2 and 2.5-inch PCI NVMe and SATA 600.
BTW you can get the barebones i5 NUC8I5BEH and i7 NUC8i7BEH with 2 x SO DIM slots and Thunderbolt 3 for around $600/$750. Check options here.
And we would be remiss not to let you know that ASUS, Dell, HP and Lenovo all have small format mini-PCs.
So, our rating is not for the review NUC but for the concept.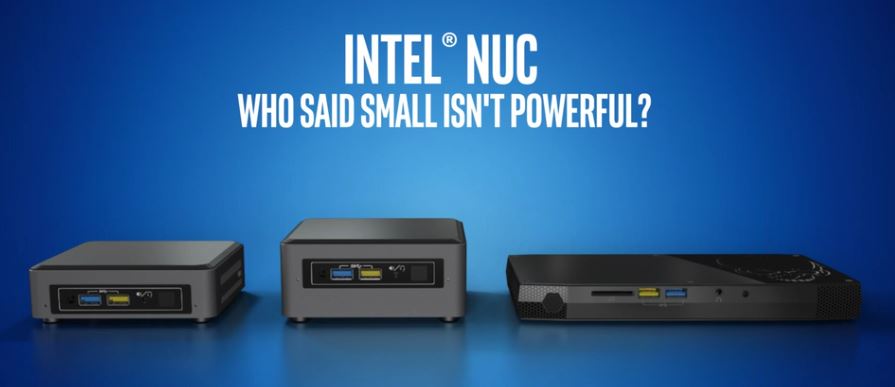 All in one small form factor has so many uses
Flexible - full kit or barebones
Review unit had solkdered RAM - other models have 2 x SO-DIM