Not every music player is created equal, and Bang & Olufsen has been coming up with something a little more playful in its labs, with a wireless music system that tries to match music to your mood.
If the idea of a music system in your home floats your boat, but you're not into the interface or design manufacturers like Samsung, Sonos, Panasonic, or LG are making, you might want to check out a new concept that Danish design house Bang & Olufsen has been working on.
It's called the BeoSound Moment, and it is B&O's take on a music system with more emphasis on the interface than on anything else.
The hardware includes a hub with speakers (as far as we understand) and a tablet controller that sits on top, making the Moment a wireless system with its own controller as opposed to a multi-room audio system with one controller for several speakers.
Because this is more about a speaker for one room you can expect a 2.1 stereo system with support for FLAC, ALAC, and WAV, supporting as much as 96kHz in 24-bit, with MP3s also supported, as well as AAC, and all of these able to be stored on a NAS drive in a home, which the Moment can look at over a network.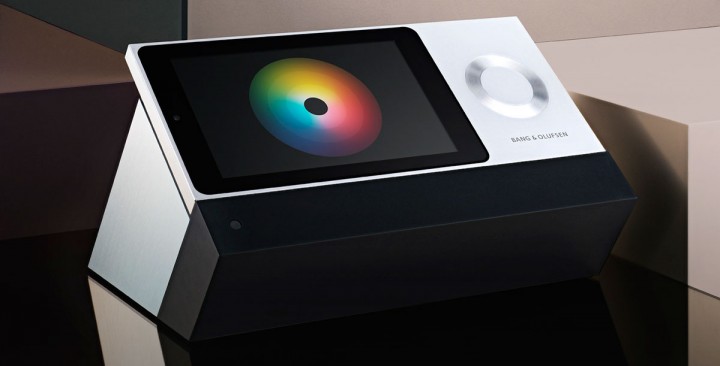 Internet radio is also supported, with TuneIn and Deezer catered for here, though DLNA and Bluetooth streaming will also work, making it possible to send music to the Moment from a device quickly.
Essentially, it will tackle the music in your home easily, and what it can see and play isn't an issue. Rather, the Bang & Olufsen BeoSound Moment is interesting because of how it controls the music.
Instead of an app for a smartphone or tablet, the Moment will come with its own controller consisting of a 7 inch 1280×800 screen on one side with an aluminium front and a touch wheel for letting you make your way through the selections, and then a wooden touch panel on the back.
And when we say "wooden", we don't mean that the back is stiff; rather, it's a touch panel made from oak with a touch wheel built inside, similar to the touch wheel on the front.
When using the front-side with the touchscreen, you're using the MoodWheel, a system designed to let you use your mood and emotions to work out what you want to listen to. With this engaged, the inner ring on the wheel lets you access your own collection of music, the outer ring works for music that could be a little playful and unexpected from the Deezer network, and the middle ring combines the two and analyses music in your collection to work out the music from outside of your collection it should be adding.
You can also just play the music you want, selecting tracks from the music collection on your home network, but if you feel like being experimental, you can play with B&O's MoodWheel controller.
And then there's the wooden side of the Moment's controller, and when this is being used, B&O activates "PatternPlay" which is an algorithm that kicks in to track how you use the Moment throughout the week and time of day, using your touch on the ring to start or stop playback with merely one other touch acting as "next" letting you move past a track.
From what we understand, that means the algorithms in the BeoSound Moment are essentially tracking what you're listening to and using this information to create your own personal sound, matched to specific feelings and times of the day, sort of like a background curator that you never see.
"As a modern, cloud based music system, BeoSound Moment will offer software updates with new features and improvements," said Marie Kristine Schmidt Vice President of Brand, Design and Marketing at Bang & Olufsen.
B&O's Moment certainly looks like an intriguing proposition, but we're checking to find out why it only supports a maximum of 96kHz in 24-bit audio, especially when you can certainly get higher resolution tracks.
In any case, this CES announcement does come with the benefit of having a price and availability date for Australia, with the B&O BeoSound Moment arriving at Bang & Olufsen stores from January 30, and priced at $3195 with 12 months of Deezer Premium service included.
UPDATE (January 8): B&O has come back to us to say that 192kHz support will be added later down the track through a software update.