The new Bose noise-cancelling headphones 700 represent its next step in noise cancellation and sound quality over its already award-winning QuietComfort 35 II wireless headphones.
The QC35 II will still sell for some time, and you can get them for under $399 (RRP $499). But to succeed and exceed it requires something special. We explore if the Bose noise-cancelling headphones 700 at $599 are a worthy successor.
Spoiler alert: Bose noise-cancelling headphones 700 are a new design with new space-age materials and style that outperforms the QC35 II. It is a strong competitor to the class-leading Sony WH-1000XM3.
GadgetGuy tests headphones and each has its strengths and weaknesses.
In 2018/19 we tested Bluetooth, noise-cancelling (most recent ones have voice assistants) headphones (our rating is in brackets)
GadgetGuy's Val Quinn, Thomas Bartlett and I developed paradigms to ensure fair testing and rating. All of these scored well over four-out-five meaning all are excellent ANC headphones, and none are 'dogs'.
We are going to set Thomas a task to compare these devices in time for a Christmas guide!
Our challenge is to see if the Bose noise-cancelling headphones 700 can beat them all
Paradigms – ten categories and up to ten points each
Sound quality and volume
Noise-cancelling type and effectiveness
Hands-free calling and mic effectiveness (ambient noise blocking)
Fit/comfort/weight/construction/build quality/appearance
Ergonomics – buttons/touch/layout efficiency
Support for various codecs
Battery life and charge time
Wired/BT version/USB
Other – carry case, accessories
Value – we do not comment on price as that is whatever you are prepared to pay, but we do suggest if there may be better value. In this review the only points lost are on price!
Bose noise-cancelling headphones 700
Website here
Manual here
The review reflects about six hours of use – enough to allocate an accurate rating, but I will update it with battery life later. Although at this stage it says I have 14 hours and 9 minutes left, so the 20-hour claim seems correct.
Note: As is Bose style, it does not publish extensive specifications. In fact, this is about it:
20.3 cm H x 16.5 cm W x 5.1 cm D (0.25 kg)
1.06m Audio cable
.5m USB-A to USB-C
BT 5.0 with 10m range and concurrent connect with two headphones
Battery life 20 hours (with BT/ANC) – you cannot charge and play
Battery charge (depends on the charger amperage) up to 2.5 hours
Carrying case:21.8 cm H x 17.9 cm W x 6.2 cm D (0.18 kg)
While an audiophile would shudder at the lack of specs like frequency response, SPL levels, THD and more – with Bose, we just must get over it.
The difference between QC35 II and Bose noise-cancelling headphones 700?
Four ANC mics (versus 3) that are truly impressive in cutting background noise
Two beam-forming voice mics for hands-free and voice assistance
New acoustic design offers slightly better noise isolation
11 ANC setting versus 3
Touch interface
Unlike QC35 II no pleated earcups, visible hinges, and bulky hardware
Looks
They come in black (my preference and the review unit) and silver.
More streamlined, modern and clean lines. It uses colour matched silicon and stainless-steel band and synthetic ear pads. These resist oils and should last longer than Pleather or woven fabric like Alcantara.
Fit/comfort/weight/construction/build quality
It weighs 260g – about 30g heavier than the QC35 II, but it does not feel heavier on the head. Head clamp pressure is reasonable, but I did find them slipping off the top of the head (to the back) after an hour or so. The QC35 II are a snugger fit. These are not for activewear.
Interesting is the absence of the usual headphone extendable 'forks' instead the headband is one piece (metal and silicon) ending in round 'pins' that slide up or down the ear cups. It is a different design and provides an excellent solid adjustment. Knowing Bose this has been tested a 'trillion times' to last decades!
The ear cups are quite deep and removable – doubtless available as spare parts in the future. I was a little concerned that the silicon pads would be hotter than leather, but that was not the case in two-hour stretches.
The Bose Music app for Android (tested) or iOS
The headphones will work as straight Bluetooth pairing with a PC or other content device, but to get full functionality you need the Bose Music App.
Bose also talk about Bose AR ('audio augmented reality platform that makes astonishing new audio experiences possible'), but that is not readily available in Australia yet.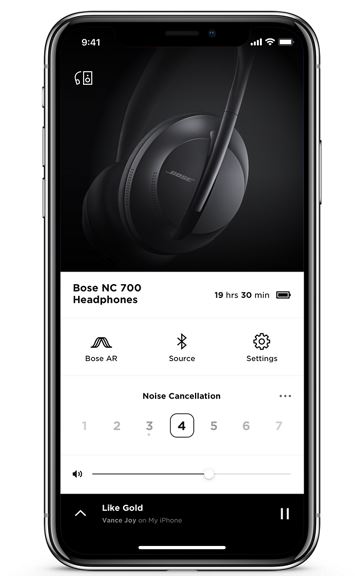 Touch and buttons – right front ear cup
It is a smallish touch surface, and like all touch devices you need to avoid accidentally touching it.
Double-tap – Play/pause music or answer/end call
Forward/back swipe – skip track forward/back
Up/down – volume up and down
Tap/hold – hear a voice announcement like battery level
You have buttons for voice assistant, and on/off/BT connect (as well as auto-off after a user-selectable period from 0-3 hours).
I use touch on the Sennheiser PXC-550, but my wife uses the QC35 II, and it took her some time to be comfortable with it. The price of progress.
Left earcup
There is a button for 'favourites' – three levels of ANC (default Off/5/10, but you can set these to whatever you want). But it is also for conversation – press for one second, and you can have a normal 'amplified' conversation. Press for another second to go back to the ANC.
Voice assistant – Google Home (tested), Alexa and Siri
You need to use the Bose app to link to the voice assistant.
But unlike my almost universal criticism of other headphones – there is voice foldback to your ears. You can hear what you are saying and even adjust the loudness.
Noise cancellation
I use SteelSeries or Logitech G series mechanical keyboards. My test is to type and see if I can hear the clackety-clack. Unlike most contenders this is perfect – no sound at all.
Turn noise cancellation off, and there is the clackety-clack.
I did not have a plane flight to test, but I am confident that these could handle that well.
Sound
Interestingly there is no EQ in the app. That either reflects Bose's confidence that the headphones neither add to nor subtracts from the source content. Or Bose forgot!
Maximum volume verges on 80dB – that is loud and an arbitrary limit of BT to avoid hearing loss!
Even at that level, there was no perceptible distortion or harshness – excellent!
The sound stage was a definite L-R – not that inner-head sound of many headphones.
Interestingly there is little difference between the 3.5mm and BT 5.0 connection reflecting the speaker quality. It will stream at the highest rate Codec (SBC or AAC) the device has.
In my Galaxy Note9 under Developer Options, you can select different codecs. SBC is standard, and you lose some of the sparkling upper levels. AAC is best for the full frequency response.
There is no aptX/HD or LDAC codec support. There is no USB DAC to enable listening and charging at the same time.
Sound signature
Remember this is with no EQ and it made very little difference with 3.5mm or BT.
There is plenty of bass, although not overwhelming. Mids and treble are flat to 5kHz and then start a slow decline dropping off at 18kHz. This is a Bright Vocal ( (bass recessed, mids/treble boosted) yet it has enough warmness (bass) to nearly be the nirvana – warm and sweet ( bass/mids boosted, treble recessed). Good job and very close to Sony WH-1000XM3 that has the flexibility of pre-sets and an EQ.
Handsfree – perfect
There are four ANC mics that take the sound around you and turn it into negative noise to cancel that out inside the headphones. A test call from busy Wynyard Station replete with announcements, trains pulling in and out – well over 100dB at peak – was superb. I could not hear the background noise at all, and the beamforming voice mics are excellent.
I have not seen the level of effectiveness in any other headphone.
Other
Because these do not fold up like the QC35 II (it folds flat) the case is slightly larger but thinner. It does not come with the two-pin aircraft adapter.
GadgetGuy's take – Bose noise-cancelling headphones 700 are superb
#BoseHeadphones rock, pop and roll
These deserve a 5-out-of-5 rating, but the conundrum is $599 versus under $399 for QC35 II, Sennheiser PXC-550 and Sony WH-1000XM3. Put bluntly, is there $200 worth of added value?
If you ask me are the Sony better than the Bose QC35 II (and I have both) the answer is a definite YES. If you ask me the same question with the Bose 700, then it is a very close call, and I can see me recommending them subject to the $200 price caveat.
And if you ask about the wonderful USB-DAC in the Sennheiser that can charge and play at the same time – well it is my favourite travel companion as battery life is never an issue.
If you want the current best-of-the-best and are a brand snob than Bose gets the tick.
Sound-wise all the headphones (extended list at the beginning of the article) do a damned good job, and you would be pleased with any. In fact, the lack of an EQ in the Bose app could be a negative.
If you want the best hands-free calling, I have ever seen the Bose is impressive.
The Bose ANC is probably the best, but Sony's adjusts for altitude, and that makes a difference in planes.
And battery – 20-hours is good and reliable, but Sony is 30-hours and equally reliable.
So, we are back to the question – Do you want a space-age, best of breed, modern Bose or the rest? For my part, I need to use the Bose in different environments over a longer time before I can be definitive but for now – its damned good.
Youtube
Positives
Better ANC and sound than the QC35 II
A sleek modern design you will either love or hate
Silicon pads provide good comfort and durability
Touch is intuitive but takes getting used to
Exceptional ANC/Beamforming mics for hands-free call
Negatives
Not 'foldable' - no real issue
Still uses 2.5mm to 3.5mm audio cable and no airline adapter
Would have liked the full range of BT Codec support
App feels a little lacking, e.g., EQ and pre-sets