Need a computer with a decent keyboard and aren't sure if you want it to be a tablet or a laptop? Dell hopes it has the answer with the Inspiron 7000, a 13 inch laptop that also works as a tablet, too.
Features
Dell is no stranger to playing with computer form-factors, and the Inspiron 7000 series takes the 360 degree hinge seen on many a laptop and applies it to a fresh thin and light machine in an attempt to bridge the middle ground.
As such, you'll find a 13.3 display on this laptop featuring the Full HD resolution of 1920×1080. The display relies on In-Plane Switching technology (IPS) and features a touch panel underneath, though a version of the Inspiron 7000 series 13 inch can be found with a standard HD 1366×768 touchscreen IPS panel.
Under the screen, you'll find a computer with modern innards, as Dell goes for Intel Core i5 and i7 processors, offering a choice of either in the series, and as much as 8GB RAM.
Storage on the computer is set to 500GB with a conventional hard drive, or 256GB with a solid-state drive, with Microsoft's Windows 8.1 installed on the computer out of the box.
Connection options are pretty standard for a computer these days, though some might see them as high end, with Dell opting to include 802.11ac wireless connectivity (WiFi), backwards compatible with standards such as 802.11a/b/g/n, with Bluetooth 4.0 also included.
Wired connection options and ports are also found in this machine, with two USB 3.0 ports, one USB 2.0 port, an HDMI port, full-size SD card slot, and a 3.5mm headset jack.
Also included is a passive stylus built into a recess in the body, with a spring-loaded eject mechanism.
Keyboard and mouse are included, too, the former with spill-resistant keys and backlighting, and the latter supporting gestures.
Several options of the Inspiron 13 inch 7000 series are available, but the review model was spec'd with a 13.3 inch Full HD touchscreen, Intel Core i7 processor, 8GB RAM, and 256GB solid-state drive.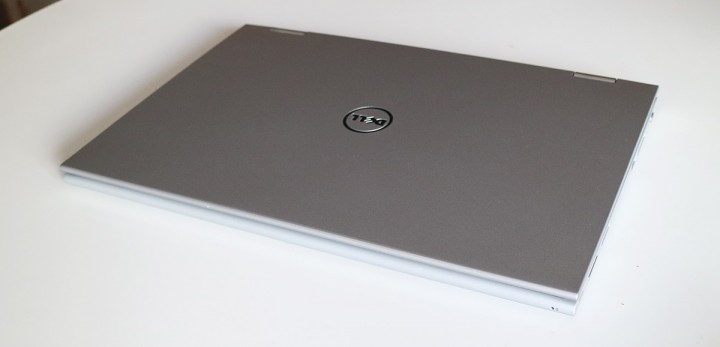 Performance
These days, computer buyers are pretty lucky because these days, when you buy a computer, you don't just have to settle with one style.
Laptop. Tablet. Laptop. Tablet. These days, when you buy a computer, often, you're getting both.
That can certainly be said of the computer we're looking at in this review, the Dell Inspiron 7000 series 13 inch laptop, a notebook that takes the same perpendicular style you've seen in laptops for years and applies it to a mid-range computer with enough guts for most people, and a decently sized Full HD display.
While this technically feels like an Ultrabook, Dell isn't calling it one, instead sticking with the "2-in-1" moniker and throwing in a set of specs that it believes matters, such as the Intel Core processors, between 4 and 8GB RAM, and the choice of a proper hard drive or a speedy solid state drive.
We'll tackle performance soon, but the look is worth commenting on because it's both a mixture of plain yet simple and easy on the eyes.
Silver is the name of the game here, and while silver typically means metal for many a company, for Dell's Inspiron 7000, silver is just another way of saying silver coloured plastic, because that's what you're given here.
That said, despite it being plastic only, it's a soft touch plastic that is comfortable on the wrist and easy to hold when you pick the machine up, with enough firmness and strength in the body so as to not feel that you're holding a toy, because you are most certainly not.
We even like the curved edges at the front of the laptop, which make the laptop feel like they're softened for your body and aren't trying to cut your limbs as you leave them resting on the laptop, a feeling we've had from other computers in the past.
You'll also find a large display aimed at you, and it's here you'll find the 13.3 inch Full HD display. Switch the computer on with the small sliver of a power button on the right edge and the machine will come to life.
When it does, you'll be greeted with one of the best parts of the laptop.
Anyone who has read our laptop reviews in the past is probably aware of how much we like screens, and it's one of our favourite areas to talk about because — in fairness — it's also one of the areas manufacturers tend to cheap out on.
Fortunately, that's not the case with the Dell Inspiron 7000 13 inch laptop, and for this computer, the company has applied a clear and sufficiently bright 13 inch panel that shows colours nicely, and is sharp enough for most people to be happy with.
It is so much better than the standard HD 1366×768 13.3 inch screens we've seen on computers for the past few years, and while it's a fair way off the Retina suggestion of 227 pixels per inch and only offers closer to 165 pixels per inch, the screen is still much more comfortable to set your eyes upon than so many other 13 inch laptops that pass through here.
Screen angles are also decent, which is particularly handy given you shouldn't have to have one specific view for any display, just make sure to not have too much light behind you, because it is one super reflective display.
In the input department, though it's a bit of a mixed bag.