Facebook users get another reason to sit on the social networking site for hours: you can now chat with your friends using video.
Built directly into Facebook's chat system is support for video, allowing you to simply hit the video camera icon to make a video call.
Officially launched today, you should just be able to jump into Facebook and see the video call functionality.
But that didn't work too well for us, so instead, head over to the Facebook video calling section to let Facebook help you set it up. It's a pretty easy thing, and once it's working, you'll have video chat enabled so that you can chat to your friends over webcam.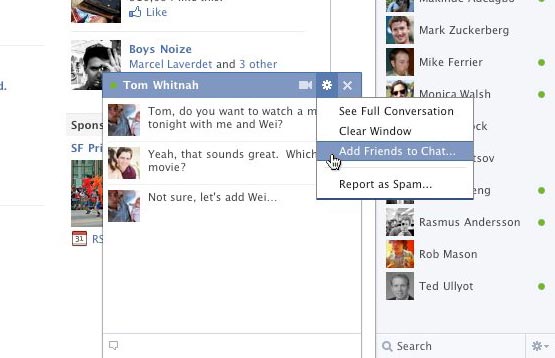 It's not just video chat that's been added to the Facebook feature list, with group chat thrown in at the same time.
Adding friends to a conversation is pretty easy, with a press of the settings icon – a cog – from within a chat window, followed by hitting "Add friends to chat…", which will give you a box to let you type in the names of your friends and add them.
The changes look to increase the worth of Facebook's chat system, which has needed upgrading past its basic instant messaging functionality. With Skype being used for the video chat technology, Facebook has a very good video chat system to compete against Apple's Facetime HD network. Sadly, you'll find that this new feature won't work on the Apple iPad because it uses Flash.