For the most part, this makes the Envy 23 easy to plug external devices into, and anyone who has to plug in and out USB thumb drives will find this position useful, as will someone considering using the HP Envy 23 as a secondary monitor with the HDMI port on the left side.
It won't work as a touchscreen for a computer in this way — sorry, that's reserved for the Envy 23, and touch isn't transmitted over HDMI, merely video and audio — but at least you can plug in a secondary computer, a video game console, or even a mobile phone or tablet this way.
Even more useful is the stand, which can be position in the typical position an all-in-one predominantly relies on with the screen facing you, or even pushed flat and at various angles.
This makes the Envy 23 a little bit more playful than the typical desktop, and means you can lay it flat like a tablet, draw on it, play games looking down, and generally have a touchscreen computer that you can decide on the usable angle for.
That's a big deal, too, as touchscreen desktops tend to be a little uncomfortable to use, thanks to the large sweeping motions that your hand has to do, which work on a small screen because the gestures are far smaller, but feels a little cumbersome when you're swinging your arms in front of you.
It's especially cool in some of the entertainment activities, with games that support touch being very cool on this screen, almost as if you're touching and using something straight out of a science fiction movie. We played "Defense Grid" and "Civilisation 5" during this review, both of which support touch and work with it tremendously well.
Ultimately, we want more touch enabled games from here on in.
Inside the computer, you'll find enough processing power for most things, with an overkill spec for office work and web surfing, but just enough oomph for the odd game or two. We didn't experience much lag across anything we did, and Windows 8 generally flowed nicely, with the touchscreen helping matters here, since Microsoft's latest operating system was developed with touch in mind.
A generous supply of storage is provided, with one terabyte built in, though you'll only find around 860GB available to you. HP has also included 16GB of solid-state storage that you can't access, though this will be used in the background, sending files to this faster form of storage and speeding up everything else you're doing.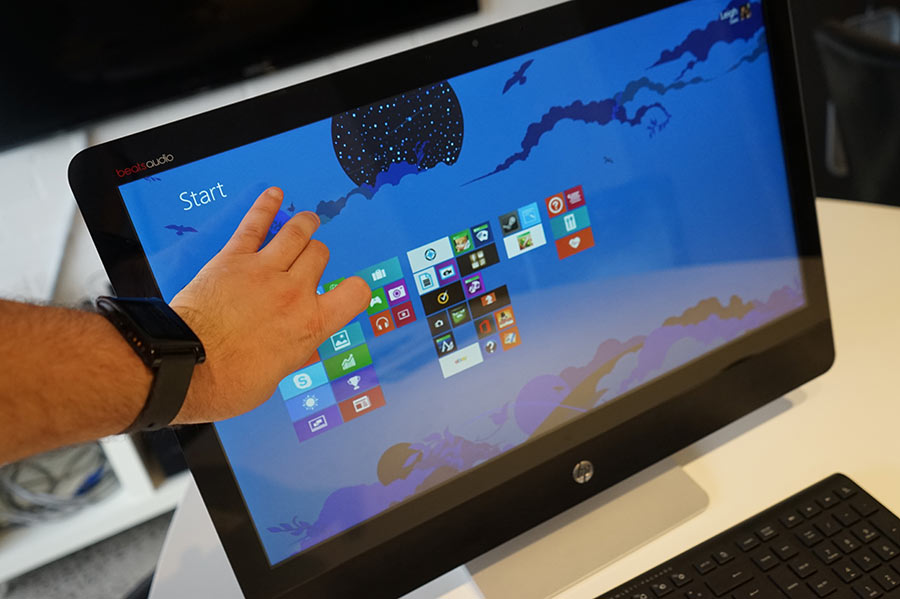 While the specs are pretty decent, the graphics could be better, and it seems silly to us to pair a Core i7 chip with such a low-grade video card. Unfortunately, the GeForce 730 isn't a remarkably strong contender here, and so while the rest of the computer is relatively high end — Intel Core i7 fourth-gen 2.5GHz, 16GB RAM, 1TB hard drive, Full HD touchscreen — the video card will let you down, and if you plan to run more than just the occasional game, you won't get on well with the Envy 23.
It's interesting too, because occasionally a game would run out of memory on this computer, which is odd given how decent the 16GB supply of memory is. We suspect it's the video card killing this, as while Intel's HD4600 graphics chip is reasonably improved from where it was several generations ago, HP has basically matched a hum-drum set of internal graphics with an even more hum-drum discrete graphics chip set.
Beyond this technical issue, the HP Envy 23 is mostly a success.
We say "mostly" because there's a factor in the screen that bothers us, and that's the brightness, and how little of it you get.
Unfortunately, there's just very little brightness to write about here, and HP has even disabled the Windows 8 brightness controls, and removed any hardware buttons to let you tune it, forcing you to rely on a tiny piece of software that offers a few colour temperature changes, some contrast control, and very little brightness.
At points, we thought it was our eyes, and had to desperately seek the brightness options to see if these could be changed, and changed quickly. Sadly, there just isn't much movement here, and if you don't like how dim the world is on the HP Envy 23, you won't have many options to turn to. Unless you want to buy a new screen, which given the all-in-one form-factor at play here, probably defeats the point to begin with.
Oh, and we'd suggest to replace the keyboard and mouse immediately, though, as they're among the worst of the supplied peripherals you'll ever use. If you thought that maybe you'd get a decent set of accessories with a machine that costs over two grand, think again. These bits just aren't good at all.
Conclusion
Unless you're a gamer, the Envy 23 is perfectly matched to most people, providing plenty of storage along with decent specs and a respectable touchscreen.
HP's special stand helps to bring this together, culminating in a machine that isn't just suited to desks, but also anyone who wants a top down approach to using their computer.
Reasonably stylish; Neat hinge mechanism means the Envy 23 can be used either as a typical computer, or flat like a tablet; Outside of the video card, a well spec'd machine; Works as a monitor or TV through an HDMI port;
Video chipset needs to be better than the GeForce 730 HP included; Display isn't bright enough; Included keyboard and mouse aren't great;