Not quite a Surface, but still something close, HP's Spectre x2 is one interesting machine, and worth checking out if you're keen to see a tablet with all the fix-ins.
Specs
Not keen to let Microsoft get all the attention for tablet computing, HP is ready with a slate of its own, and one that when you set your eyes upon it, you'll probably see more than passing resemblance to the big M's take on the category.
HP's is a little different, but does manage to bring some similar specs to the table.
First there's a 12 inch display here running the resolution of 1920×1280, making it a Full HD screen in a slightly wider aspect ratio than the usual 16:9 with its 1920×1080.
Under this screen, a cacophony of computer parts works together for the experience, with an Intel Core m processor (either m3, m5, or m7) delivering the power, paired with 4 or 8GB RAM, and a solid-state drive up to 512GB. Microsoft's Windows 10 is loaded on this drive out of the box as you'd expect on a modern computer.
Connections are a little different for a laptop, and HP starts the year off with a push to the next generation of USB ports here, with two USB Type C reversible ports here, both of which are capable of delivering high-speed USB 3.0 speeds while also taking charge through both of the ports, though only one at a time and through HP's charge block.
You'll also find a 3.5mm headphone port for headsets with both microphone and headphones on them, as well as a microSD slot on the top right side able to be ejected using a pin ejector tool.
Wireless is more or less par for the course, however, including 802.11a/b/g/n/ac WiFi, as well as Bluetooth 4.0.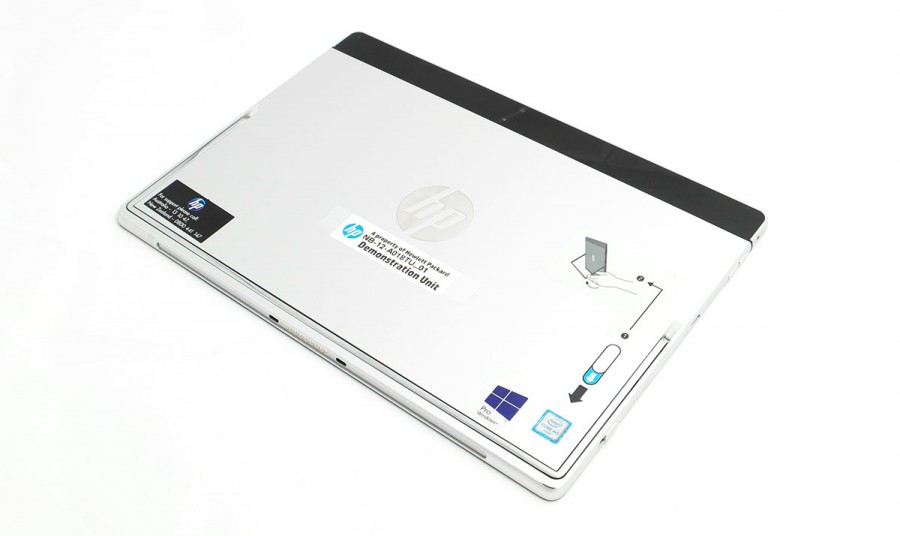 Two cameras are included on the tablet, with a 5 megapixel camera sitting above the 12 inch screen and an 8 megapixel camera on the back with technology from Intel for RealSense built into the body nearby.
Several extra parts are included in the box, though, with a kickstand built into the Spectre x2's body, coming out from the laptop when a switch on the left side of the tablet is triggered, while a keyboard and pen mouse are included in the box, too.
The keyboard is one of the surprise features, and is something you'd normally have to pay for, comprising of a magnetically-connected fabric-backed aluminium keyboard with backlighting and trackpad, while the pen is also made from aluminium and relies on technology from Wacom.
A few physical buttons can be found on the Spectre x2, with a power button on the top edge in the right corner, while the volume rocker sits on the left side well above the kickstand switch.
Editor's note: the model being reviewed was configured with an Intel Core m5 processor, 8GB RAM, and 256GB solid-state storage, with a value of $1899 RRP.
Design
Tablet computers don't really need to arrive with a lot of complexity since most of the equipment tends to be thrown into one section — the screen — but you still need to make it look nice.
Fortunately, HP appears to have done that with the Spectre x2, a machine that oozes simplicity and minimalism thanks to the fact that like the Microsoft Surface, this computer is essentially a 12 inch frame with a screen, processing parts, and a magnetic port at the bottom to connect a lightweight fabric keyboard.
Design-wise, you're looking at an 8mm tablet made from a single block of aluminium, which kind of makes the Spectre x2 feel like a premium tablet, the sort Apple might construct.
There is something inside that Apple wouldn't really throw into its design, and that's a stand built into the body, able to be set up when a switch is flicked and the kickstand comes out to play.
It's not as easy to flick down as it probably should be, but when it does, the stand is very sturdy, providing something to lean your tablet against without thinking.