In London today (16 October) Huawei fired its opening salvo at its rivals for the crown of the flagship race. The Huawei Mate 20 and Mate 20 Pro are top drawer stuff.
GadgetGuy had a preview and hands-on with the Huawei Mate 20 and Mate 20 Pro. Channel 7 Sunrise GadgetGuy Val Quinn has braved the 24-hour flight time to be in London as a guest of Huawei for its launch. We will bring you more from chilly, rainy, royals obsessed London soon.
So why does Huawei think it can take the crown?
 It comes from three things:
A few years ago, we were all pronouncing it Who-are-we. Today Wah-Way rolls off the tongue as a recognised brand!
It is first to produce a 7nm Kirin 980 superchip that enables previously unseen levels of AI to make photos better and the phone smarter
Nothing is missing from the Mate 20 and Mate 20 Pro. Subject to a review they should take out the best camera award (as its P20 Pro already has) and very close to a 5-out-of-5 in our flagship rating paradigm.
First Look – Huawei Mate 20 Pro (Mate 20 standard in brackets)
A full review will come in about two weeks. Here are the important bits!
Processor
The 7nm Kirin 980 is, in every respect the super-chip of 2018. While comparisons to the flagship Qualcomm 845 are inevitable, these are two very different chips with different priorities.
It has 2 x Cortex A76 [2.6GHz] plus 2 x Cortex A76, [1.92GHz] and 4 x Cortex A55 [1.8GHz] cores and a GPU: Mali-G76. It should be very power efficient.
Huawei designs the silicon for its phones as does Samsung and Apple. This allows it to customise the silicon to its needs and in theory, should give it an edge. Unlike Qualcomm, it does not sell to others.
Raw horsepower tests indicate it is between 10 and 30% faster than the Qualcomm 845 for the same tasks, but a better comparison would be with the yet-to-be-released 7nm Qualcomm 855.
The design includes dual neural processors to provide higher AI capabilities. What it calls 'malleable' on-demand power to perform AI tasks.
Compared to its predecessor, the Kirin 970 in the P20 Pro, it is 134% faster, 88% more AI efficient and 58% more power efficient.
Our take – if it lives up to performance expectations it will offer the fastest processor and more AI than Qualcomm 845. Part of that will be how well Huawei can tune Android to the chip.
RAM/Storage
It has 6/128GB and new 'nm' memory card expansion to 256GB. 'nm' memory is proprietary to Huawei. It is smaller than micro-SD and offers 90MB/s which is perfect for 4K video recording.
Time will tell if nm is a wise move and if it is comparable in cost to micro-SD.
Screen
6.39", 3120 x 144, 19.5:9 OLED screen with notch with HDR10 and + compliant In-screen fingerprint detection
(6.53", 2244 x 1080, 18:9, LCD screen with 'dew-drop' and rear fingerprint sensor)


We understand the OLED screen comes from the joint venture between OPPO/Vivo and Huawei in Royole Corporation founded in 2012. Royole is known for its flexible AMOLED technology offering superior shatterproof, high-contrast, high-performance colour, ultra-fast response time, and low energy properties. It opened a new massive 1.1-million-square-foot Quasi-G6 Mass Production Campus in Shenzhen in June.
Regardless of which supplier Huawei uses it now controls 100% of its supply chain and sources everything except Android OS from China.
Rear camera – three of them
A 'triple' Leica Summilux rear camera with dual Image Signal Processors in a 2×2 square format
40MP RGB f/1.8, PDAF+Laser Focus, HDR
20MP RGB ultrawide f/2.2
8MP RGB telephoto f/2.4 OIS.
Dual tone LED flash array
Mate 20 has 16MP standard f/2.2, 12MP wide-angle f/1.8 and 8MP telephoto f/2.4.
The camera setup is very similar to the P20 Pro. Gone is the signature mono sensor (P20 Pro DxOMark here). Huawei says that its new RGB sensor can extract the details usually provided by a mono sensor.
40MP is huge and will capture far more detail. We understand that the 40MP will also pixel bin in low-light (Night Shot mode) to produce a 10MP image using the best pixels. PADF and Laser focus will mean better capture of moving shots.
The three lenses can provide a 5X hybrid and 10X digital zoom and an ultra-closeup macro as well. Given the massive data that this setup can capture its no wonder, Huawei needed to invent a superchip to process it. According to the Kirin 980 specs, it can process image recognition of up to 4,500 images per minute. It also has post-processing HDR manipulation and well, all the bells and whistles a 'pro' could ever imagine.
I will be very surprised if it is not the best performing camera on DxOMark although we have yet to see what the Google Pixel 3 can do with a single lens. Either way, if you want the best photos, it will be up there.
Selfie
24MP Wide angle f/2.0 selfie for 'friends'. AI-driven 3D facial modelling technology follows the contours of your features, adjusting for the most flattering selfies. 3D Portrait Lighting (not flash) also offers a host of studio-quality lighting effects to turn quick selfies into portraits.
More important is the AI that Huawei brings to both front and rear cameras. AI is about taking captured information and presenting what it thinks is the best photo. When I reviewed the class-leading P20 Pro, I found the AI a little too aggressive – but that was with pre-release software.
It will recognise 25 different AI Scene recognition and 1500 different scenarios.
Hi-Vision AI provides real-time information on food, art and building categories. It was impressive when aimed at a bowl of fruit it identified Kiwi Fruit and estimated its weight and calorie count.
Battery
4200mAH (4,000) battery AI management.
Expected 30-hour talk time and 104-hour music playback
USB-C 3.1 gen 1 fast charge (70% in 30 minutes)
15W Qi fast charge (200% faster than iPhone X 7.5W)
Reverse charge to top up other Qi phones
4,200mAh is plenty especially when the OLED screen and 7nm processor are energy misers. The reverse charging is novel. It allows you to use the Mate 20 Pro as a charging pad for emergency top ups of any Qi phone or device.
LTE
Dual 4G Sim
Cat 21 for up to 1.4GHz downloads and 200 Mbps uploads (with carrier aggregation)
Band support – at least 1/3/7/8/20/28/34/38/40
VoLTE and VoWiFi on each sim
HD Voice
As good as it gets. Dual sims means you can have your normal number and use the second for a work number or pre-paid data plan.
GPS
It has L1 + L5 dual frequency ultra-precise positioning GPS system for 4m accuracy. For most, the usual 10m accuracy is fine, but this gives an edge in in-car, turn-by-turn navigation.
Sound
Stereo speakers 32-bit/384kHz Hi-Res Wireless Audio
Dolby Atmos (to headphones)
2 x noise cancelling mics
USB-C to 3.5mm adapter
The DAC specifications are like the P20 Pro. Using Bluetooth or via USB-C it should be an audiophile's delight.
Comms
Wi-Fi AC MU-MIMO, Miracast, Hotspot
Bluetooth 5.0 aptX/aptX HD and LDAC HD Audio capable
NFC
IR blaster
All you could need and Wi-Fi is high-end that should get over 1Gbps data connection.
Other
IP68 water and dust proof rating up to 1.5m
157.8 x 72.3 x 8.6 x 189g. (158.2 x 77.2 x 8.3mm x 188g)
In-screen (under glass) fingerprint reader (Pro only)
3D face unlock within .5 seconds
The in-screen fingerprint is fast and accurate. 3D face unlock works in low light as it projects dot over the face.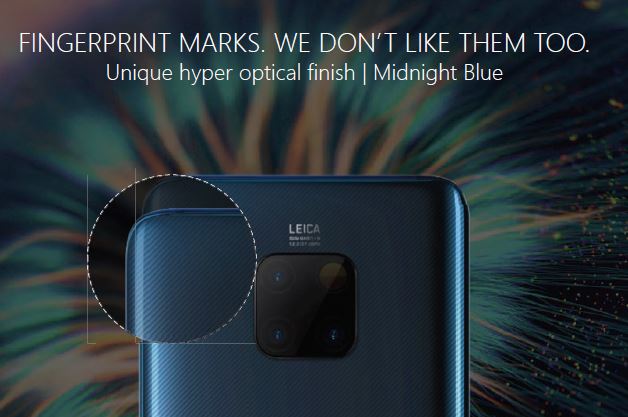 OS
Android 9 and two-years OS and three-years security updates
EMUI 9.0
Phoneclone hassle-free smartphone switching and transfer
Wireless desktop mode (like Samsung Dex) using industry standard Miracast and DLNA.
Our first look at EMUI 9.0 showed a light, almost minimalist overlay with lots more flexibility than EMUI 8.1. You can set it up for Android 9 gesture mode, or Android 8 app tray, or pretty much as you want it. In all its more polished, simpler, customisable and lighter.
For example, if you don't like the Notch then turn it into a black band across the top. It supports knuckle and tap gestures and more. It has new Digital Balance features that allow users to monitor and better understand how they use their phones. It has language translation as well.
I particularly like the Miracast and DLNA feature that allows you to use it as an Android desktop – just add a monitor.
Price
$1099 for Mate 20 (pre-order to 31 October includes FreeBuds at $199) From Vodafone (single sim) and dual sim from JB Hi-Fi, Mobilecity and Kogan in Black Website here

$1599 for Mate 20 Pro (pre-order to 31 October includes Wireless Freebuds and Wireless charger valued at $348)
From Optus (single sim), Vodafone (single sim) and dual sim from JB Hi-Fi, Mobilecity, Harvey Norman and Kogan in Midnight Blue and Black Website here


GadgetGuy's take – Mate 20 and Mate 20 Pro are impressive
We will be reviewing the tri-camera Mate 20 Pro over the coming weeks. At the same time, we have the single-camera Pixel 3 XL so it will be interesting to compare.
I suspect Huawei will sell an awful lot of these devices. They are good value for what they offer.
Huawei is now the world's second largest smartphone maker. It shipped 54 million units with a phenomenal 41% growth this year. By comparison, Apple shipped 41 million and Samsung 73 million with flat growth.
I also suspect the Mate 20 Pro will up the ante in the DxOMark camera ratings.
The P20 Pro was good but not perfect. The Mate 20 and Mate 20 Pro are closer to perfection.
Would I buy one?
Yes, without hesitation. Until we see the next round of smartphones early next year like the Samsung Galaxy S10 or those using the 7nm Qualcomm 855 processor, Huawei appears to have a giant lead over the rest.
All of the so-called spying issues relating to Huawei, ZTE and other Chinese companies relate to critical infrastructure supply like routers and networking for energy, telecoms and utilities. It is perfectly safe to use a Huawei phone with no more concern about being listened into than any other brand.
You can watch the launch here