We've seen flagship handsets from most of the big boys this year, but Huawei has yet to show its hand, until now, with the Ascend P7 hitting stores shortly, bringing 4G and a thickness that has to be seen to be believed.
A new entry in Huawei's long running "performance" range of Ascend handsets, the P7 will bring a 5 inch screen and Android 4.4 "KitKat" to anyone not keen on the $700-999 prices that other 5 inch smartphones currently pull in locally.
"Huawei's relentless commitment to developing premium quality smartphones over the past three years has paid off," said Howard Chen, Head of Devices at Huawei Australia, adding that "we are now ranked number three globally in terms of smartphone shipments, and our brand recognition in Australia is growing steadily."
"We are delighted to offer the Ascend P7 in Australia and providing customers good value for money with one of the slimmest and ultra-fast 4G LTE smartphones in the market," said Chen.
That slim phone is 6.5mm thin, even more svelte than the 6.7mm Galaxy Alpha announced by Samsung earlier in the week, with Huawei also throwing in a quad-core 1.8GHz processor, 2500mAh battery, 16GB storage, 2GB RAM, Bluetooth 4.0, WiFi, and NFC.
Category 4 4G LTE is also here, providing speeds as high as 150Mbps down and 50Mbps up dependent on your telco, of course, and we're particularly interested in the cameras, with a 13 megapixel rear camera and an 8 megapixel front-facing shooter.
Yes, that's an eight megapixel camera for the front, bigger than the 5 megapixel shooter offered by HTC in its One M8, and the 2 megapixel cameras in all of the other major flagships.
Also of note is a blue glass infrared filter, which is an interesting addition, and could even be similar to the blue glass IR filters used professionally by photographers.
We'll be keen to see if this makes a difference to the on-board camera for cutting down on excess light to clear up photos.
All of this sits under a 5 inch Full HD screen, running a pixel clarity of 445 pixels per inch, with its 1920×1080 resolution protected by Corning's Gorilla Glass 3.
Pricing for this package comes in at $549, and that's outright at Harvey Norman from August 18, which should grab some attention.
We'll have a review shortly, but that isn't all Huawei has announced this week, sending word that its first wearable is also arriving in Australia shortly too.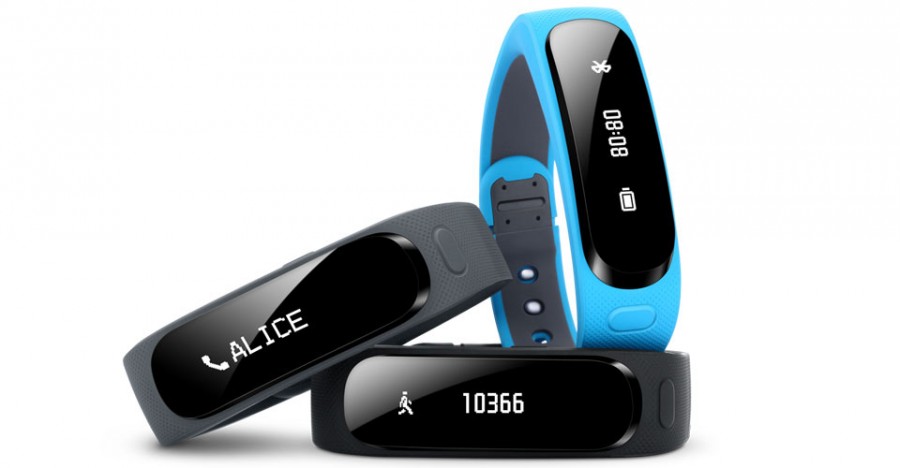 We heard about this earlier in the year, but if you haven't heard, Huawei's TalkBand B1 is the company's first foray into fitness wearables, bringing a 1.4 inch OLED screen to a Bluetooth wrist band, with the ability to track sleep, movement, and even tell you when someone is calling you.
But unlike other wearables, Huawei's TalkBand B1 also integrates a Bluetooth headset because the screen on the band can be removed from the band and worn like a conventional Bluetooth headset, making it ideal for someone who likes convergence and wants both types of gadgets in their life.
Also of note is that it's fairly platform agnostic, not requiring a Huawei phone and working with either android or iOS, which means most people with smartphones will be able to see what the TalkBand B1 is all about.
We're told it's also light — 26 grams — and fairly sweat-resistant, with IP57 certification for some water and dust resistant, while the battery should last up to six days and can be charged through a microUSB port.
Pricing for this one is a little more than other wearables, likely because of the combo device that it is, but you'll find it shortly in Dick Smith for a recommended retail price of $179.