Is the Lenovo Smart Clock a sexy little bedside alarm clock or a fully-fledged Google Home speaker? Well yes to the first and not quite to the second.
We put the Lenovo Smart Clock through its paces and compared it to the Google Home Hub (review here), the Lenovo Smart Display (review here) and the JBL Link View (review here).
Lenovo Smart Clock is a 4-inch, 800 x 480 touch screen with a 1.5-inch 3W speaker and no camera. it offers a reasonable subset of Google Assitant features
Google Home Hub (now called Google Nest Hub) is a 7-inch, 1024 x 600, touch screen with a 1.5-inch speaker and no camera. It runs a version of Chromecast and offers a wider subset of Google Home features including YouTube streaming.
Lenovo Smart Display comes in 8 and 10.1-inch touch screen with a 2-inch 10W speaker and has a camera with privacy shutter. It runs Android Things – a full Google Assistant operating system.
JBL Link View has an 8-inch, 1280 x 800 touch screen, 2 x 2" (total 20W) speakers, camera with privacy shutter and runs Android things. It sounds terrific and offers all Google Assistant functionality.
Review: Lenovo Smart Clock
Australian website here
Out of the box
Lenovo Smart Clock
AC adapter 20V/1.5A 30W with pin plug
Brief Specs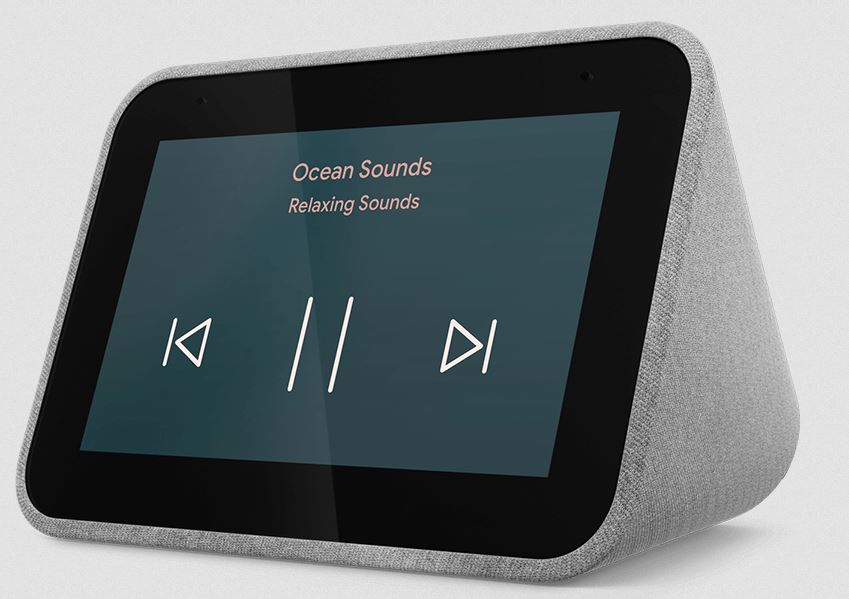 4-inch, 800 x 400, IPS touch screen with ambient light sensor adjustment
1.5-inch 3W speaker and two passive radiators with physical +/- buttons
Dual mutable far field mics (maximum 8 metres)
Bluetooth 5.0
Rear USB-A 2.0 port (5V/.5A charging only)
113.88 x 79.9 x 79.2 mm (a wedge shape) x 328g in Soft touch grey woven cloth
Wi-Fi AC dual band
Ten different face styles – analogue, digital, minimal, and colourful faces, as well as weather-themed faces and a word-based one.
$129
What Lenovo Smart Clock can do
It performs all Google Assistant commands (see here)
You can use Google Duo to make audio calls
You can cast music to it
Google Assistant Routines
Charge a phone or smartwatch
You can use it as a BT speaker – Hey Google Please connect Bluetooth
Supports all "Works with Google Assistant' authorised devices.
Still functions as a clock and alarm if Wi-Fi drops out
Alarm – OK Google snooze (10 minutes), 20-minute nap timer and Sunrise alarm to wake you gently and choice of tones or online music
Can display some brand's security camera images
What it cannot do
You cannot stream video (but you can cast it to other Chromecast screens)
Make video calls (no camera)
Surf the web
Will not link with Google Photos (photo frame)
You can control smart appliances, but it is missing the Home View interface
How does it sound?
I can nudge 78dB with almost no harmonic distortion.
Deep Bass: 20-40Hz – none
Middle Bass: 40-100Hz – none
High Bass: 100 to 200Hz – building
Low-mids: 200-400Hz – flat (good)
Mids: 400-1000Hz – flat (good)
High-mids: 1-2kHz – flat (good)
Low-treble: 2-4kHz – declining
Treble:4-6kHz – declining
High Treble: 6-10kHz – flat (good)
Dog whistle: 10-20kHz – flat falling off at 13kHz
This is a mid-centric verging on Bright Vocal sound signature best for clear voice, yet it has just enough bass and more high-frequency response than most speakers this size. It is fine for personal listening.
BTW its way better sound than a Google Mini (below) that has virtually no bass, reasonable mids and then treble drops off a cliff. This is a mid-sound signature and is fine for mid volumes as a personal speaker but gets way too harsh at higher volumes.
GadgetGuy's take – Lenovo Smart Clock is an alarm clock first, with large text and Google Assistant benefits.
It does not take advantage of its screen beyond showing the time and a few instructions. I don't mind that as I don't intend to peers at a 4-inch screen for video content enjoyment.
I particularly like the alarm failsafe – Google Assistant's alarm function has let me down when Wi-Fi is unstable.
Back to the competition comparison
Lenovo Smart Clock is the best bedside alarm clock with many Google Assistant benefits
Google Nest Hub is for those that want Google Photo integration and Youtube on a 7-inch screen
Lenovo 8 and 10.1-inch Smart Display are the best all-around Google Assistants with video integration
JBL Link View has the best sound by far and does everything the Lenovo Smart Display does.
Elegant, minimalist, small bedside alarm clock with most Google Assistant benefits
Alarm and clock failsafe if Wi-Fi unavailable
No video streaming or Google Photo integration