Switch the machine on and you'll see the X1 Carbon spring to life, its screen lighting up and showing off its wares.
We need to say this from the get go, but this is one beautiful screen. Lenovo has provided a 14 inch panel running a fuller-than-full HD resolution of 2560×1440, and with Lenovo's smarts and the Windows HiDPI mode, this produces very clear text, sharp details, and a quality that we don't normally see in laptops, even in machines running the same or higher resolutions.
Credit where credit is due, because the X1 Carbon wins us on screen quality.
It even wins when it comes to viewing angles, because the X1 Carbon offers excellent angles, boasting solid colour and no obvious washout, even at the extremes of each view point, which is something few laptops get close to. It even feels like Lenovo has applied some glare resistance to this screen, offering nowhere near the amount of reflectivity we're used to in laptops, though still not quite reaching the matte screen seen in laptops like that of the Toshiba Portege Z20t.
This isn't matte, not at all, but it feels like Lenovo has found a sort of middle ground between matte and reflective that does the job, though it could do with a bit more brightness because when the sun is behind, you'll still find it a little difficult to see the screen.
Our review model also packed in a touch panel, though not all will get this in their respective models, as it is optional.
A quick glance at the spec sheet tells us this is optional, but if it were us, it's an option we'd insist on. It's not enough that Windows 8 tends to be easier to use when a touch panel has been employed, but we'd also go for the touchscreen because the touchpad doesn't appear to recognise the Windows 8 gestures properly.
The ones most people are familiar with are here — two finger scrolling, pinch, pull, that sort of thing — but the Windows 8 gestures to bring up the charm menu or the top and bottom settings menus, they don't work particularly well.
Thankfully on this variant, you have the touchscreen, but we wonder what the touch-less varieties are like with a touchpad that doesn't recognise Windows 8 gestures easily.
Performance is also strong, hardly a surprise given the fifth-generation Intel Core i7 processor found inside our review model, though we were particularly impressed by the lack of noise the system generated as we used it.
Yes, this appears to be one of the fan-less models, because we weren't able to pick up on any sound as we benched the hardware, letting it run processing and disk tests, with no obvious sound being emitted from the machine.
Across most productivity applications, we found no real issues, which you'd expect from an Ultrabook of this class. We could load apps, multi-task, switch into browsers and load several web pages, and the X1 Carbon didn't skip a beat, keeping pace with what we were doing regardless of if we were using the touchscreen or keyboard to get around.
That's one positive that we have to talk about: the keyboard.
This keyboard is Lenovo doing what Lenovo does best. We've seen good keyboards from the company before, and this one ranks up there as one of the best, with the right amoung of travel, a soft and barely noticeable clicking sound, and a general feeling that makes typing on the X1 Carbon a pleasure and a joy.
We spend a lot of time road testing the keyboards we get, and this is one of the nicest we've felt in a while, improving on what we saw in the Yoga Pro 3, and even returning the right shift key to its actual place, with a long key that sits above a slimmer set of arrow keys.
Our only quibble with the keyboard is the "Fn" function key, which sits in the bottom left corner and tends to get in the way when you're trying to hit Ctrl on the left side, with you accidentally hitting function instead. It won't generally do anything, but it does make Ctrl+C (copy) and Ctrl+V (paste) a little less reliable.
You should get over it quickly — we did — and get back to typing on this otherwise excellent keyboard.
Seriously, this keyboard is enough to make us consider grabbing the X1 Carbon as our main portable machine. It's that good.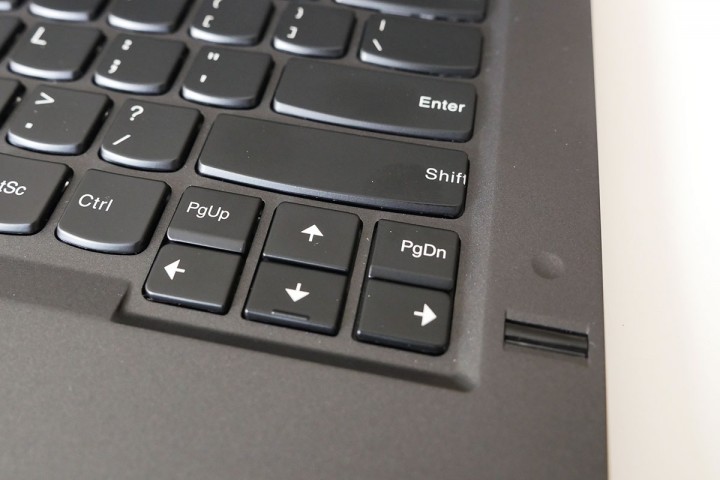 The inclusion of two mice alongside the touchscreen also helps, though we suspect people without the touchscreen will find both more help than those with it.
At least you get both, and those who prefer the rubber pointing stick will be at ease, especially since it appears on far fewer computers than it once did.