Many network and smart speakers come from companies with their roots in IT. The Naim Mu-so Qb 2nd Generation music system comes from a company very firmly in the British high-fidelity tradition. Indeed, Naim's current top-of-the-line amplifier costs $375,000! And, no, I did not accidentally slip in an extra zero. So consider the Naim Mu-so Qb 2nd Generation the company's entry level system.
Naim Mu-so Qb 2nd Generation Features
I suppose that, technically, the Naim Mu-so Qb 2nd Generation isn't a "smart speaker" because it doesn't support Google Assistant or Amazon Alexa. So you don't talk to it.
But it is a smart speaker in that it supports just about every way music can be wirelessly delivered to a speaker, plus a few wired ways. What ways?
Chromecast
Apple AirPlay 2
UPnP/DLNA
Bluetooth
Spotify Connect
TIDAL
Qobuz
Internet radio
Analogue audio
Optical digital audio
USB from mass storage devices
That covers everything. Oh, it also supports the Roon music indexing and routing system if you're into that. And it works as a multiroom system, via the Naim app with other Naim devices, via Chromecast with other Chromecast devices, and via AirPlay 2 with other AirPlay 2 devices.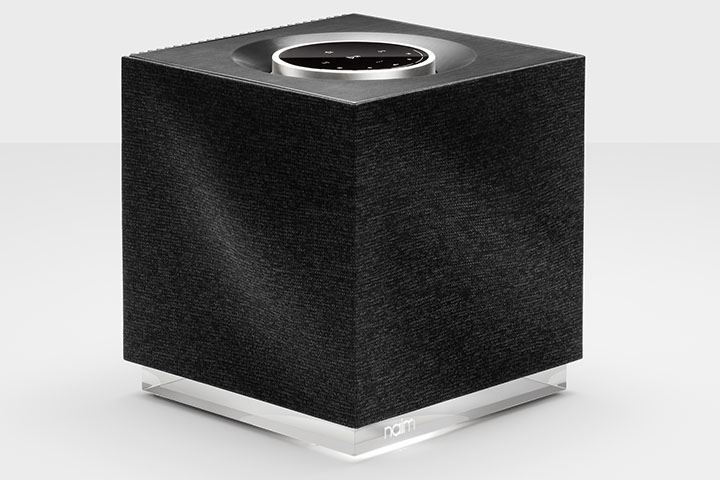 The Naim Mu-so Qb is not to be confused with the much larger Naim Mu-so 2nd Generation ($2,600). The latter is a wide rectangle. The Qb is a cube. Get it? The review model is the Naim Mu-so Qb 2nd Generation. Apparently Naim has extensively re-worked the first version.
It's not a perfect cube, but close enough with dimensions of 210mm by 218mm by 212mm. It's a solid lump, weighing 5.6 kilograms. At the bottom is a 2cm thick slab of clear perspex, gently lit from within, highlighting the "naim" badge. At the top is a large ring which you spin to adjust the volume. This has a proximity sensor so as your hand approaches it, additional touch sensitive controls light up on it. They cover skip, play/pause, favourites and the ubiquitous three dots for "more". Tap that and input selections come up. There's also an IR remote control included.
Inside the Naim Mu-so Qb 2nd Generation
Unusually, the grille of the Naim Mu-so Qb 2nd Generation is removable. It covers three sides and you can change the standard grey/black one for optional peacock, terracotta or olive ones. (Consider your colour choices carefully: they cost $145 each.) The back is fluted aluminium, which presumably acts as a heatsink for the five internal amplifiers. The two 25mm tweeters are directed to shoot somewhat to the left and right and each gets a 50-watt amplifier. The two 55mm midrange drivers are likewise directed and powered. The 60mm by 125mm bass driver fires forwards and has 100 watts available to it. On each side is a 140mm by 70mm passive radiator.
At the back are the audio inputs and USB, along with an Ethernet connection. The Naim Mu-so Qb 2nd Generation also incorporates 802.11ac dual band Wi-Fi.
All of Naim's network players are operated using the Naim app. I found this to be sensibly laid out and intuitive in use, at least to my mind. I did experience a couple of hiccoughs in setting up the Wi-Fi connection, but it turned out to be that the app wasn't quite as clear as it could have been in stepping me through the process. In particular, when I'd enter something, like a Wi-Fi password, it didn't acknowledge things clearly enough. But persistence got it set up, and then there was a firmware upgrade that may well have sorted out all that.
Is the Naim Mu-so Qb 2nd Generation reliable?
One of the great attractions of the various Echo and Google Home smart speakers is that they have reliable operation nailed. They just do what they're supposed to do whenever you ask them to do it. I guess that's thanks to those companies' IT heritage. Sometimes hifi companies have trouble matching that. They may make great sounding speakers, but their systems can be hard to use, disconnect from the network unexpectedly, or be difficult for various apps to find.
That was not the case for the Naim Mu-so Qb 2nd Generation music system. All apps found it easily and rapidly. It remained connected over weeks with no dropouts. It was super easy to use. Just now I fired up Spotify on a tablet, found the Naim Mu-so Qb 2nd Generation speaker in the speaker list and selected it. The music emerged from the speaker within two or three seconds. I also used the unit with Tidal via the Naim app, and again performance was utterly reliable.
I fired up my favourite UPnP player on Android, dialled up some audiophile quality jazz recorded in DSD128 – that's the double-speed version of Direct Stream Digital – and sent it to the speaker. Perfect. Note, that's via the wireless connection. Likewise for 384kHz FLAC.
I plugged a 5TB portable hard drive into the USB socket on the back, selected "USB" within the Naim app and … nothing. I switched to a 128GB portable SSD drive and it worked fine. I'm guessing the difference was that the former was NTSF-formatted, while the latter was formatted using FAT32. With USB, the unit does not use ID3 tags in your music files. You just navigate, using the app, through the folder structure on the device.
Listening to the Naim Mu-so Qb 2nd Generation
If you come to the Naim Mu-So Qb Gen 2 music system from the current batch of compact smart speakers, you may be initially puzzled by the sound. Where's the bass?
That's because we're used to excessive bass from so many speakers. Because Naim is a high-fidelity company, it has designed the Naim Mu-so Qb 2nd Generation to produce high fidelity sound. And that means, amongst other things, avoiding an overblown bass.
Oh, the bass is there, and it's quite extended. But it's controlled by the electronics to produce a fairly restrained British style of balance.
There is a modest stereo effect, thanks to the tweeter and midrange drivers firing somewhat to the sides. The channels are the right way around of course.
Some tracks
Now, let's have a listen. First, "You Made Me So Very Happy" by Blood Sweat and Tears. The bass guitar is there and it represents everything, but is a little on the quiet side. I use BST a lot for listening because the recordings were made before there was too much studio trickery. This comes through with the way the drum kit is uncompressed. And uncompressed it was when reproduced by the Naim Mu-so Qb 2nd Generation system. Likewise, with the brass highlights throughout the song. Apart from the limited stereo spread, it sounded more like the music was being reproduced by a pair of smallish, very high quality bookshelf speakers. There was an almost indefinable air of quality with the music that isn't evident in your smart speakers.
With "Picture This" by Blondie, again the bass guitar was back a little in the mix, but Harry's voice was strong and again the drum kit rang out with power and produced a sense that I was listening to a much bigger system.
"Wrapped Around Your Finger" by The Police has a very strong, up front bass guitar. Again, the level was held back a touch but it was clear and deep. Similarly, with the next track from Synchronicity, "Tea in the Sahara". The start of the track was beautifully airy and almost three dimensional.
The system kept its true high fidelity airs about it up to moderately loud levels. When pushed too hard it because a bit unsettled, with a noticeable harshness creeping into the playback. Mind you, that was with the peak levels pushing beyond 95dB SPL C-weighted, measured at one metre.
Measurements
The app doesn't provide any EQ functions as such, although it does have three room placement options. They're essentially for freestanding, wall placement and corner placement. The latter two reduce the bass output. I positioned the Naim Mu-so Qb 2nd Generation system more or less freestanding, so that's the option I set.
The bass output was quite interesting. I first measured up fairly close to the speaker at an angle of 45 degrees to capture roughly equal contributions from the bass driver and one of the passive radiators. That showed a smooth bass performance from around 600 hertz down to 60 hertz, with a gentle falling away below that point. The 50 hertz point was 3dB down, 40 hertz was down by 9dB and 33 hertz was at -12dB. That's pretty impressive. But measuring at one metre away from the front of the Naim Mu-so Qb 2nd Generation, the overall bass level was down from the midrange by around 6dB, which accords with the somewhat restrained bass levels. That's more representative of what you'll be hearing. I'd be inclined to use this system close to a wall but without engaging the room placement setting.
Upper frequencies went well beyond 20,000 hertz without marked diminution.
Conclusion
If you want an easy to use network audio system, one which offers sound quality a clear step above the norm, check out the Naim Mu-so Qb 2nd Generation Music system.
You can read more about the system here.
High fidelity sound
Rock solid network reliability
Versatile network support
Could do with EQ function in app