Every week, websites that you use are being hacked, with your passwords spilling out.
Your mobile phone has never been more under threat, either, as scammers do what they can to disarm you and steal money from your wallet.
And then there's your computer, which holds all the documents, precious photos, and anything else you hold dear.
Everything we do these days has to do with computers in some way, and unfortunately the information we're creating and consuming is under threat, so if you don't have a security solution, you owe it to yourself — and your family — to get some.
More than Windows
It's not a case of Mac vs PC anymore, either. While Apple's Mac OS never used to be a target for hackers and scammers, ever since the travesty that was Windows Vista came out, Apple has had more people switching to its operating system, and while Windows 7 helped fix Microsoft's operating system, Windows 8 hasn't improved things.
Now there are security threats on both sides, and if you're still of the belief that you don't need a security solution because you're on a Mac and they're harder to break, I've got bad news for you, because you're wrong. Dead wrong.
There are ways to break into a Mac, and there are ways to break into Windows, and about the only computer safe from security breaches are ones not connected to the internet that never will be.
If you're reading this on a computer, that's not the computer you're working on.
But the problem with security issues is that the platform doesn't just stop at Windows or Mac. No, it's much worse now, because security issues exist on mobile handsets as well, with Google's Android very, very affected by scams.
Apple's mobile operating system used on the iPhone and iPad has less of an issue, as does Microsoft's Windows Phone, but there are still ways to break in on these platforms, and that's ignoring the real security dilemma across all platforms: the web.
Regardless of what operating system you use — Windows, Mac OS, Linux, BlackBerry, Android, iOS, Windows Phone — one of the biggest and most complicated issues stemming from security has to do with the complexity of your passwords, because if sites you use are being broken weekly, your passwords need to be changed just as frequently.
Fortunately, there are solutions from security companies that battle problems like these on all fronts, and if you don't have any security, well listen up good, because it's time you went out and equipped yourself pronto.
A global look at security
It's hard to find anyone with just one device anymore. We're people reliant on several devices, and have a smartphone, a computer, and possibly a tablet. Your significant other has a smartphone and a computer, and also possibly a tablet.
Your kids are probably the same, and if you have more than yourself in your life, you probably need to think about security from a bigger-than-thou point of view.
That means you need to address the fact that there are multiple computers to protect, not just the one in your life.
If it is just the one, then great, you'll be able to save a few quid, but if you are like me and you have a few computers worth watching over, as well as some phones, then it's time to consider a family pack that can take care of this need for you.
Most of these programs, if not all, offer a trial program, so if you're at all curious how they perform, or are concerned that they'll slow down your system, give the trial a go before you plonk any money down. 
Symantec Norton 360 Multi-Device
Price: $129.99 for 1 year and up to 5 devices;
Norton is one of those brands that has been around for years. There was a time where journalists and techies stopped trusting it, mind you, but in the past five of six years, Norton is totally different, and is one of the best solutions to protect your devices with.
Norton 360 Multi-Device provides support for up to five devices — Windows, Mac, iOS, and Android — with the inclusion of security programs across all of the major operating systems.
You'll find your typical security software essentials here, such as antivirus scanner, firewall, password and identity protection, spam blocking, and some nifty bits and pieces to help secure your social presence as well as back up and wipe your mobile device if you ever end up losing it.
Kaspersky Internet Security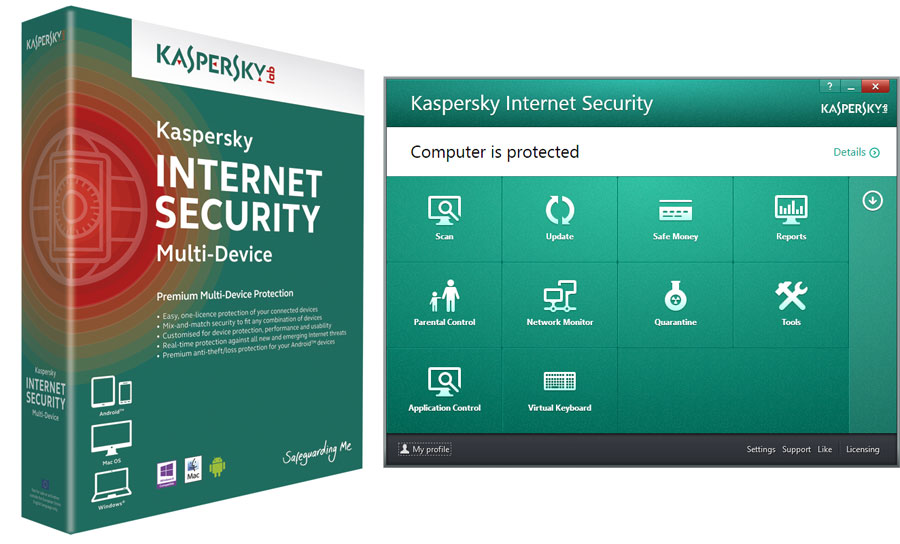 Price: $89.95 for 1 year and 3 devices; $129.95 for 1 year and 5 devices;
One of the most reliable internet security solutions around, Kaspersky is like Symantec in that they've been a preference of tech specialists for ages.
In its current internet security package, the company targets multiple devices, obvious from the pack's label saying "multi-device."
This means support for Windows and Mac, with Android tablets and smartphones also included, too. If you get a three pack, it could mean a Windows computer, a Mac, and an Android smartphone, or if you get a five pack, it could be three PCs and two Android phones.
Typical internet security staples are of course here, with real-time protection, anti-virus, scanning, proactive detection of security flaws, and even the ability to wipe an Android smartphone or tablet if you lose it.
BitDefender Total Security
Price: $119.95 for 1 year for 3 PCs; $194.95 for 1 year for 5 PCs;
If speed is an issue for everything you do, BitDefender's solution might bring the edge, though it does come with a more expensive price than other brands.
The tech used here is adaptive, which means it works to match your computer without closing it down in the process, and the time we've been using it, we've barely noticed it.
Some other functionality here includes a two-way firewall to stop people from breaking into your computer, an online banking system to keep your credentials safe, USB drive scanning and checking, remote management, online storage, and the ability to wipe your laptop if it's ever stolen.
Interestingly, there's no support for Mac OS or Android here, so that's worth knowing if you're considering this option.
McAfee Live Safe
Price: $99.95 for 1 user for 1 year;
McAfee's solution is one of the more interesting approaches we've seen. Different from the device counter usually applied to security solutions, the Intel-owned McAfee lets you protect an "unlimited" amount of devices for your user.
That's not totally true, mind you, and there's an obvious asterisk next to the word "unlimited" in McAfee's material, but it basically translates into the products in your home. We wouldn't advise pushing it past into your extended family, mind you, but if you, your significant other, and all your kids have a computer and an Android phone or tablet, this could help cut down on costs.
Like the other solutions, though, McAfee's one works across Windows and Mac, as well as Android, with the ability to protect against malware, viruses, and other online threats, manage your passwords, and even wipe smartphones that have been lost or stolen.
AVG Internet Security 2014
Price: $89.50 for 1 year and 3 computers; $134.50 for 1 year and 5 computers;
If you don't need Mac security, AVG caters to with its Internet Security solution, bundling in free mobile protection for Android phones, as well as the typical security stuff for malware, scams, firewalls, identity protection, and viruses.
Other things included here include a better file deleter to permanently wipe things off your system, a web video acceleration system, and even local phone support with people working in Australia.
If you do need Mac antivirus, AVG does offer a solution, but it's free (and mentioned a couple of paragraphs below).
Trend Micro Maximum Security
Price: $99.95 for 1 year and 3 devices; $129.95 for 1 year and 5 devices;
Trend's option for protecting your computer caters to both PC and Mac, with software included for protecting your Android phone, iPhone, and even the iPad.
The computer is the main part here, and you'll find antivirus tech, a secure browser if you don't trust IE or Chrome, spyware and phishing protection, some help on the social side, and even 5GB of cloud storage for those critical files, as well as some filtration software for stopping your kids from accessing websites you don't agree with.
We're unsure of the validity of iPhone and iPad "protection" since most aspect of iOS are locked down, but the Trend Micro app for iOS does include a secure browser just in case you're at all worried that mobile Safari will end up getting your details caught in a nasty web, which is a possibility.
Another option is also available, called "Trend Micro Premium Security" which adds $40 to the package, raises the storage to 25GB of cloud space, and provides you with 24×7 tech support over the phone and through remote access.
Something is better than nothing
There are, of course, going to be some of you that are very resistant to the idea of security programs, and as a tech journalist, I've heard every excuse in the book.
I've had people tell me the cost is too much: it's not, because the cost of your data and its integrity is far more, and you have to think of internet security like a form of insurance for the most precious information you own.
I've heard the excuse that you'll never get infected: that's possible, but even seasoned veterans get hacked, or click on the wrong link and have their computer exposed, and even if you're so professional that it'll never happen to you, it might happen to someone else in your family, so why risk it?
I've always loved people telling me that they have an old copy of a security program and "that'll do," but that's the wrong attitude. Your operating system is updated often enough because of security flaws, so what makes you think the security program protecting you doesn't need similar patches and updates?
Basically, the excuses are stupid, and the fact of the matter is you need some form of internet security in your life. Anti-virus isn't the problem anymore, people, and there are bigger things to worry about.
But if you're still so resilient that you're laughing at my words or grunting because they have no effect on you, then you should at least make sure you have some form of free security on your computer.
AVG's solution for cheapskates (our words, not AVG's) has always been to release a free program, named called "AVG AntiVirus Free," which exists for both Mac and Windows PC.
The program isn't totally about virus protection, with a smidgeon of support for blocking malware too, but there's no support, security checks for online purchases, email protection, or some of the hack prevention technology, so it's basically the bare basic anyone should be operating with.
It's free, too, so you really have no reason to be operating without something, and there's even a version for Android phones.