Image quality is the most important part of the camera, though, so let's get stuck into this, because it's not a bad effort all around.
In daylight, you'll find decent quality shots, even with the 18-55mm lens thrown in with the kit. It's not the best lens you'll find, not by a long shot, but if you don't have anything to start with, it's a good place to begin.
Testing at a soccer game, we found quality imagery when controlled, and even though there's some assistance for beginners, enthusiasts can certainly make use of any of the manual modes without any real problems popping up, thanks to the controls near the trigger helping you to control the aperture and shutter speed independently, even with only one click wheel available to you.
With an ISO range running between 100 and 12800, with an extra step up to 25600, there's a fair amount of room to move, too, so if you're looking for more depth control when the light begins to get dark, the D3300 will certainly accommodate your requests.
Night is generally when we see a budget camera squeezed to within an inch of its life, and for a chance, the D3300 doesn't actually feel as if you're squeezing all that hard.
This is because the camera actually produces some decent low light support, with less grain than we expected out of its 24 megapixel sensor.
Sydney may have been lit up with the lights of Vivid, but shooting at 1600 to 6400 in the middle of Sydney, we found vibrancy in the colours and a reasonable amount of clarity on offer.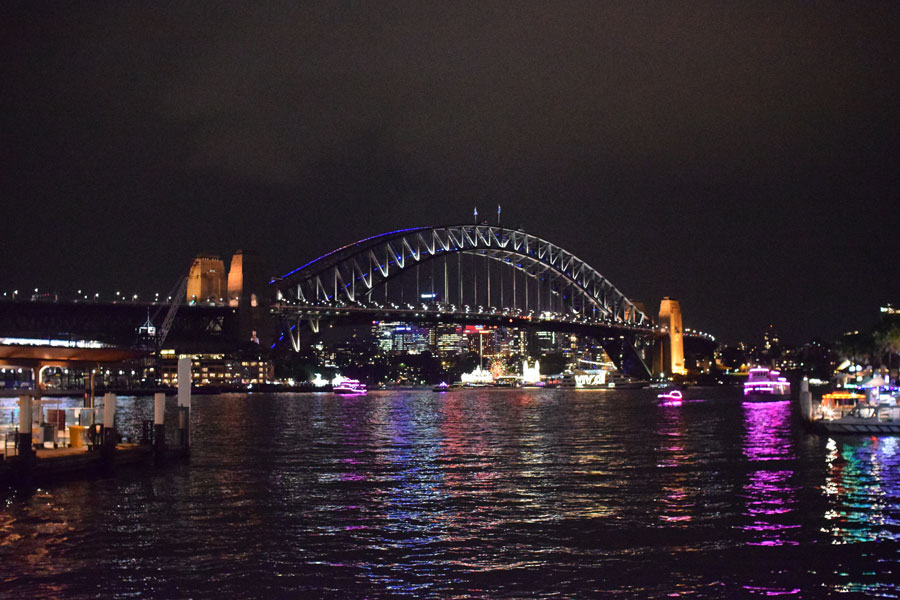 Outside of the typically high noise that you get above 6400, the image quality from the D3300 is pretty solid, and there's even room to move between the higher ISOs, including 6400, 12800, and that ridiculous one most people shouldn't use, 25600, which will add excess noise.
Still, it's not too bad for a sub-$700 camera. Not bad at all.
There aren't many problems with Nikon's D3300 at all, and with excellent design, solid ergonomically placed controls, and some easy instructions to teach you how to use your camera, this is a beginner's DSLR that isn't just suited for a DSLR, but is also one that works just as well for experienced photographers alike.
But we expect our digital cameras to have some wireless technology built into them, and have for over a year now. Unfortunately, the D3300 fails in this regard, supporting WiFi only if you buy the optional $150 WiFi accessory, nikon's WR-R10.
If you have that accessory, your phone and tablet can get the photos easily, but without it, you'll be stuck relying on that conventional card reader or USB cable. That's not a bad thing either, just something a touch more inconvenient than we'd like.
Likewise, while other manufacturers are beginning to embrace the idea of USB charging, the D3300 goes without.
Yes, you'll need to charge the battery using an external charger on the D3300, providing a minor inconvenience that Nikon should next time sort out with a microUSB charge port, which is what other cameras are now being equipped with (gradually).
Conclusion
Nikon's entry level DSLR for this year manages to not only pack in an excellent sensor and body design, but a whole bunch of settings and guides to help a newbie out, producing what has to be one of the best choices for beginners.
There are things Nikon could do to improve it, but for less than $700, it's an excellent option for anyone keen to get stuck in photography.
Excellent image quality; Fantastic ergonomics for beginning and enthusiasts alike; Kit lens folds up like some of the smaller lenses appearing on mirrorless interchangeables; Offers Full HD video capture;
Supports Nikon's wireless but requires the adaptor to work, so no WiFi built directly in (sad face); No USB charging, as it still requires a separate battery charger;