I was trying to find the right description for the Ninja Foodi Blender. Because unlike most blenders, it has an 800W heating element that adds a wonderful level of cooking amenity to a blender – you can do hot as well.
That means hearty one-bowl soups, sauces, jams, drinks, and more – now if it only had a freezing element as well for ice creams and sorbet! OK, Ninja – how about the Ninja Frosty!
Like most Ninja reviews this is part 1 – update 1 is below. And I have to say that the Nutri Ninja Blender and the Ninja Foodi Grill are two of GadgetGuy's top rating reviews drawing hundreds of thousands of eyes and leading to a lot of happy users.
I don't quite know where to start with the Ninja Foodi Blender because it does both more and less than the Nutri Ninja Blender.
Review: Ninja Foodie Blender – hot and cold
Australian website here
Price: $399 but shop around as Good Guys has it for $299 at present
Warranty: 12-months ACL warranty
Country of manufacture: China
Distributor: Mann&Noble Australia 02 88017666
In the box: Auto-IQ power base, 1.8L Blender Pitcher (Jug), Tamper, Cleaning Brush
Some like it hot
I was interested because it is coming into winter (here down under) and while I am not a soupy person per se I remember the wonderful full flavoured pumpkin and chicken soups my mum used to make in the 60s. Although she probably used a pressure cooker because there was not a blender in sight.
So, step one is to rediscover soup.
The Ninja Foodi Blender recipe book has some starters, but importantly soup is about 'layering'.
A couple of teaspoons of olive, coconut, avocado or canola oil.
Add peeled, quartered shallot or onion
Then the aromatics – spices like garlic, ginger, thyme, pepper, coriander, cumin, and tomato paste
A quick sauté and some heat gives you the 'flavour'
Add roughly chopped vegetables (25mm squares) – almost any except those that are mostly water or leafy. Carrots, sweet and white potatoes, cauliflower, broccoli, tomatoes, butternut or Kent pumpkin, celery, spinach, corn and capsicum are fine. Meats are OK too – roughly chopped chicken (use Thigh if you want more 'fat'), pork, lamb, beef or seafood.
Followed by the stock (beef, chicken, vegetable), tomato puree and water as necessary.
Then push the IQ button for a 'smooth' or 'hearty' mix and grab a red wine while you wait – simple. You can add things like dry noodles, pasta, beans, chickpea, beans and cream closer to the end.
The heating element also has settings for sauté, or sauce/dip.
If you follow the recipes, it tends to make about 1.4L maximum. That is not as much as you think – that is two noodle bowls (below) or four 'cups'. Approximate time (excluding ingredient preparation) is around 30 minutes. It has a keep hot setting as well.
First attempt – Chicken Noodle Soup from the recipe book
Chop onion, celery, carrots and chicken into the sizes you want to eat. Throw these into the jug along with the chicken stock, salt, pepper and thyme. Press 'hearty' and 30 minutes later you have Bellissimo soup.
Six minutes before the end throw in the dried egg noodles.
Update 1 – Pumpkin soup is perfect
I will let the images tell the story
What we have learned at stage 1
It is early days yet, but the 'hearty' Chicken Noodle soup was a delight. Pumpkin using the smooth setting was fabulous.
The main difference is that 'smooth' blends the soup and the 'hearty' option stirs the soup. Hearty also skips the final blend at the end of cooking so whatever you put in remains that size.
Next, we will experiment with 'manual' cooking. I see it can make hot chocolate – perfect for winter.
On both settings the heating element uses the convection principle (hot water rises) to stir the soup – the blades don't do much at all. As the element reaches full heat it looks like the inside of a boiling kettle.
Cooking in a blender is new to us. Once you understand the concept, it makes sense. But it is going to take experimentation. We have been using a slow cooker for soup/casseroles, and I hope this can take over.
The jug gets hot (and heavy) so use the handle and have an oven mit handy.
You really need to clean it quickly instead of waiting until the next morning or you finish the wine (whichever comes first). See maintenance later.
Our biggest challenge will be to invent ways to use it regularly. While we use the Ninja Foodi Grill several times a week and the Nutri Ninja Blender five times a week (mainly at breakfast), we need to see how to integrate it into our regimen.
Some like it cold
The Ninja Foodie Blender is very similar in operation to the Nutri Ninja Blender with the exception that it does not have the 'bullet' style cups or the 1.8L Food processor bowl. It is a blender with brains.
It has Auto-IQ programs for smoothie, frozen drinks, extraction, and ice cream churning. And it has a manual mode as well. We will skip ice cream until summer.
There is also an infuse mode for mixers, water and cocktails.
Rather than test all its blender capabilities, read the Nutri review.
Ease of use
The biggest issue is deciding what to make. After that, the control panel is intuitive and straightforward.
We found out the hard way not to try to handle the jug other than by the handle – it is very hot.
Maintenance – PASS
Unlike the Nutri Ninja, you can't put the jug in the dishwasher nor submerge it in the sink – it has an electric element in the base.
Instead, remove any liquid, add 700ml of warm water and two dish-drops (no more), assemble and press CLEAN. A combination of heat and pulses thoroughly cleans the jug, and you simply rinse it after. There is a handy brush for getting into the corners under the blade.
Build quality – EXCEED
Solid, heavy glass jug with a sturdy seal and lock lid. At 5.6kg it stands solidly on non-slip feet on the bench.
At 45 (H) x 20 x 21.5cm it's a little higher than other blenders, and you need to make sure you have a spot on the bench or in the cupboard (most have 30cm high shelves) for it.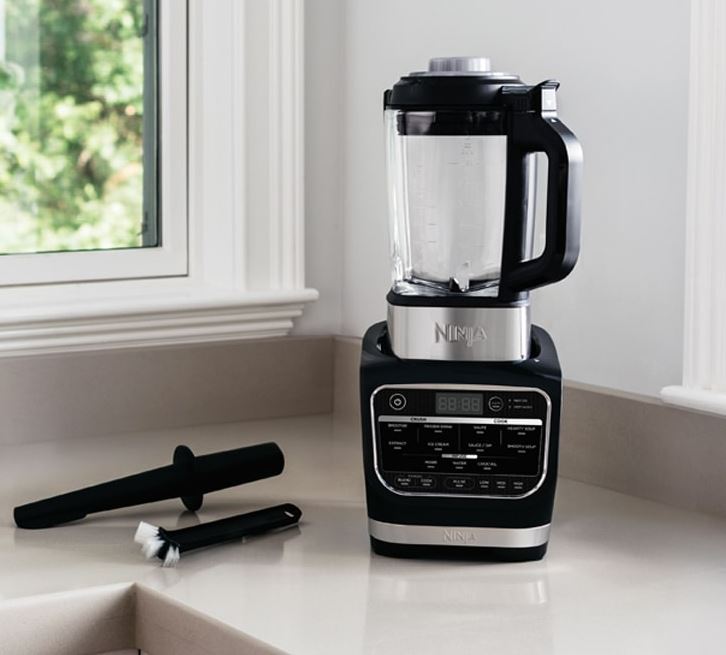 Noise
It reached 78.5dB when blending – higher when crushing ice. Overall, during soup making it blends for a few minutes then stirs, so it is quiet most of the time.
Power
The base blender unit consumers up to 1000W when blending and up to 800W extra when cooking. The energy test courtesy of the EmberPulse IQ metre however shows an even better story!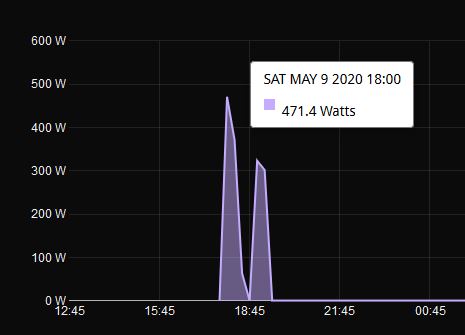 The first spike if for the 30-minute cook time (471.4W) as it does not use the blender motor on the hearty setting. The second spike is 323.6W for the 10-minute clean cycle. This is very good!
Be aware that this device in the US is rated 1400W (110/120V) so you may read reviews about that model.
GadgetGuy's take – Ninja Foodi Blender is the best of both worlds
If you need hot – and that is the biggie – then it is a toss-up between this and using a standard blender for preparation and stirring over a stovetop pot. The advantage here is one pot prep and cook. And if fondue ever makes a comeback, it is perfect for that.
If all you need is cold, then the Nutri Ninja Blender is currently $299 and does a lot more than just blend.
Auto-IQ is the cheats mode!
Well made from a good company
Really strong and sharp blades chop ice well
Not unduely noisy when blending
The heavy jug can be hot to handle and its made for a right-hander
Clean it immediately – nothing worse than baked-on soup
Leafy/leathery vegetables like Kale needs the tamper to process them fully
1.4L of soup sound like a lot but its really 3-4 serves