The Nokia 8.3 5G is it's first 5G foray and anything good enough for James and friends is good enough for me.
But damn you, Nokia. Your Nokia 8.3 5G 'No Time to Die' promo 'in cinemas November 2020' got me all excited. I had to purchase the entire James Bond Collection on DVD from JB (on special for $80.50 – RRP $115). I now have 24 movies (nearly 100 hours) and six iconic James Bond actors to catch up on before I can see 'No Time to Die' – now fortunately scheduled for April 2021.
Damn you as I should be doing reviews on your phone instead of enjoying myself. BTW the movies are a perfect way to spend summer.
Or as Moneypenny might say to James, "Is that a Walther PPK Nokia 8.3 in your pocket or are you just glad to see me?"
Nokia 8.3 5G Model TA-1234 DS 8/128 (look for ANZO region on the label)
Australian website here
Price: $899 but shop around as JB Hi-Fi has it for $719
Colours: Polar Night
From: JB Hi-Fi, Harvey Norman and Nokia Official Store on Amazon
Elevator pitch: 5G and Bondish intrigue
Warranty: 24-months Hassle-Free replacement warranty – excellent
Country of Manufacture: China
Nokia is a smartphone brand owned by HMD Global in Espoo, Finland. Many ex-Nokia executives run it. Microsoft previously destroyed the brand from 2014 to make Windows Mobile handsets. The .3 series (2020) are the fourth generation under HMD.
First impression – PASS+
Big glass slabs are still in vogue. This is 171.90 x 78.56 x 8.99 mm x 227g. It has a flat 6.81″ screen and narrow bezels curving over to meet the frame.
The real action is on the back. It is 'Polar Night', and you can have and Aurora Borealis right in your hand. It is blue, deep teal, and coloured bands of light move as you rotate it. But it is hugely slippery, and the TPU bumper case ruins that effect.
Did I mention hugely slippery? Several times a day it would slip, by itself, off a glass desk or polished timber side-table. It got to the stage that we put a rubber mat under it to help defy gravity (or use the TPU case).
On the back is a round 'signature' camera hump with four 'so-called' Zeiss lenses and a dual flash. More on that later.
The right side has the combo fingerprint/power and volume up/down buttons. On the left is a Google Assistant button. And it is complete with 3.5mm combo audio jack.
Right now, let me tell you it loses points big time for the incredibly poor Google Assistant Button placement. With one-handed use – every time you use the combo power/fingerprint button on the right side, you accidentally fire up Google. Arrgh!
Screen – PASS
Size
6.81″ 60Hz
Type
O-hole on left top.
IPS LCD
Resolution
2400 x 1080, 386ppi
PPI/Ratio
20:9 and STBR of 82.9%
Colour
Brightness

Contrast
Gamut



RGB adjust
Temp
HDR
16.7m
Not given but measured at a maximum 600 nits with uneven brightness that varies between 550 and 650 nits over the screen
Approx. 1200:1 maximum and 900:1 typical
No claims on colour gamut
Measured 100% sRGB and Delta E of 4.4 (<4 is good) but depending on-screen modes it can be as high as 9
No
Cold to White
HDR10 support and Amazon HDR
Pure Display
It has a Dynamic mode to adjust colour, brightness, and contrast to the content. Modes are original, photo, video, reading and games.
Colour accuracy goes out the window in this mode
HDR
It has a switch to add faux HDR to SRD content. Despite an HDR certification blacks tend towards grey and details are lost in the shadows
Daylight

AOD
Dark mode
Blue light
Not for direct sunlight and the glossy screen exacerbates that
No
Yes
TUV Certified
DRM
Widevine L1 HDCP 2.3 but Netflix will only stream in HD/SDR
DRM Info reports an HDR10/+/HLG capable screen
Gaming
40ms G-T-G
Protection
Not specified – assume toughened glass (not Gorilla Glass)
Face ID
2D camera-based. Test 4/10
Is it a big screen. It has reasonable colour, brightness, and contrast. Regrettably, others in this class offer 90-120Hz LPTS and some AMOLED screens.
Processor – PASS
SoC
Qualcomm SD765G 7nm
1 x 2.3Ghz, 1 x 2.2Ghz, 6 x 1.8Ghz
GPU
Adreno 620 Compute Open CL: 1263
Game use
The SoC/GPU supports most mid-frame rates, but the 60Hz screen and response times mean there are better gaming choices. PUBG will do 40fps.
RAM
8GB LPDDR4X – we experienced no lag or multi-user issues.
Storage
128GB UFS 2.1 (92GB free)
Androbench sequential read/write
Internal storage: 952.27/231.49MBps – The write speeds are 50% slower than other SD765G devices.
OTG: While it would recognise external drives, it won't read or write to them. Every drive tested (formatted to exFat or FAT) came up as corrupted. It would format them but would not transfer data to them.
micro-SD
Micro-SD to 512GB
Geek
Bench 5
Single: 516
Multi: 1613
It is in between the SD730 and SD845
But it performs about 20% below the typical SD765G benchmarks. We can only put this down to thermal design
Throttle
15-min
Max: 159,172 GIPS, Average: 145,164 – 17% loss over 15 minutes
CPU temp reached 61°
It does run hot under load getting up to 42° externally.
The Qualcomm SD765G is my favourite Goldilocks chip of 2020 – just right. But this one is performing up to 20% less than the pack.
Other makers have utilised the SD765G's comprehensive feature set like Wi-Fi 6 AX, dual-channel GPS, Aqstic audio engine, Dolby Atmos, USB-C 3.1 and QC 4 charging. Sorry, but our tests found none of these.
Now I know that Pure Android may limit some of these features, but it was rather a lacklustre performer compared to other SD765G devices.
Comms – PASS
Wi-Fi
Wi-Fi 5 AC 2×2 MIMO
Signal Strength 5Ghz – distance from ASUS AX1100 router
– 2m: –33dBm/866Mbps
– 5m: -604dBm/117Mbps
– 10m: -69/52Mbps (almost unusable but reverts to 2.4Ghz)
Bluetooth
BT 5
GPS
<10m accuracy for turn-by-turn navigation
NFC
Yes – PayWave only
USB-C
2.0 (we were unable to read/write from external media)
Sensors
Accelerometer and Gyroscope combo – this makes for a very touchy screen autorotate – turn it off.
Magnetometer
Proximity
Ambient Light
The Wi-Fi 5 speeds are average, particularly as some in this class are still able to get a strong signal at 10m.
The SSD765 supports USB-C 3.1 – this has implemented the far slower 2.0. Ditto to dual-channel GPS – this is a single channel.
The combo sensor tends to make these devices ultra-sensitive and give too many false screen rotations. Turn auto rotate off to maintain your sanity.
LTE and 5G – PASS
SIM
Hybrid dual sim (one active at a time) or single sim plus micro-SD
Ring tone
Dual
Support
VoLTE – carrier dependent – generally yes
Wi-Fi calling – Yes
Speed
Ping: 45ms
DL: 17.9Mbps
UL: 8.9Mbps
Reasonably typical
LTE Band
1, 2, 3, 4, 5, 7, 8,12, 13, 17, 20, 28, 38, 39, 40, 41, 66, 71
5G
claimed to be the first smartphone which is compatible with all existing 5G bands.
We can't test that, but it has n78 sub-6GHz for Australia
Test
-101dBm in a 3-bar reception area (average)
Strength: 79.4fW
Found a second tower at -108dBm and 15.8W
We find that most 5G phones perform more poorly than dedicated 4G devices. It must be something to do with the antenna design as they drop too easily to 3G.
This should be a good city phone or suburban – not for regional or rural use.
Battery – PASS or maybe a fail
Battery
Claimed 4500 but reported as 3300mAh
Charger
5V/3A,15w, 9V/2A/18W and 12V/1.5A/18W
Test:
30% – 30 mins
60+ – 60 mins
100% – 1.5 hrs
Tests
Video Loop test: 1080p/50%/aeroplane mode – 18 hours
Typical use 4G, Wi-Fi Test – 15.5 hrs
MP3 music test: 50% volume played from storage – 40+
100% load Battery drain – 4 hrs
T-Rex –442.6min/7.38hrd/3346 frames
Idle Drain screen off: about 15 days
Idle drain screen on: 25hrs
We are concerned that the battery claim of 4500mAh shows independently on all test apps as 3300mAh. If the apps are correct, that makes a huge difference to battery life.
We found that it needed a charge every night. It is a one-day phone. Others in this class will charge as fast as 45 minutes.
It charges consistently at 5V/3A/15W in a linear manner – approx. 1.5 hours
Sound – PASSable
Why, oh why, a mono speaker at this price bracket? Class-leaders have stereo and Dolby Atmos.
Speakers
Mono earpiece and down-firing speaker*
AMP
Unknown – probably Qualcomm
BT codecs
Codecs are SBC (standard), LDAC (Sony), aptX/HD/Adaptive (Qualcomm) and LDAC (Sony). You must enable these in Developer Options. It drove our reference Sony WH-1000xM4 in SBC, AAC and LDAC (OPUS) modes and provided good clear sound and plenty of volume.
Mic
Dual NC
3.5mm
Yes, and standard buds
FM
Yes, with buds as aerial
Tests dB
Anything over 80dB is excellent
Media – 75
Ring – 76
Alarm – 75
Earpiece – 55
Hands-free – adequate and clear
Sound Stage
It is a mono bottom-firing speaker, so there is no L/R sound stage
Signature
No bass, very late-mid and lots of low-to-mid treble – it focuses on clear voice
I can't imagine what Nokia was thinking by making its flagship smartphone a mono system. The SD765G supports so much more.
It is not as loud as others in the class and callers commented on wind noise in hands-free.

Build – PASS
Size/Weight
168 x 74 x 9 mm x 207g – it's a big phone
Colours
Polar Blue
Build
Front – glass type not specified
Frame – not specified but likely metal
Back – glass type not specified
IP
No
In the box
Bumper cover
18W charger
USB-A to USB-C cable
3.5mm standard buds
Solid and well-made but at 227g it is a pocketful.
Nokia why didn't you use Gorilla Glass like everyone else? Or at least tell us its toughened glass. It may be, but we don't know.
Android 10 – PASS+
Android
Google Android 10
Security patch date: 1 October 2020
UI
Pure Android One
Google
All standard apps, Google Lens and Assistant. Dedicated Google Assistant key.
Dedicated Google Assistant button (that is badly placed)
Bloatware
Amazon, Netflix – un-installable
Update Policy
Two years of guaranteed software upgrades – that means 11
Three years of monthly security updates.
Note that Google will handle security updates in Android 11
Security
Fingerprint on the power key – accurate and fast
FaceID – 5/10 fails
Nokia is banking on its use of Pure Google Android will sell more phones than brands that use an User Interface over Google Android.
Yes and no.
Yes, it is nice to have a bloatware-free device and to get updates regularly.
No, a UI can add so much value and features to Pure Android. Even Motorola, a staunch Pure Android supporter, now has My UX on its 2020 devices.
Missing – FAIL
| | |
| --- | --- |
| IP | No IP rating. The class leader LG Velvet has IP68 and MIL-SPEC |
| Stereo | It really should be, and Dolby Atmos would be nice |
| Quick Charge | 18W is not really 'quick charge', and there are SD765G phones that can charge in half the time |
| Qi Charge | Not a deal-breaker but the class-leader LG Velvet has it |
GadgetGuy announced this device back in March 2020. Later market entrants have better specs.
Nokia 8.3 5G Camera – PASS
It may be a quad-camera but most of the heavy lifting in by the Primary lens. And this time you don't get Zeiss lenses – you get a Zeiss collaboration on the app – disappointing.
Camera
64MP
bins to 16MP
12MP
Ultra-wide
2MP depth
2MP
Macro
24MP
Selfie
bins to 6MP
Sensor
Likely
Samsung GW1 or Sony
Likely a Samsung 2L series
Likely Omnivision OV02B
Same
Likely
Samsung or Sony
Lens
Unknown
Focus
PDAF
AF
FF
FF
Fixed Focus
Aperture f-stop
1.89
2.2
2.4
2.4
2.0
Pixel size um
.8 binned to 1.6
1.4
1.75
1.75
.8 binned to 1.6
FOV° and cropped
68.4
120° (105)
71.5 (68)
Stabilisation
EIS for video
No
Flash
Dual
Screen fill
Zoom
10x digital
No
Video Max
4K@60fps
1080p@30fps
Features
HDR
EIS for video
OZO sound recording
Cinema Mode recording
HDR
The primary lens is great. The ultrawide is adequate. Digital zoom and dedicated macro are poor.
The Zeiss name is not however about the hardware, lenses etc. It's a collaboration on the app for Zeiss-tuned filter modes. I think that the use of the name Zeiss printed on the camera, in this case, verges on deceptive.
Daylight, outdoors
Indoors Office Light (400 lumen)
Low light (room <100 lumen)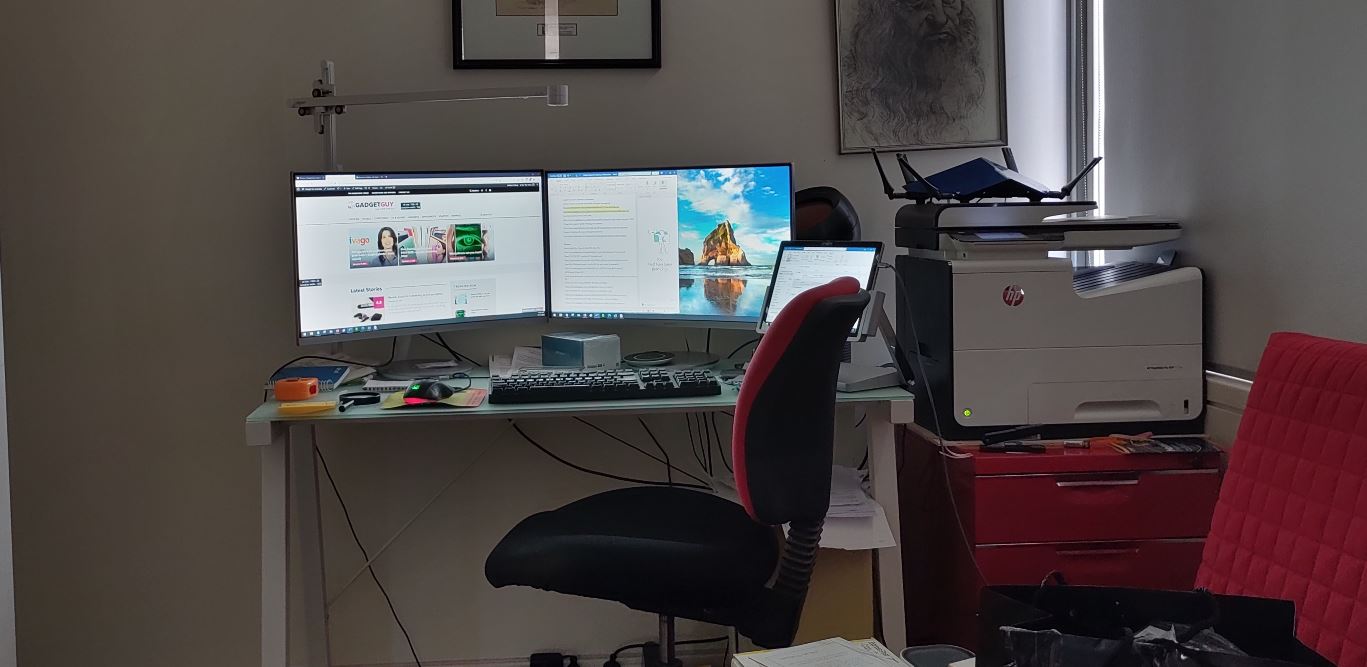 Macro
Selfie
24MP binned to 6MP is fine. Screen fill flash helps
Video
You can shoot 4K@30fps with EIS stabilisation, and the results are fine, but we recommend a tripod. They are even better without EIS as the SD756G can focus on processing higher bit-rates to give saturated colours and decent details. The video sweet spot is 1080p@60fps.
The dual mics are good at stereo sound recording.
GadgetGuy's take – Nokia 8.3 5G is a bit old fashioned like Mr Bond
I was initially excited by the Nokia 8.3 5G – it looks great. But as I stated 'dissecting it' I found that it was far from the class-leader in the SD765G melee.
No Qi wireless charge, IP rating, mono speaker, stupid Google button placement and a 'PureView' camera that should have been exceptional – except that it was average. And the issues with battery size and general lacklustre performance means it is not the class leader.
This looks and feels like a 2019 mid-range – not some of the exceptional 2020 mid-range SD765G phones we have seen.
One thing – after having reviewed so many 5G phones is that 4G signal strength seems to be low to average across them all. Its as if 5G reduces 4G signal strength.
So the kindest thing I can say is that Nokia 8.3 is a fine phone all around, but several competitors eclipse it in almost every way.
And finally, Nokia used to provide detailed specifications. Now it is a few lines, and that usually means we reviewers have to dig harder and look in more detail discovering more flaws!
Grey market – no Australian warranty
We issue the standard warning that you must buy the genuine model with Australian firmware as it works on all Australian Telco carrier 5G and 4G LTE bands and can make a 000-emergency call (not 911) without a SIM. As A 5G device, it is pre-registered to the Australian network.
We have named and shamed the major grey marketers here. If you are going to spend this much money, get a genuine 'Made for Australia' model.
Rating explanation – Nokia 8.3 5G
If a device PASSes every test it gets 4/5. we add points for EXCEED and take off for FAIL. This is a fine phone but it does not stand out in the crowd.
Positives
Build quality – Nokia
Style – I like the Polar Blue
Android One and updates
Negatives
Camera – not as good as expected
Camera needs more algorithm tweaking for low light and macro
Annoying placement of Google Assistant button
Battery issue – is it 4500mAh or 3300 as reported
Performed below average for this processor
No IP
Mono speaker – we need more at this price