Better, faster: Samsung's 4G LTE Galaxy S3 reviewed

Price (RRP): $Available on plans from Optus and Telstra
Manufacturer: Samsung
Did you play with the Galaxy S3 but decide you needed to wait for a 4G model? Good move, because that's exactly what Samsung is delivering with the LTE phone that manages to not only live up to the reputation its sibling had, but improve on it considerably.
Features
The next generation of Galaxy S3 isn't far out from its brother, the recently released model known by the code GT-I9300.
Here in the new model – GT-I9305 – Samsung has taken the S3, added some memory, changed the operating system, and given the handset the ability to use Long Term Evolution mobile networks, the same type on offer from Telstra and Optus now, and Vodafone in early 2012.
Like that model, you'll find a 4.8 inch Super AMOLED capacitive touchscreen, running the HD resolution of 1280×720, also known as 720p. The screen is still protected by Corning's Gorilla Glass 2, the second generation of the scratch-resistant technology, thereby helping your phone resist drops.
Google's latest version of Android is also here, with Samsung opting to run Android 4.1, also known as "Jelly Bean." This is coming soon to the 3G Galaxy S3, but the 4G model does appear to get it ahead of the first model.
The casing and materials on offer are still of the plastic variety – like the first one – and Samsung is still using its own quad-core Exynos processor clocked at 1.4GHz, with a Mali 400 graphics chip. Storage came in at 16GB on our model, though like the original S3, you can grab a microSD card and upgrade it quickly once you pull out the removable 2100mAh battery.
Multimedia is provided with an identical 8 megapixel autofocus camera with LED flash on the back supporting 1080p Full HD video capture, with a 1.9 megapixel for the front.
Outside the 4G modem, connectivity is spot on, with WiFi 802.11 a/b/g/n, Bluetooth 4.0, DLNA, WiFi hotspot mode, GPS with GLONASS support, and a microUSB port on the bottom.
That fourth-generation connection is a big deal, though, and this Galaxy S3 can not only support 3G speeds like the first model at a max of 21Mbps down, but also a higher and faster 4G connection. Currently in Australia, fourth-gen speeds seem to peak at roughly 40Mbps, so that's your current maximum download speed whenever you're in reach of a 4G network.
Just like the original Galaxy S3, there's still a small amount of buttons to be found here, with a single main home button on the front flanked by a soft button on each side, serving as the menu button on the left and back button on the right.
On each side of the handset is a physical button, with the left showcasing the volume rocker, while the right features the power button.
A 3.5mm headset jack sits at the very top of the handset.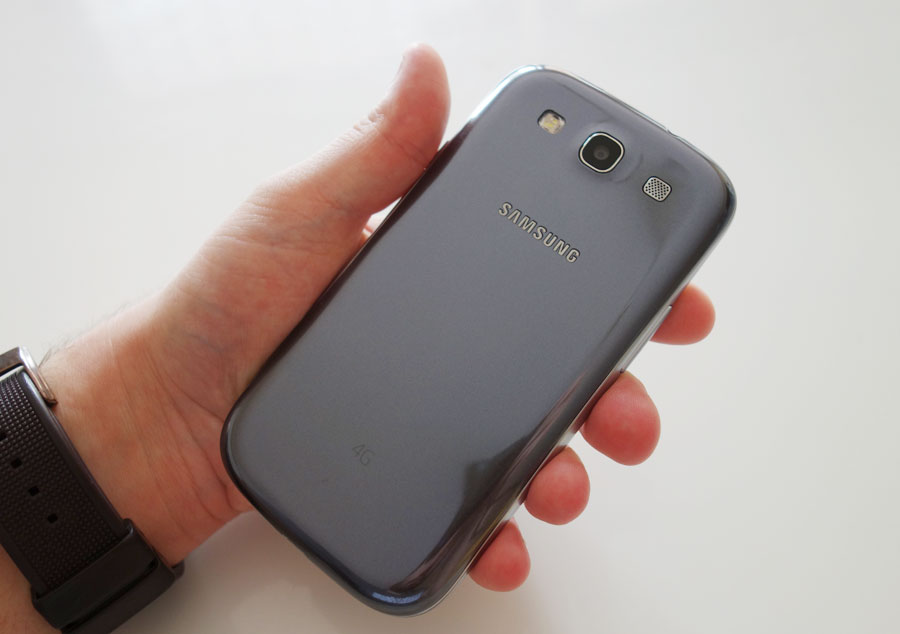 Performance
Playing with the Galaxy S3 4G, you quickly find that this is one fast piece of kit. From running multiple apps, performing the 4G speed tests, browsing the web, and cruising through the menus, it's clear that Samsung has improved on an already excellent device.
We don't really need to get into the nitty gritty of what made the original Samsung Galaxy S3 so excellent, and there's already a review pointing it out, but the improvements that have been made here result in a better product altogether.
There is literally no lag, no slowdowns, and no reason to ever question is the 4G S3 isn't working for you. That whole idea of "it just works" is completely warranted here.
Perhaps what's strikingly clear in the Galaxy S3 is that not only have the internals been upgraded slightly with more memory – 2GB RAM over the 3G's 1GB – but the operating system is even more recent, with Android 4.1 "Jelly Bean" provided out of the box.
With Google's latest, you'll find a new menu layout that's easier to use, an improved dropdown bar with more detailed information, the ability to switch off notifications and messages at the drop of a hat with blocking mode, and an updated Google search system that shows you what's around, including weather information, public transport, restaurants, and past searches.
There are also a whole host of little fixes that help to make the experience of using an Android phone so much quicker, and Samsung has done a mostly excellent job throwing it all together.
While Samsung's TouchWiz isn't the best home screen software for Android out there, it's reasonably respectable on the 4G Galaxy S3, and we have no problem with using it.
In fact, Samsung has even introduced a few widgets we've not seen prior to this, including a fullscreen keypad that can be added to any home screen, allowing you to swipe and always have a phone dialpad to call from.
The alarm clock has been updated too, now featuring images showing what time of day your alarm has been set to – night or day – so you know, especially if the whole 24-hour time thing has always confused you.
Samsung still has the same features from the first Galaxy S3, and that means you'll find a decent camera app with an instant shutter, the voice assistant found in S-Voice, the swipe to call functionality, and all the other nifty things that were native to the Android installation on the first model.
Not much has changed outside of this, with a plastic chassis, 2100mAh battery, nice 4.8 inch Super AMOLED screen with 720p resolution, WiFi connectivity for 802.11 a/b/g/n, Bluetooth 4.0, NFC, microSIM, and everything else you've come to expect from Samsung's third Galaxy flagship.
There is one very new thing, and it's the main reason you grab a 4G phone: to surf the web, check emails, watch online videos, and take advantage of the high speeds on offer.
Good news, then, because the Galaxy S3 4G offers insanely fast speeds, with our tests showing a maximum of 38.58Mbps down and 23.89Mbps in our area on Telstra. Optus didn't perform quite as well, pulling in a maximum of roughly 20Mbps down, but GadgetGuy's offices in Woolloomooloo tend not to have the greatest reception for Optus, and you may find better results.
No matter what ever telco you choose to use with the Galaxy S3, you shouldn't be disappointed with the download speeds, especially when you're connected on 4G.
One thing you may not like, however, is the battery life, which only manages to survive a day through regular use, such as downloading from the web, social networking, making calls, sending messages, checking email, and playing a game or two.
A day of life isn't amazing, and from what we saw, the screen seemed to kill the battery more quickly than anything else, so if you're looking for ways to conserve power, we'd start with turning the brightness down and move on from there.
We also noticed that the screen is a touch more slippery on this model than the 3G model. We're not actually sure why this is the case, as the technology shouldn't have changed, though it's possible the coating has.
It's worth noting, that with the slick plastic back already in use on the Galaxy S3, you may find that the now slippery front causes the handset to fall from your hands if held loosely.
Outside of the battery and screen, Samsung has made a change that we're not too enthused by, including an icon dock that can't be changed. It's one of those odd things that actually worked in the 3G S3, but for some reason doesn't work here.
We hope you like using phone, contacts, messaging, internet, and the apps menu, because in the version of Android we tried on the 4G Galaxy S3, you can't change them.
This probably comes from some of the odd changes that Samsung has made with regards to the "home screen mode" section of the device, offering first-time users of Android an easy way to get accustomed to how home screens actually work.
Strangely, there are basic and easy modes, but no advanced mode, which we suspect would give us this level of customisation.
Conclusion
Three months on, Samsung's 4G Galaxy S3 is even better than the first one, managing a handset that feels faster, even if much of it is the same.
Of course, the fourth-generation mobile speeds are blazingly fast, something you'd have to expect, and anyone expecting a first-rate performance will no doubt be pleased, but the phone manages to be an even better experience altogether.
Owners of the first model, the 3G one, will soon find themselves in pleasant company, with Samsung releasing the next version of Android for their handset and making the handset better, although possibly not as fast, as the extra gigabyte of memory in the 4G model probably helps a great deal here.
Still, if you crave the 4G speeds on offer by Telstra and Optus, desire a big screen, and want something that just works, then this is an awesome phone to look at.
Better, faster: Samsung's 4G LTE Galaxy S3 reviewed
Price (RRP): $Available on plans from Optus and Telstra Manufacturer: Samsung
Blazingly fast 4G download speeds; More RAM makes it faster; The most recent operating system from Android comes preloaded;
Still the same plastic body as the original S3; Mediocre battery life;