For the last several weeks I've put my Samsung Galaxy S7 aside while using the Huawei Mate 9 smart phone, one of the company's premium models. Much to my surprise, and rather unusually for me, I haven't felt the hankering to get back to Sammie in the way I usually do after a week or so. Let's see why.
Display and build
A big part of it was that I've been luxuriating in the real estate provided by the display. Those 5.9 inches are enormous compared to the Samsung's 5.1 inches. Of course, the display is full HD (1080 by 1920) and LCD (contrast ratio 1500:1), rather than the S7's 1440 by 2560 pixels delivered with Super AMOLED technology (contrast ratio: effectively infinite). But, you know, most of the time, under most real world conditions, the differences were either unnoticeable or only barely noticeable.
The bezels to each side of the display are impressively narrow. No sexy curves like the new S8, but nonetheless pleasing to the eye when the screen is lit.
The screen runs an auto-brightness routine, dimming itself when there's less ambient light. That was too aggressive for my taste, so that in low light I had to boost it. But that was easy to do. The screen is covered by 2.5D glass – that is, it features curved edges so it can sit slightly above the surround, rather than below it – but uses the somewhat older Corning Gorilla Glass 3. The phone comes with a screen protector in place along with a slim plastic case that offers modest protection to the back and the corners.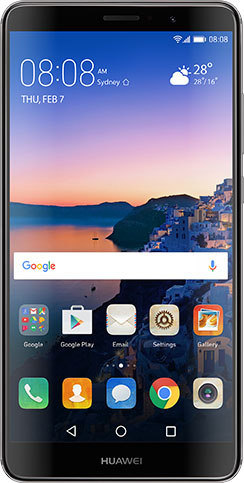 Usually when a phone comes with a screen protector attached, I just whip it off. How can one fairly report on a phone's responsiveness to touch if something is standing between its screen and your fingers? But somehow with this phone I felt a touch intimidated and left the pre-attached screen protector in place for a couple of weeks. Most of the time it worked well enough, but sometimes things didn't drag or respond with as light a touch as I'd have liked. And it felt kind of spongy. And there were constantly sticky fingerprints on it.
So, heck, off with the protector! Wow, what a difference. Suddenly it was gloriously smooth and silky to the touch, while firm. Sure there were fingerprints, but they were less obvious and easily wiped away.
So you decide: increase the chance of major screen damage, or go for a smoother operational experience?
The case is metal. Huawei says that each phone body is CNC milled over a period of an hour, which is quite the production given the number of phones it must produce. The review unit was full black on the front (the remaining small areas that the black screen didn't cover), had a matt "titanium" look rear and somewhat shiner metal edges. The power and volume keys are on the right side. The home, return and apps keys are "soft" ones at the bottom of the screen. At the rear are the lenses and flash for the cameras and a fingerprint sensor.
Usability
Starting to use each new phone is an adventure in working out what and how you can import from a previous phone. With this one there was a surprise: a Huawei app called "Phone Clone" could be loaded on my old phone and it managed the transfer. All my apps were re-downloaded from the Play Store, but my own ring tone and wallpapers weren't added. A couple of logic-style games I use turned out to be at the same scores and points of progress as they had been on the phone I was moving from.
The fingerprint sensor was very fast and generally very reliable. The only problem I had with it was way too many times I accidentally touched it while trying to get the phone out of my pocket, so by the time I had it properly in my hand and in front of my face, I'd accidentally already invoked some random app.
The Huawei user interface is called EMUI 5.0. I liked it, largely because there was little that was unexpected. If you are okay with standard Android, you won't have any troubles. Screen shots are captured most easily by means of the slide down shortcut menu. The menu could be edited and provided all the stuff I wanted. A pinch or touch and hold on a blank bit of screen provided access to wallpaper settings, widgets, transitions (the style of moving from one screen to another) and settings, including grid size. You can have four icons across by four down, five by five or halfway between. With such a big screen, five by five was the obvious choice.
The Huawei interface was overlaid on Android 7.0.
One oddity that caught me out on a number of occasions was that Bluetooth defaulted to being off whenever the phone started, even though NFC was on.
The review phone was clearly one fitted out for sale through Optus, since it splashed up that company's logos when being switched on or off, but it was also clearly unlocked since I was able to use my Telstra SIM without difficulties.
Performance
The phone uses Huawei's own technology – it's a big player in all kinds of networking and telecommunications fields. So the processor was an eight core Huawei Kirin 960 unit with four 2.4GHz and four 1.8GHz cores. There's 4GB of working RAM and 64GB of what Huawei (and some other brands) call "ROM". Which is not what it is at all. "ROM" means Read-Only Memory and comes from the days were there were only two kinds of computer memory (in widespread use, that is): ROM and RAM, the latter being Random Access Memory.
The 64GB packed by this phone is flash storage, or just plain storage. You can read from it, write to it, but it's conceptually distinguished from RAM by not requiring power for its contents to be maintained. Sorry for the digression.
Anyway, so you get 64GB of storage – a generous amount – and support for a microSD card of up to 256GB which ought to be enough for just about anybody.
The app Quadrant Pro reported an overall performance of around 41,300 which, if you follow those things, is about the norm for current flagship phones. Certainly everything was extremely responsive. There was never any waiting around for things to happen.
The WiFi is top of the line dual band, up to 802.11ac. The Bluetooth is version 4.2. The charge and comms port is USB Type C and it of course supports On The Go accessories. The 4G/LTE cell performance includes download speeds of up to 600Mbps.
The battery is a mighty 4000mAh unit and it's supplied with a fast charge system which Huawei says can add "a full day's power* in 20 minutes**".  Their asterisks, not mine, and the usual caveats applied. What I can say is that when I plugged the unit into the Huawei charger 48 minutes ago it shows 74% charge, and now it shows 97% charge. And that was under less than optimal conditions because I kept waking it up to check things, and spent some time getting it to pair with something via Bluetooth.
Huawei says that the processor and its software works to learn how you use your phone and optimises it to work at providing the best performance for your individual needs, and keeping it tuned up over time so there's no degradation of performance. There was no obvious degradation of performance over my time with it, but a few weeks is not a real test of that.
Camera
Huawei has teamed up with Leica for the camera. This is a two camera unit, with a 20 megapixel monochrome camera and a 12 megapixel colour one. I discussed this kind of thing in quite a bit of detail a week ago, talking about the new Huawei P10 models. In brief, the images from the two cameras are processed and combined by the phone's processor into a single composite image, taking advantage of the virtues of each camera in its own domain.
Look, the camera was pretty good overall, but I have to say, not just didn't measure up to that in the S7. It was slower to focus, and far less reliable in focus, despite packing phase detection, contrast detection and laser depth auto focus. There was a certain flatness in images shot in sub-optimal light.
With good light, though, it produced bold and colourful and very sharp results. A great snapper for normal conditions, just limited in poor conditions. Perhaps it's the f/2.2 maximum aperture available with this implementation. It does provide optical image stabilisation and an option to take RAW plus JPEG, not just JPEG alone.
RAW images basically avoid the post processing applied by the camera in normal implementations, along with the JPEG compression. But the camera here uses more complicated processing, given the use of two separate images. So it's unclear with this phone the point in the process from which the RAW images are taken.
The camera supports up to 4K video capture as well.
The front camera is an 8 megapixel, f/1.9 unit.
Conclusion
It might be a thousand dollars, but a good and wonderfully large screen, strong overall performance and a very respectable battery life makes the Huawei Mate 9 a very good buy.
Big, big screen; very good overall performance; good value for money
Camera not quite as good as the specs and brand associations would imply