Computers may be gradually ditching the optical drive, but the USB flash drive looks here to stay. We all have at least one USB stick, and now SanDisk is trying to give you a reason to upgrade, with a few new choices that offer size, speed, or even a nice dose of personality.
Coming to stores later in the year, the new Cruzer Pop and Facet drives offer a maximum of 32GB for a maximum of roughly $30, with each offering a very different look.
On the one hand, the Facet takes on a sparkly look in a stainless-steel casing, while the Cruzer Pop shrinks the USB drive down to a measly 3.78mm and makes the USB prong pop out of place when folded back.
For those more interested in size than style, the Cruzer Glide pushes out a maximum of 128GB of storage – the highest size for any SanDisk USB drive yet – for roughly $120 RRP. Surprisingly, the technology here is USB 2.0, which has us surprised, especially with USB 3.0 drives hitting stores for the past few months.
Representatives from SanDisk wouldn't give anything away when we asked them, but their responses do tell us that a USB 3.0 version of these Cruzer Glide should be coming, offering the high-capacity SanDisk drives with a high-speed USB 3.0 connection.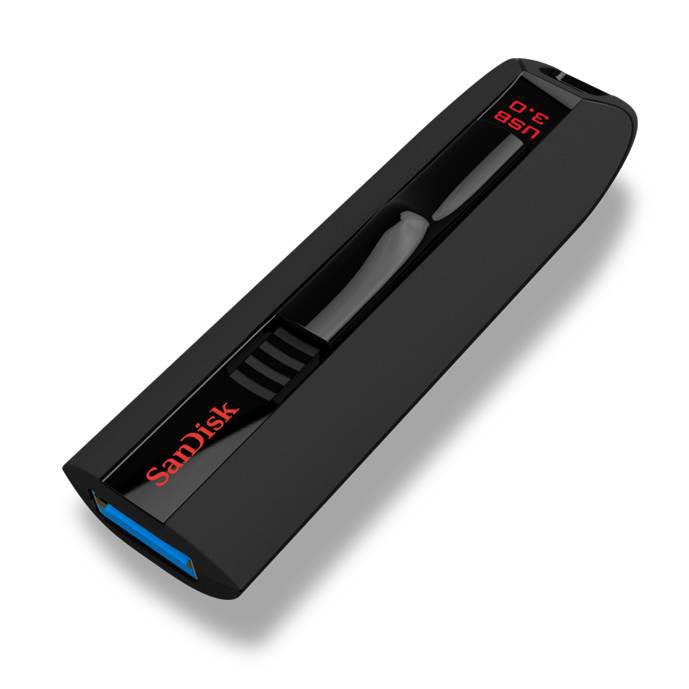 SanDisk will be catering for the ultra-fast USB 3.0 technology with a new drive, though, as the SanDisk Extreme USB arrives in capacities from 16GB ($35) to 64GB ($100).
This new drive features the blue USB dongle telling us that it's made for USB 3.0, and can transfer 3GB in 20 seconds with speeds of up to 190megabytes per second.
SanDisk also took the time to show off a tiny new memory card it aims to make available to owners of digital cameras and smartphones later this year, with the new Extreme Pro microSDHC UHS-1 card offering some of the fastest transfer speeds with compatible devices.
Designed for capturing full HD in both 2D and 3D, the card features a 95 megabyte per second read speed and 90 megabyte per second write speed, which should be enough for capturing content on any of these devices.
Now, all we need are the devices to support the Ultra High Speed (UHS) compatible cards.