Even 4K is here, which means there are now three smartphones on the market in Australia capable of capturing video for an Ultra HD TV, with the Sony Xperia Z2 joining the ranks of the Samsung Galaxy Note 3 and Galaxy S5 smartphones for this feature.
Full HD is also still available as an option, but 4K is now possible, which will please all six of you early adopters with a UHD TV.
Our only real issue with the Xperia Z2's camera (outside of the aforementioned occasional autofocus glitch) is the manual mode, which just like it was on the Z1 feels woefully inadequate, and barely lets you do anything.
Despite being called a "manual" mode, there are no manual modes to choose from. You can't select shutter speed or aperture, and once you go into manual mode, there are only a few settings to choose from, with most of them scene modes.
Heaven forbid you decide to switch out of the 8 megapixels and take a 20 megapixel photo directly, because if you do, the few controls you have disappear, and the Z2's camera basically becomes a bare-bones shooter with no controls of any kind outside the shutter itself.
But outside of the camera issues, there aren't many negatives about the Z2 smartphone, with the remainder of them being about the design or a missing feature.
For instance, there's no infrared port here, with the same feature missing from the Z1.
We don't know many people using the TV remote function on their HTC One, LG G2, or Samsung Galaxy S5, but it's impossible to use the Z2 as a remote of any kind if you don't have a Sony AV or TV product, because there's no infrared port on this handset.
Instead, Sony gets around this need by connecting to compatible Sony products over WiFi, which makes it like a remote, but also not one at all, unless you're a part of the Sony product ecosystem for every other product you may own in your home.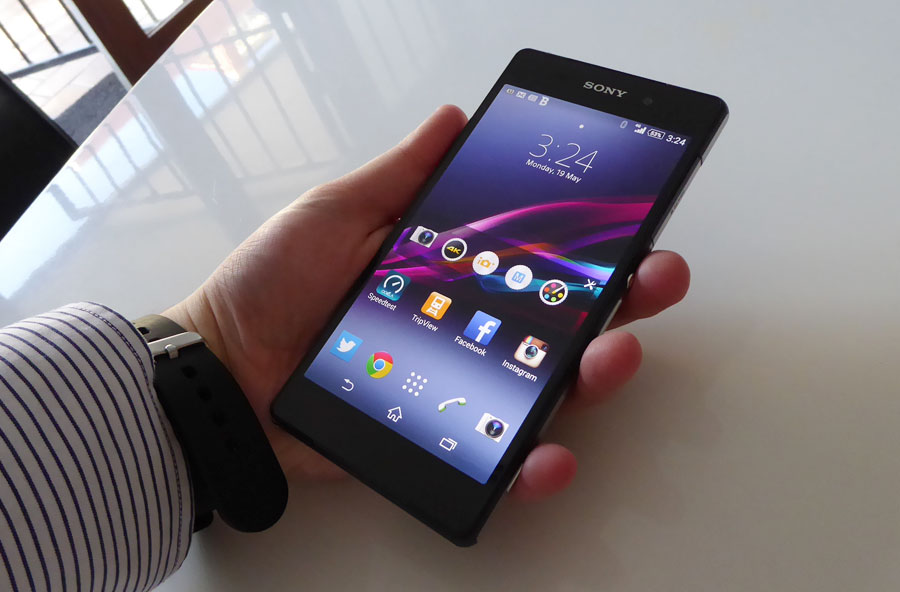 The design also has some niggles with it because while Sony has softened the edges of this 5.2 inch phone, it's still a very big phone.
With the top and bottom of the screen flanked by noticeable borders, the phone appears to be a little bigger than it should, and since it's based around the design of a softened rectangle, it can sometimes come across that you have a big flat rectangular brick in your pocket.
Is it comfortable to wear on your person? Sure, provided you don't have tight pants or pockets, but it's still big all the same, and with Sony still going with its monolith inspired design, means the form isn't quite as sloped as what you find on either the efforts by other brands.
Conclusion
There's a lot of strong competition in the 2014 smartphone race, but Sony has managed to produce one of the strongest entries you can consider, with a beautiful screen, excellent performance, and a camera is a serious contender for best smartphone camera of the year.
We had too much fun reviewing the Z2, especially thanks to the camera, which helped to cement the Xperia Z2 as one of our favourite handsets all year.
Personally, we'd prefer a slightly smaller device, and when Sony inevitably migrates these features to a smaller handset as it did in the Z1 Compact, maybe then we'll have found the perfect compromise, but if you don't mind as big phone, the 5.2 inch Sony Xperia Z2 is an excellent phone, and gives other phones a good run for their money.
Highly recommended.
Great build quality; Excellent battery life capable of achieving at least a day of life and well into a second day; Superb camera, with great low-light support and 4K UHD video capture; Fun creative camera effects which go beyond what most smartphone manufacturers offer; Easy to use; Solid 4G speeds; Notification light up top;
The rectangular size can still be a little awkward to hold, especially for smaller hands; Camera's manual mode needs some actual manual control; Autofocus can be a little finicky on the camera; Cover flaps can get annoying; No infrared port for controlling your TV;