Acer overnight revealed its latest Predator range of gaming gear bolstered by ultra-powerful processors and graphics cards. Led by the Predator Triton 17 X laptop, you'll well and truly be able to play the latest and greatest games with the new devices. If your budget stretches that far, you can even equip the laptop with an Nvidia RTX 4090.
Also featured as part of the Acer announcements was the Predator Orion X desktop PC, promising up to a whopping 6GHz processing speeds. 3D technology made a resurgence, too, with the Predator Helios 3D 15 laptop producing glasses-free 3D visuals.
It's not all eye-popping spec sheets and prices, however. Several models tone the power down a notch so you can get your gaming fix on a lower budget.
Acer Predator Triton 17 X is power personified
Billed as the company's most powerful gaming laptop, the Predator Triton 17 X is thin and minimalist, aside from the RGB keyboard lighting. On the inside, however, it's absolutely a maximalist device. It includes up to a 13th Gen Intel Core i9-13900HX processor with 24 cores and a max 5.4GHz clock speed. Alongside the RTX 4090 laptop GPU, you can also get up to 64GB of DDR5 5600Hz RAM and 4TB SSD storage.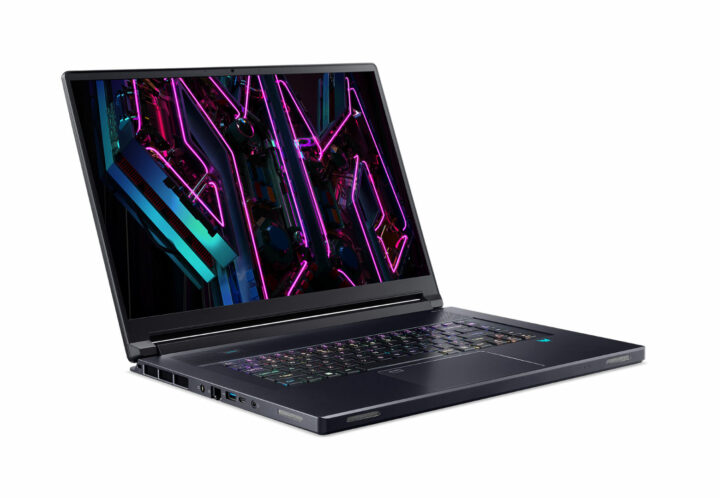 With a 17-inch 2560×1600 display, it's not the highest resolution screen, but for a good reason. Not only does the Predator Triton 17 X support a mega-smooth 250Hz refresh rate, but it also uses Mini-LED backlights. This means precise light control and a high level of brightness (over 1,000 nits, in this case) which is great for HDR content.
Other nice-to-have features include a glass touchpad, fingerprint reader, and a six-speaker DTS:X Ultra surround sound system for audio oomph. For connectivity, you get an E3100G+ Ethernet port plus Wi-Fi 6E, with Thunderbolt 4 ports included to transfer data, charge the laptop, and connect to external displays.
If you've read this far, you're no doubt expecting a big price sticker for such specs. And at a minimum spend of $7,999 come June 2023, you'd be right. If you like the Predator Triton form factor but can't stomach the price, a more affordable option is also coming. Out in May 2023, the Triton 14 starts at $3,599, with graphics options ranging between either an RTX 4050 or 4070 laptop GPU.
Go to space with the Predator Orion X desktop PC
Acer opted for an interstellar theme with the Predator Orion X desktop computer. After reading some of the specs, it's easy to see why, considering it's an out-of-this-world machine. So much so that it uses a custom liquid cooling case to keep everything running smoothly.
On the inside of its space capsule-inspired case is a 13th Gen Intel i9-13900KS CPU, a 24-core and 32-thread processor capable of reaching ridiculously high 6GHz clock speeds. Paired with it is an RTX 4090 GPU, up to 32GB DDR5-5600 RAM, two M.2 2400 SSDs, and an NVMe M.2 SSD drive bay.
Not expected to reach Australia until Q4 this year, there's no official price tag yet. It's fair to say that it'll be a lot.
That cost will only increase if you go for one of Acer's fancy new gaming monitors as well. Up first is Nitro XZ452CU V, an ultra-wide 44.5-inch 1500R curved display with a 165Hz refresh rate. Its 32:9 aspect ratio and 5120×1440 resolution depict it as a multitasker's dream, who will need to pay $1,999 towards the end of the year for the privilege. Colour isn't its strong suit, however, only supporting 90% of the DCI-P3 colour gamut, compared to the next monitor's 99%.
The other gaming display revealed overnight is the Predator X34 V, a 34-inch OLED monitor with a 175Hz refresh rate. With a 3440×1440 resolution and a 21:9 aspect ratio, it also has a 1800R curvature. The X34 V has the same $1,999 cost as the new Nitro monitor, so the decision comes down to your preference for better colours and an OLED display versus size.
3D's back, baby
Available in June, the $7,599 Predator Helios 3D 15 SpatialLabs Edition laptop uses eye-tracking technology as part of its stereoscopic 3D display. Although glasses-free consumer technology isn't new (the Nintendo 3DS says hello), it hasn't been touted as a mainstream feature for some time. Wielding a 15.6-inch display, a 13th Gen Intel Core i9-13900HX CPU, and an RTX 4080 GPU, the Helios 3D promises high-powered 3D entertainment. Whether the technology catches on, we'll have to wait and see.
At a more palatable price for the masses, the 3D-less Predator Helios Neo 16 starts at $2,999. This laptop uses the Intel 13th Gen Intel Core HX processors, with up to an RTX 4070 laptop GPU as a companion and multiple display options.
That's a lot of powerful new gaming gear to sift through. More information on each device is available on Acer's Australian website.