I strongly support the Barefoot Investor, Scott Pape and his not so gentle warning about payday lenders and the buy now, pay later (BNPL) phenomenon called After-Pay virus.
Now his excellent article in the Sunday Telegraph (22 March) is behind a paywall (to help it pay for real journalists, not fake news). He calls out the most insidious, opportunistic lending practice loosely called payday lending and 'Buy Now Pay Later' (BNPL). I call it ripping off those who want instant gratification and can least afford to pay.
It includes well-known companies like Radio Rentals, GE Money, Nimble Loans, Wallet Wizard and BNPL outfits like Afterpay. Slick advertising and support from price comparison websites like finder.com.au make it appear normal, even desirable to run up small debts that in reality, can spiral out of control.
At least Finder publishes the mandatory, "This statement is an Australian Government requirement under the National Consumer Credit Protection Act 2009 and the Financial Counsellors hotline on 1800 007 007 number. Surely that should set alarm bells ringing.
Non-bank (Payday lending)
Lenders like Nimble, Wallet Wizard, Cash Converters and many more offers up to $2,000 from a 3-12-month term.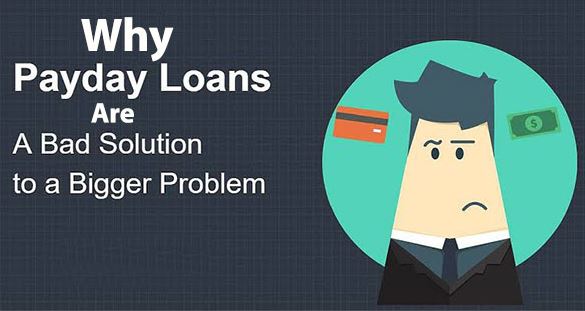 A $1000 loan will cost you about $1360/1680 if you pay it back as specified. The lender typically gets a 20% establishment fee from you ($200) and charges 4% flat interest per month – a blistering 48% per annum. Plus, you are not really borrowing $1000 – it is only $800, so it makes it even worse.
But what happens if you default – that can be as little as a day late making a payment. Two things
As Scott says, it can result in a massive 407.6% p.a. interest on a one-month loan.
All manner of fees/charges apply (and you have agreed to them as you did not read the fine print)
Late payment fee
Arrears fee
Statement issue fee
It can go to a debt collection agency (a euphemism for a vicious shark), and you can rack up more costs.
Collection Fee (it is not unusual to see fees of 25-50% for smaller amounts), solicitors letter costs, and any court costs (these can be substantial)
Collection letters send-out fee
And sometimes repossession fees and 'make good' if the goods are damaged
Many payday lenders 'sell' the paper (your loan) to a bigger finance company like Latitude Financial (formerly GE Consumer Finance) that receives a 100% 1-star (less if it could) rating on Product Review. These companies are known for strong-arm tactics to protect their 'investment'.
My wise mum told me you never buy something unless you can afford to pay cash for it
Well perhaps a house and car can be excluded although there are a lot of dodgy finance brokers out there as well.
First, a personal experience. Long ago (in the mid-70s), I had a wages job (instead of having inordinate fun writing about and reviewing tech – a passion that my current/last wife understands). A junior female colleague told me of a great way to buy household goods at Waltons (forerunner to Norman Ross of the Harvey Norman pedigree).
Called 'Buy Now, X-months interest-free" so she bought everything from the jug and toaster to the furniture and linen. "It is only $10 a month for the jug and $20 for the Manchester…"
After the first month, she missed three of seven payments, and the second month paid the three she had missed and put off the other four. At the end of that month, the debt collector stepped in.
So, she sought my advice. When I added it all up it was clear she had committed to $7,000 of goods (an awful lot in those days), and if she paid it all off over 12-months without default, it would cost her around $12,000. When taking rent, food, transport, and her inalienable night/s at the pub into account, there was no way she could meet even half the monthly commitments.
Bankruptcy followed owing over $20,000 and all the goods repossessed. So that $10 per month sounds like a good idea, but it is not and has spoiled her credit rating even to today. Had the bank given her a 12-month personal loan for the same $7,000 she would have paid (at today's values) $624 per month and a total of $7490 (7% PA).
Even a bank credit card at around 20% (based on the full monthly repayments) would have been manageable.
Now let's look at the BNPL After-Pay virus (and we are not just picking on it)
Afterpay is a pioneer in this 'fin-tech' arena. Some very prominent names and retailers are behind it to help boost sales in tight times. In fact, it says it offers much more than a payments service – it is a 'platform' that provides inbound business to retailers and generates incremental sales.
Fin-tech often operates in unregulated segments of the market, so at the moment, it is doing nothing wrong. Ethically you could easily argue otherwise.
Afterpay has succeeded because it can do what the regulated banks and credit card companies cannot. Just remember that Afterpay's founder was a 29-year-old university student who has since largely cashed out. Afterpay has not made a profit to date – the number of users and money it lends drives its share value.
Afterpay is like a lay-by system except you get the goods upfront and the merchant paid upfront (less a hefty merchant fee). If you make the four equal payments every fortnight, then it costs no interest.
It takes the risk that you will pay and makes huge rewards if you even miss a payment by one day.
Afterpay claims, "Around 95 per cent of payments never occur a late fee." Yet some 24.4% of its income is from late fees, and 75.6% comes from merchant kickbacks (Source).
Afterpay is not transparent about merchant kickbacks that are 'commercial in confidence' but we understand range from 4-10%! That is money that you could have negotiated off the full retail price. And it is why Afterpay is not always available on sale items. Credit card merchant fees, by comparison, are around 1%!
The RBA has announced it will be conducting a root and branch review of card payments regulation in 2020, with BNPL services part of that review.
Afterpay privacy – nope!
Its privacy terms are scary. We think they are way over the top and should be restricted to the absolute minimum necessary to process a transaction between you and the retailer.
Contact information, such as your name, address, phone number, email and other similar information.
Financial information, such as the full bank account numbers and/or credit or debit card numbers that you link to your Afterpay account or give us when you use Afterpay Services.
Detailed Personal Information such as your date of birth, driver's license number, or other identification information or documents.
We may also obtain information about you from third parties including our Partners and related companies, as well as credit reporting bodies and identity verification services, and publicly or commercially available sources to comply with relevant legislation (e.g. anti-money laundering laws).
Access to certain Personal Information stored by third parties such as social media sites (e.g. Facebook and Twitter). The information we may receive varies by site
Personal Information if you enter a competition or promotion we run (either directly or through our marketing agents or our Partners)
We may evaluate your computer, mobile phone or other access device to identify any malicious software or activity. This is a euphemism for its app, cookies, tracking tools and spying.
We may also collect additional information from or about you in other ways, such as through contact with our customer support team, suppliers or service providers (whether via mail, email or through telephone enquiries), your responses to a market survey, and from interactions with Afterpay's Partners or as otherwise notified to you at the time.
And what you shop for and buy
Afterpay has the right to do almost anything it wants to (by omission) with your data
For example, it sells such data to online advertising vendors to provide you with 'relevant and useful' ads. This may include ads served on or through its Websites or on other companies' websites.
In other words, it does not do anything that different from the masses of data harvesting loyalty programs – it is just not as upfront about it.
Afterpay states, 'Pay nothing extra when you pay on time'. Buried in the Terms section is
If payment is not processed on or before the due date, late fees* will apply – initial $10 late fee, and a further $7 if the payment remains unpaid seven days after the due date.
Late fees* For each order below $40, a maximum of one $10 late fee per order. For each order of $40 or above, the total of the late fees are capped at 25% of the original order value or $68, whichever is less. See Schedule 1.
A pre-authorisation on your nominated card, up to an amount of your first instalment. If you cannot afford the first payment, then it becomes the credit card companies issue.
Afterpay is a drug and while it is not quite as insidious as Payday lending its hard to get off.
GadgetGuy's take – Thanks, Scott for alerting us to the After-Pay virus.
As Scott suggests, we are going to send this to Michael Sukkar MP, Assistant Treasurer (Michael.Sukkar.MP@aph.gov.au) responsible for investigating payday lending.
Michael, payday lending and BNPL are creeping cancers and an addictive drug that, like the scourge meth, must be eliminated. A more responsible system of lending via the banks (no not junk lending but for essentials to the people that will pay it back) is the answer.
As Scott Pape says, "Do your job and put a muzzle on these mongrels now!"
If you have any BNPL or After-Pay virus stories contact Scott.
www.gadgteguy.com.au, After-Pay virus, After-Pay virus, After-Pay virus