I've been wearing the Fitbit Versa smartwatch for a month. I'm impressed. So impressed, I even took the step of using Fitbit Pay.
Features
Let's back up a step. I've been using the Fitbit Ionic smartwatch since October last year. Before that a Fitbit Charge 2, preceded by a Fitbit Alta and it in turn by a Fitbit Charge HR. Those last three are principally health trackers rather than smartwatches. They count your steps. Some measure your heart rate. They calculate how far and fast you've moved. And they sync with an app on your phone to keep all that data. Add the Fitbit Aria 2 smart scales, and you're pretty much covered with health tracking.
The Fitbit Ionic and the Fitbit Versa do all that tracking stuff too, but they add smartwatch functionality via the Fitbit OS and a smartwatch screen. The main differences between the Versa and Ionic are:
Price: the Versa is $299.95 compared to the Ionic at (now) $399.95. You can probably save a few bucks by shopping around.
Styling: the Ionic seems more workmanlike, with sharp edges. It looks big. The Fitbit Versa is rounded and neater looking. The body is 11.3mm thick versus 12.5mm thick.
GPS: the Ionic has built-in GPS. The Fitbit Versa doesn't. It can still track you and record your exercise course on a map, but only if it's connected to your phone which will supply the tracking coordinates.
Capabilities
The screen is almost an inch – 24mm – square and nicely colourful. You can select from amongst what seem like hundreds of watch faces. Many of these display other information as well, such as your daily step total, or even weather (drawn from your phone).
The Fitbit app stores all the data, and you can also access this through your little personalised section of the Fitbit website, or on the app on any of your devices.
Amongst the exercises that it tracks – including your heart rate – is swimming. It's rated to 50 metres immersion. It can also keep track of your sleeping patterns, and show you notifications from your connected smartphone. Plus it supports payments (see below on that) and music playback (and see below on that too).
The unit comes with the small band fitted, but a longer strap is also included so it can fit bigger wrists. I used the longer band. There was still a good 50mm of length available for those with rounder wrists.
Setting up
You use the Fitbit app to set up the Versa. The app searches for it via Bluetooth then asks you to select a Wi-Fi access point and provide a password to connect it to Wi-Fi. Then it downloads updates and feeds them via Wi-Fi. Or perhaps it just instructs the phone to do the download. These things are rarely clear.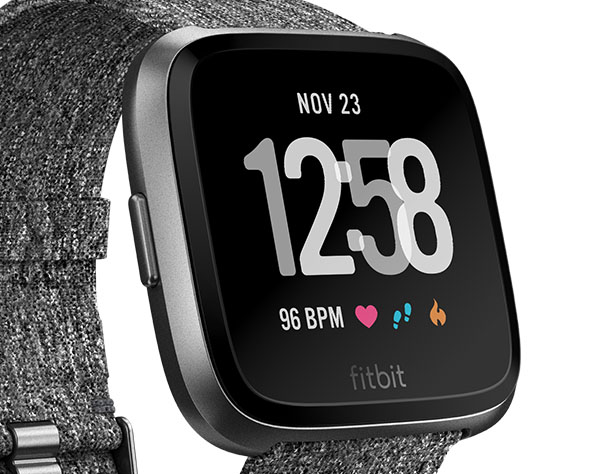 But there was the not uncommon heart-in-mouth stage involving three failures of the app to detect the watch.  I followed the instructions after the second failure – switch off and on Bluetooth in the phone and reboot the watch – and it failed a third time. The fourth time, though, the app found the phone almost instantly.
I do wish you could use multiple Fitbit smartwatches. Adding the Fitbit Versa to my profile eliminated the Fitbit Ionic. I could see myself exercising with the latter and saving the former for occasions where a little more style is in order. You can have either the Versa or the Ionic combined with regular Fitbit trackers. Just not both together (nor two Versas or Ionics together). Changing this is a popular request on the Fitbit forums.
The Fitbit Versa charges via USB power. Remember how Apple stuck with the 30 pin connector for a good decade and has stuck with the Lightning connector ever since? Clearly that's not Fitbit's philosophy. It seems to have a bespoke power connector for each device. Every single one of the Fitbit devices I've used has had a different charging arrangement. The Fitbit Versa uses a cradle and spring-loaded clip. It's easy to use, except that it has insufficient weight to stay flat when the natural curvature of the bands is pushing it up.
In Use
The Fitbit Versa is comfortable to wear, and its display is easy to read. I found its tracking numbers seemed to accord with common sense and my experience with other Fitbit devices. I counted out my steps on a couple of occasions, and it seemed accurate for those as well.
When formally tracking exercise – I usually choose "walking" – the Versa would spend a moment searching for a connection with the phone, and then let you know with a vibration when it had connected. It would issue another wobble each time I reached a kilometre mark.
Sometimes connection was iffy. I've always had a little bit of hold-my-breath going when syncing Fitbit to phone app. Maybe fifteen per cent of the time it doesn't work. With the Ionic that doesn't matter too much because when you do finally sync, any GPS-tracked exercise will be uploaded and you'll have your maps. With the Versa, though, a lost connection during exercise means no GPS tracking.
Tracking
I happened to travel to Paris while using the Versa. The good news was that it changed time zones automatically when I synced it with my phone. The less good news was when I went for a long walk which I hoped to track, the Versa and my phone lost sync about an eighth of the way in and would not re-establish, despite my efforts. I didn't have a virtual keepsake of my touristy walk along the Seine.
The app itself is also sometimes a bit strange about updating. For several days after that work, it showed this mighty "exercise" session of more than thirteen thousand steps but showed a far smaller total in the daily total. Likewise, a few days ago it seemed to have lost around 4,000 steps. Yet just now I opened up the Windows version of the app, and the figures have all been updated. So I went back to the Android app and checked. The lesser figures were there for several seconds. Then the app performed a sync, and both figures were corrected.
Usually, the solution to a lost connection was charge up the watch again for a few minutes. Charging seemed to restart some aspects of its operation.
Fitbit says that a full charge of the battery is good for at least four days. I didn't run it down. I get twitchy when devices I'm using get much below 50% and two full days typically had the battery down to around 55%. How long you get will mostly depend on how often you look at the time, but Fitbit's claim of four days seems reasonable.
Fitbit Pay
Well, I finally bit the bullet with the Fitbit Versa. I did something I've hitherto resisted. I for the first time enabled a device for contactless payments. I could have done it on my phone, but I figure if there's one thing worse than fumbling for my wallet to retrieve a plastic card, it's fumbling for my phone. The odds of dropping and smashing it must dramatically increase.
But, hey, if the gadget on my wrist can do it, that must be a positive.
Fitbit Pay works with payment cards from the following institutions:
ANZ Bank
Bendigo Bank
Commonwealth Bank of Australia
Latitude Financial Services (formerly GE Capital Finance)
National Australia Bank
Westpac.
(Note: in the US the standard Fitbit Versa does not support Fitbit Pay. You have to pay $US30 more for the special edition.)
I'm with NAB, so no problems there. This morning I made sure the Fitbit Versa was fully charged, then followed the instructions on the Fitbit to enable Fitbit Pay. You do most of it in the Fitbit app on your phone, and along the way you decide on a PIN. Your phone receives an authorisation SMS from Fitbit for security. At the end, the app said I had to "activate" the card. I could see no obvious way to do that.
Paying
So, test time. I toddled down to my local shop, hoping to experiment buying something using the self-serve checkouts. They were closed. I apologetically informed the checkout operator that this was my first time with tapping my watch. I put the Fitbit Versa up to the payment device. The Versa briefly vibrated, but the payment terminal said that it wasn't authorised. I paid the regular way.
Okay, so what was that about activation? Outside, I went to my bank app and found a section for managing my cards. I tapped on the card I wanted to use and found a section called "NAB Pay" (I imagine it's called "Comm Pay" or "ANZ Pay" or whatever with different banks). I tapped on that and authorised the phone. It asked if I wanted to replace Google Pay as the default payment means, which I did.
Well, I figured, that must have been the "activate" process I hadn't understood before. Too embarrassed to go back to that first shop, I went to another and bought some stuff. I held the Versa up to the payment terminal. It also vibrated and also failed. Oh.
Bemused, I swiped on the face of the Versa to see if there was perhaps some additional setting. Immediately this showed a ten-digit numeric pad. A-hah! I tapped in the four digital PIN I'd previously selected.
Time for a wine shop. The operator scanned the bottle. The payment terminal displayed the WavePay logo. I held my wrist up to it. Vibrate. Payment successful!
Security
When I got home I checked the instructions again. Apparently, if you're in Australia and using a card from one of the above banks, after you hold the Versa up to the terminal you should, "If prompted, enter your 4-digit watch PIN code". I don't remember being so prompted.
(What if you're not in Australia, or you're using a card from a foreign bank? You have to manually invoke Fitbit Pay by holding a button on the Versa for two seconds and perhaps enter the PIN. Life can be easier in Australia.)
What about security? You must be wearing the Fitbit Versa for Fitbit Pay to work. I guess it uses the heart rate monitor lights to sense whether or not it's on your wrist. If you take off the Versa, then the next time you put it on you have to enter the PIN again. Also, it relies on an NFC connection. That's Near Field Communication. And that means the watch has to be close as dammit to touching the device. It can't be scanned and scammed from a distance.
Music
The Fitbit Versa has 4GB of storage, with up to 2.5GB for music if you wish. You can download MP3s to that storage. Or if you're signed up to a premium subscription to the Deezer streaming service (this starts at $11.99 a month), you can download playlists to the watch.
If you're not on Deezer already (53 million tracks and counting), then getting a Versa might be a good way to check it out, even if you don't plan to put any music on your Fitbit Versa. It comes with the Deezer app pre-installed. Tap the app, and the watch displays a code. Follow the instructions, and you get a free three-month premium subscription, instead of the usual single month.
Getting the music onto the Versa is a bit fiddly. You have to make sure that the Versa has Wi-Fi log-in details because the music transfers that way rather than via Bluetooth. Then to use Deezer, you have to build a playlist in Deezer itself. In one of the apps, too, not the web interface. Then you put the watch into its cradle to charge and be prepared to wait for a while. I created a Deezer playlist of 47 tracks and set it going. As I'm writing, some six minutes have elapsed, and the app informs me that it is "Downloading music to watch … (15%)". Okay, 13 minutes has me at 43%. Nineteen minutes has it at 63%. Getting there: 29 minutes and 95%. Yay: 100%, 31 minutes and 22 seconds!
Listening
Those 47 tracks, with a four-hour runtime, look like they used up around one-eighth of the Fitbit Versa's storage. Fitbit says the watch is good for "300+ Songs", which seems about right. I couldn't see myself using this facility as my main music source. The storage is too small to hold anything other than a tiny fraction of my music. And it's too fiddly and slow to use to encourage changing the contents on a regular basis.
I have the Fitbit Flyer earphones here to review, but I figured it'd be fairer to use a different brand of earphones to check out this functionality. So I used the Jabra Elite 65t earbuds. Through them, the music delivered by the Fitbit Versa sounded fine. The one weakness was that the play/pause key on the earbuds wouldn't work. To pause music I had to shake a wrist to bring the watch to life and tap the pause key on its display.
Conclusion
The Fitbit Versa is a fine smartwatch. The tracking stuff mostly works well, except perhaps in France. Seriously, if a connection fails either end of the connection might be responsible. Perhaps it was the phone. I've switched to another since then and Bluetooth connections seem somewhat more reliable. Not just with the Fitbit Versa, but also with Bluetooth earphones.
Still, that long-standing will-it-work anxiety whenever there's a sync persists. Perhaps that's just me. But three months of never-failing syncing would overcome that.
The website for the Fitbit Versa is here.
Styling and smart, excellent value for money, lots of watch face choices, clear display, good tracking
Occasional sync problems, can't use two smartwatches with one Fitbit account