We like it when cameras get smaller, as they're much easier to attach to objects and get stunning footage out of. Case in point, GoPro's latest edition to its action camera range can now take just as solid a beating, but in a more compact package.
Announced this week and heading to Australian stores from this week, GoPro's Hero3+ range of action cameras have seen a drop in size by 20 percent compared to previous models, and yet pushed an battery improvement of roughly 30 percent.
Design-wise, GoPro hasn't changed the formula dramatically, still keeping the camera rear-LCD-viewer free, and making it all about the technology and ruggedisation, with a sensor that has improved wide angle support, sharp images, faster WiFi, and an auto low light mode which GoPro says will adjust the frame rate based on changing lighting conditions.
"We took the world's best-selling ultra compact camera and made it better because we're relentless in our pursuit of delivering the best possible user experience to our customers," said Nicholas Woodman, Founder and CEO of GoPro.
"We saw that we could make the HERO3+ significantly smaller and lighter while at the same time increasing battery life 30%. We saw the opportunity to design a sharper lens, so we did it–improving GoPro's already highly regarded image quality. And we thought up exciting new features like SuperView, which enables the world's most immersive wide-angle video. These are all features that we as passionate GoPro users want for ourselves, and we're excited to share them with our customers around the world."
As per normal, there are two models coming in the range, with the Black model – which is actually silver – supporting 4K recording at a maximum of 15 frames per second, as well as 2.7K video, 1440p video, and pretty much all the HD and Full HD capture modes you could want, including 800×480 (WVGA) firing off at 240fps if you're after slow motion video.
The Black edition of the GoPro Hero3+ comes in at $529, but it's not the only product GoPro is announcing.
The second model is for people who don't necessarily need all the bells and whistles of the black model, and can settle with the Hero3+ silver edition which is similar in colouring to the black model.
Confusion of colours set aside, the Hero3+ Silver does away with the high-speed WVGA modes and any video capture above Full HD, but pack in similar technology for a hundred bucks less, sitting at a recommended retail price of $429.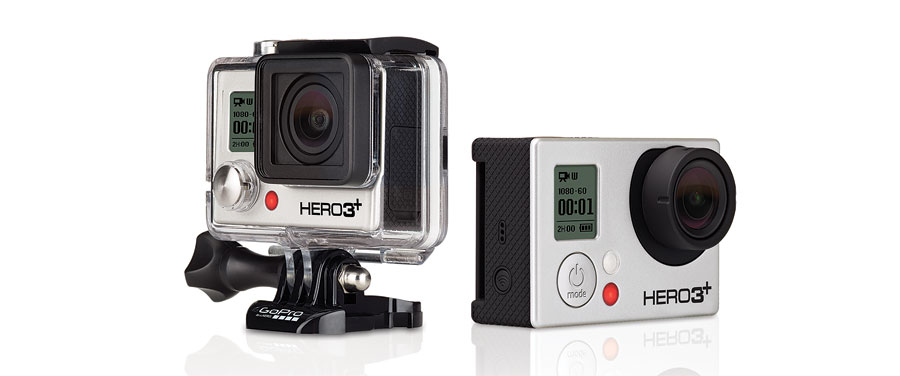 Similar to GoPro's previous products, the new models will all come with waterproof housing, pivoting arms, and quick release buckles, but these won't be the only accessories available to use, with GoPro reading both a chest harness and a head strap, offering new ways to record videos in the adventures you take the cameras on.