Have you been keen to try a big phone but didn't want to spend a big price tag? HTC has a new phone on the way out that satisfies both of those requirements.
Launched a few months ago at the Mobile World Congress in Barcelona, HTC's Desire 816 is ready for Australians to take the plunge with a large screened phone that goes more for the value proposition than the high-grade flagship fantastic feeling its other handset, the HTC One (2014, M8) achieves.
Design for the handset is a little off from what HTC normally provides, making a plastic large bodied smartphone with a camera and flash placement in the top corner, different from the top and middle where the company has been known for situating the current crop of cameras. The front of the handset, though, reminds us of a more simplified One, with two front-facing speakers — no doubt part of HTC's "BoomSound" design — though there are less holes for the speaker grills.
These sit around a 5.5 inch screen, and that makes the Desire 816 the second biggest handset HTC has, just below the HTC One Max's massive screen size of 5.9 inches diagonally.
The resolution isn't as good on this model, with a 1280×720 picture (720p) compared to the Max's Full HD 1920×1080 screen, but that should be enough for people who only want a big screen to browse the web and do social networking.
Under the hood, you'll find a Qualcomm Snapdragon 400 processor clocked at 1.6GHz, with a touch less memory at 1.5GB, 8GB storage, and support for a microSD card. You'll find 802.11b/g/n WiFi, Bluetooth 4.0 with support for apt-X, DLNA, GPS, and support for 4G LTE, which is good because it will be made available through one of the 4G suppliers in Australia, Optus.
Interestingly, there's a nanoSIM for those keen to upgrade from the iPhone 5, though most updates from other phones will require a SIM change due to how many micro- and miniSIM based phones there are in the market.
The camera is also different to other HTC devices, with a 5 megapixel front-facing camera on the front for big selfies, and a 13 megapixel rear camera for big images.
"Our Desire range has always been popular with the mid-market segment and with the launch of the HTC Desire 816, we have delivered a smartphone with an unprecedented feature set and great price," said Ben Hodgson, Country Manager for HTC in Australia and New Zealand.
"Featuring a winning combination of great design and quality performance, the HTC Desire 816 will create a new benchmark in value and change the path for upcoming mid-market phones."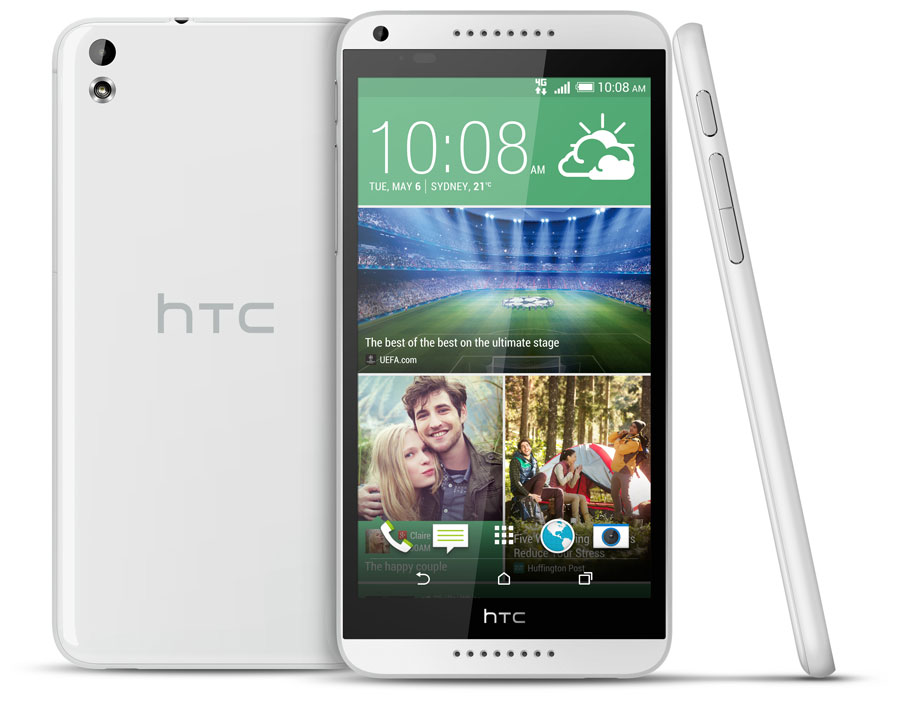 As for value, HTC has set the handset at an interesting price, offering it for $398 outright, or on plans from Optus with handset repayment.
Availability is now, and we should have a review in the next week or two, so hold on if you're at all curious, because we'll tell you if this sub-$500 phone is worth the cost of entry.