There was a time within living memory when Japanese consumer goods were cheap and nasty, but usually good enough. Over time, Japanese manufacturers innovated, improved quality and their products became prestigious. There was a time within the memory of much younger people when South Korean goods fitted that first category. These days the shift to the second category is almost complete.
The lesson is there, and Chinese makers are moving rapidly in the same direction. Which brings us to Chinese electronics giant Huawei. Not content with selling cheap electronics, it is pushing hard into the prestige end of the market.
But how do you do that with mobile phones? Even fairly modestly priced phones have got powerhouse processors that are an order of magnitude better than the best of a few years ago. They come with stylish metal cases and sharp, bright screens and expandable memory and 4G and fast WiFi. How do you make your phone stand out?
Well, cameras are where all the action is, it seems. That is, the camera in your smart phones. What began as a novelty (I had one in my old Samsung flip phone long before smart phones, and I took half a dozen pictures on it in total, so terrible were they) became useful, then essential.
So if you want to make your phone stand out, you equip it with a better camera and make sure everyone knows that it has a better camera by allying yourself with one of the most prestigious names in photography: Leica.
And apparently this has paid dividends. Huawei's new P10 and P10 Plus models have won the Technical Image Press Association (TIPA) award for "Best Photo Smartphone" for 2017 (apparently the first time it has been awarded).
Says Thomas Gerwers, the chairman of TIPA, "The P10 and P10 Plus impressed the Technical Committee and TIPA members with their innovative features and design that all goes to delivering crisp, sharp images, with especially exciting advances in low light photo quality. The collaboration of Leica's fast lenses coupled with twin sensors makes the P10 and P10 Plus both innovative and breakthrough products that raise the bar on smartphone photographic quality."
Huawei has been working with variations of this "dual lens" system in recent models, including with the Huawei Mate 9, a review of which I'm currently working upon. As usual, "dual lens" actually means dual camera because there are two sensors as well. In the case of the Huawei P10 and P10 Plus, one of them cameras is colour and offers 12 megapixels of resolution, while the other is black and white and delivers 20 megapixels. Both phones come with optical image stabilisation. The standard P10 uses a  Leica SUMMARIT-H f/2.2 lens, while the P10 Plus upgrades this to Leica SUMMILUX-H f/1.8.
Processing magic within the camera can combine the output of both cameras to produce high quality and unusual effects.
The use of different resolutions – and a monochrome sensor in one of the cameras for goodness sake! – may seem strange. But there's good sense in this. Note, this is my analysis, not anything from Huawei. Being from me, it could well be quite wrong.
Making high sensitivity and high resolution work together
Higher resolution means, at a given time in technological development, lower sensitivity. That's because the pixels are smaller. The smaller a pixel, the less the amount of light it can capture.
Colour sensors work with an additional disadvantage: they need at least three times as many light sensitive elements as their headline resolution because they have to capture three colours. And the amount of light each captures is further reduced by the colour filters discarding the colours not wanted on each pixel.
A 20 megapixel monochrome sensor only needs 20 million light sensitive elements, not 60 million or more, and each of them gets pretty much all the light. Voila, high sensitivity!
These Huawei cameras seem to produce 12 megapixel final shots, so the colour isn't upscaled to 20 megapixels. I'm guessing the monochrome is used as a processing template to sharpen and increase clarity within the 12 megapixel shot, and to provide raw material to allow improved processing on such effects as reduced depth of field. That provides increased – the word of the moment! – "bokeh" effect. "Bokeh" is the shape assumed by out of focus highlights.
Again I'm guessing, but the focus functionality using the monochrome sensor is also likely improved.
Huawei has provided a bunch of photos from professional photographers to demonstrate what a fine job these devices can do. I'd note that there might be some element of professional expertise involved in the creation of those shots, in addition to the technical excellence of the phone cameras.
Back to the phones
But of course, they aren't really cameras with phone functionality. They are really Android phones with excellent cameras. They are powered by octacore Kirin 960 processors (up to 4 by 2.4GHz and 4 by 1.8GHz), run Android 7.0 Nougat with Huawei's EMUI 5.1 skin and have 8 megapixel f/1.9 selfie cameras. And they have a fast charge capability.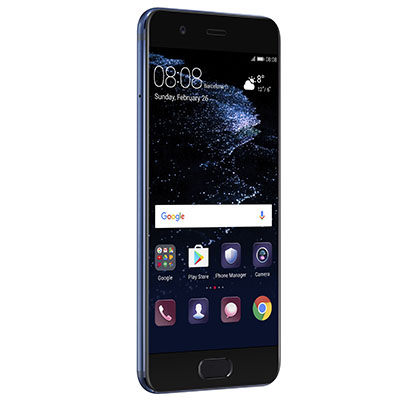 The P10 has a 5.1 inch 1080 by 1920 display with Corning Gorilla Glass 5, 4MB of operating RAM, 64GB of built in storage, expandable memory via microSD (to 256GB) and will sell for $899.
The Huawei P10 Plus has all of that apart from several upgraded elements: the screen is 5.5 inches and 1440 by 2560 pixels, it has 6MB of RAM, 128GB of storage built in and will sell for $1099.
Both will be available on 25 May 2017. The P10 comes in black, gold or "Dazzling Blue", depending on the vendor. The P10 Plus is in "Graphite Black" only.