ITy Bytes 1 April summarises the news that was not quite large enough to warrant a full story. In this edition
Facebook knows where you are despite Apple and Google's best efforts;
Vale Sony Smartphones;
MacBook keyboard plagues Apple MacBook owners;
Apple secretly relents on opposition to the "Right to repair";
AirPod 2 teardown – still very expensive and very disposable;
Apple AirPower goes sour;
JBL Live headphone series here;
Nat Geo new look App – exclusive app-only content series, Only in Oz;
Alcatel and Rabbitohs launch competition;
Fing Box is terrific for badgering you Internet Service Provider;
Huawei smart eyewear portends further wearables products;
Microsoft pensions off Cortana (chatbot) in Skype and substitutes Alexa
ITy Bytes 1 April
Facebook knows where you are despite Apple and Google's best efforts
Facebook, Apple and Google are being sued in the US over location tracking. Specifically, Facebook tracks location without a user's permission via any iOS or Android smartphone.
Apple and Google state that even though they deny Facebook access to the device's location data, Facebook has a network of third-party apps that can do just as much.
"Apple never represented that it could prevent Facebook from collecting location data from any possible source," Apple argues. Google agrees.
Scary – #deleteFacebook – it cannot be trusted.
Vale Sony Smartphones
As we reported in ITy Bytes 22 March, Sony had stopped selling its smartphones in Australia. We were sorry to hear that because they were pretty good.
Now we hear that it has closed its Chinese manufacturing plant after losing US$860 million this financial year. Globally it shipped 6.5 million handsets in 2018 – to Japan and Europe. The total of all brands of smartphone shipments in the same period was just over 1 billion.
Sony still has a small plant in Thailand and says that it can outsource handsets to OEMs instead of having its factory. But its decision may be based on the Chinese Development Plan – read the article here.
Apple MacBook keyboard plagues MacBook owners
iFixit, champions of everything repairable first revealed that MacBook since 2015 could be "rendered catatonic with just a fleck of dust." In its 27 March article it says the issue is wider than that with now intermittent activation of keys – especially the E and R keys – the most used in the English language. See below!
iFixit says this is not the original issue of dust crippling the keyboard, but a design fault caused by weak springs wearing out and not forcing the keys back up.
While the KeyboardGate issue was corrected in the 2018 MacBook Pro a US class action has now forced Apple to offer a free keyboard replacement program (with the same fault-prone keyboard! says iFixit) to any MacBook using older Butterfly keyboards for up to four years after purchase.
Aussies – if you own a suspect MacBook its time you acted on your Australian Consumer Law rights as iFixit rightly points out – selling a second-hand MacBook with the issue would yield about the same value as a degree from a Trump University.
You can read more about KeyboardGate here and StageLightGate here.
Apple secretly relents on opposition to the "Right to repair" – well very secretly and sort of
iFixit says that Apple is secretly preparing for Right to Repair legislation – at least, as much as they are required to by potential legislation. In its 28 March article it says Apple will do as little as possible to meet proposed legislation as it does not want to lose its lucrative Apple Care or repair business.
iFixit says Apple planted their foot on the ground and said, "You should repair your phone at an Apple store, or you should get bent." Apart from a few very select Apple Authorized Repair Providers, no one has access to the genuine, OEM parts Apple uses to make these devices or the diagnostics and schematics that Apple keeps so close to the chest.
It says Apple's new plan to approve some larger repairers is more a PR gesture than an attempt to solve the issue. It continues to encourage a repair 'monoculture' that stifles competition, job creation, and innovation in the repair space.
Article author Whiton Gordon concludes, "We need more than this. We need comprehensive Right-to-Repair laws to require Apple and other manufacturers to make parts widely available, just like they are for our cars and appliances. Nobody should be threatened by lawyers or denied access to parts for the simple act of trying to fix their own stuff."
Apple AirPod 2 teardown – still very expensive and very disposable
iFixit has done the obligatory search and destroy – the latter is particularly relevant in AirPod. It says they're still destined for the e-waste bin in a short time, leaving us feeling like Apple upgraded the wrong thing. Overall, these US$200 headphones are some of the most disposable products we've ever seen.
The full teardown is here and iFixit recommends the Samsung Galaxy Buds as they are repairable and the battery is replaceable.
Apple AirPower goes sour
In 2017 Apple proudly unveiled plans for the mother of all charging mats – the Qi-based AirPower with, of course, the obligatory iOS charge app. In 2019 it has been canned, and one of my favourite sayings comes to mind, "Vision without execution is a hallucination.
Makes me wonder a) what drugs Tim and his design powerhouse were on and b) it's not that hard to make a Qi-certified charge mat that puts out a measly, crippled 7W.
Well according to Apple it is. "After much effort, we've concluded AirPower will not achieve our high standards, and we have cancelled the project," said Dan Riccio, Apple's senior vice president of hardware engineering, in a statement.
Did I just see a jumbo-powered pig fly past the window? Note to other QI manufacturers – congratulations on making certified Qi chargers that do meet high standards, and now you can reduce prices to where they should be – not what Apple thinks it can charge.
JBL Live headphone series here
JBL, A Harman company (Samsung) has released the JBL Live 400BT (on-ear) and JBL Live 650BTNC (over the ear and active noise cancelling). Both feature JBL signature sound (warm and sweet), Google Assistant or Amazon Alexa, 24/30 (NC) hours play on BT, speedcharge, Ambient Aware and TalkThru, Multi-point Bluetooth, and Comfort-Fit, on-ear design with aluminium finish.
JBL Live 400BT – $149.95 (Website here)
JBL Live 650BTNC – $249.95 (Website here)
Marcus Fry, Brand Activation Director of JBL AUNZ at HARMAN, said
"The JBL LIVE Series will disrupt the headphones market. With a massive line of different devices that carry the best features, we have to offer, this new generation of headphones still maintain an affordable price point across the board. We can't wait to introduce this series to our customers and watch their one-of-a-kind music experience with JBL Signature Sound."
Nat Geo new look App with Optus and exclusive app-only content series, Only in Oz.
National Geographic has launched its new-look app in partnership with Optus, providing users with a personalised content experience that offers live streaming channels, an immense photo library, digital articles, National Geographic magazine archives and over 3,000 captivating short-form videos and documentaries, including new content produced with Optus exclusively for the app.
The app launches with 10 'Only in Oz episodes', each 8-10 minutes in length, that cover the diverse extremities of Australia; from East to West to top end territory
Free for eligible Optus customers until June 2020 or $9.90 per month for everyone else.
Alcatel and Rabbitohs launch competition
Alcatel, part of the TCL Group, has announced the launch of its 'Try For A Million' promotion. It gives fans at each of the South Sydney Rabbitohs home games the chance to win one million dollars. The promotion challenges fans to predict the exact score and sequence of scoring by specific players, which can be entered before each home game here.
The promotion is for the first 5000 entrants for each of South Sydney's 12 home games of the season and will premiere at this Sunday's match against the Gold Coast Titans, with each person only allowed one entry. Full terms and conditions are available via the website.
Fing Box is terrific for badgering you Internet Service Provider
Readers will know of my trials and tribulations with Telstra/NBN. Read part II –We agree to disagree.
The two images below show what Telstra NBN should be (left) and what it is (right). Indisputable evidence although according to Telstra, NBN does not think so. In March, Fing Box reported a total downtime of 47 minutes. But that excludes the time on 4G LTE Fail-over when it kicks in (takes about 2 minutes now on Telstra Gen 2 modem), and with the non-speed it provides (bottom image) is useless as a condom with a hole in it.
Fing has now added Google Assistant so you can swear at Telstra – sorry interrogate it. It will give you stats, who has breached the digital fence, internet performance and parental control.
It also now has an IFTTT connection to help with smart home integration. We will explore that soon.
It has also introduced user ratings of ISPs and real Broadband speeds. Australia and Telstra did not even make the top 20. This is an accurate real-world test – not a panel. Its users now rate Telstra three-out-of-five with a continuing downward trend (it was 3.5-out-of-5 last month). Telstra worldwide has a global speed score in the bottom 32% of suppliers.
Fing Box is one device GadgetGuy cannot live without.
Huawei smart eyewear portends further wearables products
At the P30 and P30 Pro launch in Paris, it featured a smart, if not an oversized set of smart glasses.
The device has been developed in partnership with international eyewear fashion company and Korean pop culture influencer Gentle Monster.
You can read more at its Twitter site
It also released two new versions of its well-accepted Watch GT – the Elegant and Active Editions. Yes, these are digital faces, and yes, that is a great imitation of mother of pearl on the left.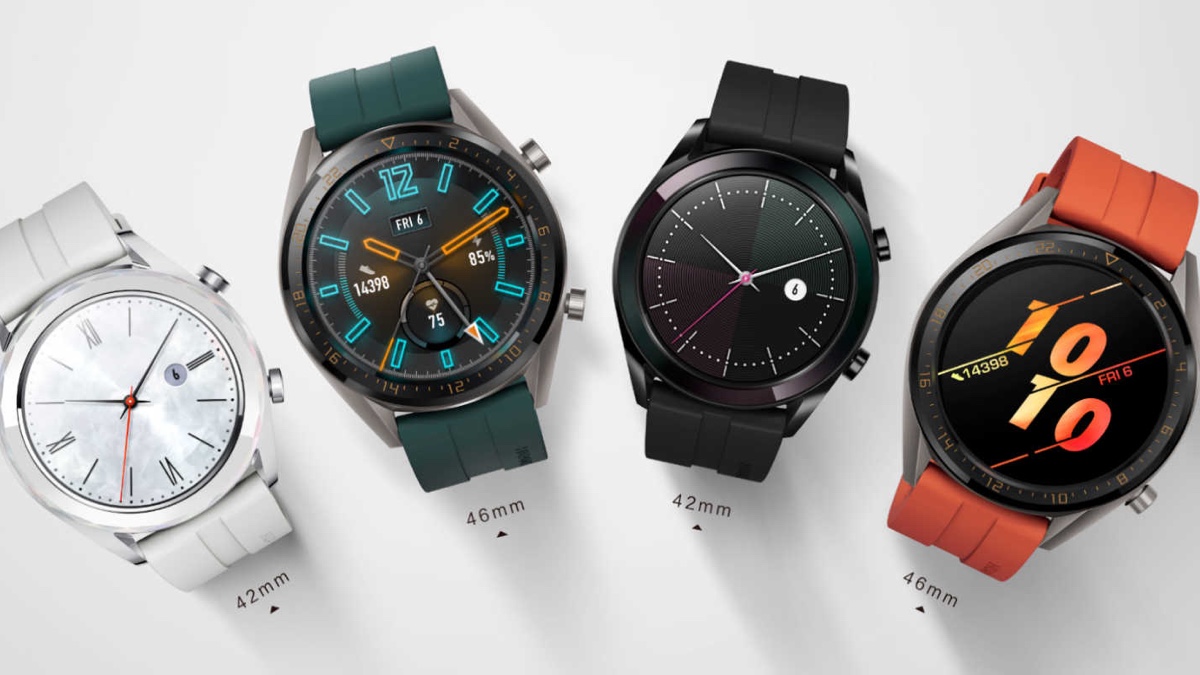 Microsoft pensions off Cortana (chatbot) in Skype and substitutes Alexa
Come 30 April, the five people who used Cortana (chatbot) in Skype will have to swap to Amazon Alexa Chatbot (and be bombarded with advertisements for whatever they talk about over Skype).
Cortana was added to Skype in 2014, mainly to allow voice-activated calling. Latter canny Skype users found she could find information from her mate Bing and even set up fairly complicated conference calls.
Microsoft (at least in the US) is offering 200 free minutes of communication to users who link their Skype and Amazon accounts.
Note I refuse to use Alexa on my PC – I actually don't mind Cortana. But being both a techy an Android convert, I now can (not officially and not for the average user) run Google Assistant on my PC.
ITy Bytes 1 April, ITy Bytes 1 April, ITy Bytes 1 April, ITy Bytes 1 April