Now that the Consumer Electronics Show has wrapped for 2022, here's our take on some of the tech that we thought stood out. Be sure to tune into GadgetGuy over the coming weeks and months as we aim to get as much in as we can for review. For more on CES, hop over to our GadgetGuy CES 2022 Hub for in-depth articles and launch summaries.
Event
Live Blog: Best technology revealed at CES 2022
Location
Consumer Electronics Show, Las Vegas, Nevada
Start time
January 3, 2022 12:00
Is the Roborock S7 MaxV Ultra a truly automated robot vacuum? Maybe. This little guy aims to address potentially the biggest pain point in owning a robot vacuum and mop - cleaning itself. The Roborock claims to do just that so all the owner will ever have to do is refill the water from time to time. Also, it can clean multiple floors while also boasting an RGB camera and even a LiDAR sensor for better mapping and collision avoidance. We'll test this in a future review.
Sony PlayStation VR2 - We mentioned earlier that Sony's PSVR2 was finally announced, including all the specs. We're still shocked at everything it's packing considering Sony will be aiming to hit a pricepoint that costs less than the console its designed to run on. It basically outclasses every other VR headset on the market including the $1800 HTC Vive Pro 2, while also offering features we haven't yet seen in consumer VR. This includes its hand tracked controllers with adaptive triggers and haptic feedback, sensory vibration feedback within the headset itself as well as HDR support and eye tracking. Game on!
TCL Nxtwear Air - this is a micro OLED, pocket cinema in a glasses form factor that can be personalised with different looks. At 75g, it is much lighter and slimmer than the first model and the dual FullHD displays should be fairly sharp. We're curious to see how the portable cinema experience compares to something like HTC's Vive Flow.
When you're playing games in the VR world and want even more realism, there's OWO Skin. This body suit uses electro-stimulation to make you feel bullet hits and other types of impact. The form factor is super thin and light and looks a bit like the compression skins that athletes wear. A contact who works for a VR publication in the USA told us that the sensations are just as impactful as from those thick and clunky suits used in VR arcades. The only other consumer product to use electro-stimulation is the $12K Tesla suit so the OWO skin a relative steal at US$500. 
The MeganeX from Shiftall Inc (owned by Panasonic) is an ultra lightweight and ultra compact VR headset that either matches and in some cases exceeds the high end specs of the best PC VR headsets on the market. It uses a glasses form factor, complete with a foldable frame, 250g weight and built-in speakers. It boasts a 5.2K resolution HDR display (so 2560x2560 per eye with a 120Hz refresh rate) as well as a Snapdragon XR1 chip for untethered play. Seriously, this thing is an engineering marvel when you consider all the specs it packs in a realatively svelte form factor. The MeganeX also connects to PCs over DisplayPort for SteamVR gaming while also aiming for a sub-$US900 price tag.
Sony A95K Master Series TV is first QD-OLED TV that you will be able to buy this year (albeit with a super-premium price tag). This hybrid screen technology has a considerably higher brightness than regular OLED televisions along with better looking and more saturated colours, taken from the Quantum Dot tech used on some LED displays. The TV can sit right back against a wall or forwards, thanks to an innovative stand. Also, the screen has such a low profile bezel that it can rest almost flush on an entertainment unit.  Interestingly, there's an external camera included with TV that is used to adjust the picture and sound based on where you're sitting. Bizarrely, Sony is only including 2x 2.1 HDMI inputs and who knows if Sony's Variable Refresh Rate (VRR) implementation on its TVs will ever support anything outside of its own PS5 consoles (LG is way ahead in this regard).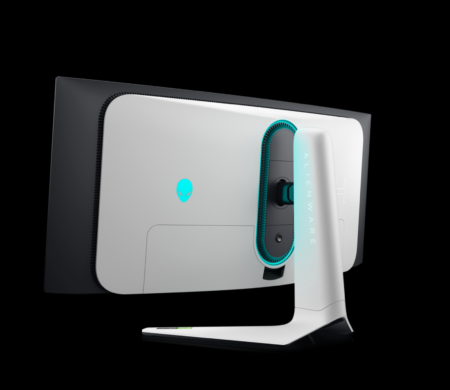 When it comes to computer monitors, Samsung's Odyssey ARK caught our eye. It's an audacious 55' curved 4K gaming monitor that can rotate a full 90 degrees to provide a vertical view of its 4K screen, and in that mode it looks like a cockpit simulator for pilots! Features also include a Mini-LED panel and 6 built in speakers with Dolby Atmos support.   
Despite having an unmemorable name, there's plenty to get excited about with Alienware's AW3423DW. It's the world's first Quantum Dot OLED (QD-OLED) computer monitor while also boasting a curved ultrawide aspect ratio at 34-inches with a sweet spot resolution of 3440 x 1440. It supports G-SYNC Ultimate for buttery smooth and tear free gaming at up to 175Hz along with HDR and even comes with a three year warranty that covers burn-in.  I've been an ultrawide convert for a while now and this one looks to be the pick of the bunch, not only for its class but for all computer monitors in 2022. Hopefully we can get a review unit in soon (the AU release date and pricing are still TBA but it is already available for sale in UK for £2,000.
There were plenty of laptop announcements at CES, but a few really grabbed our attention. First is the Dell XPS 13 Plus, which is basically Microsoft Window's answer to the M1 MacBook Pro. However, the XPS 13 Plus has a few notable features of its own including a large edge-to-edge keyboard, a touch bar, as well as a haptic trackpad that blends into the deck beneath the keyboard. It looks slick!  
Another laptop that we liked is the Asus ROG Flow X13, which is basically a 13-inch gaming 2-in-1 but in a form factor that is as thin and light as a Surface Pro 8! You can remove the keyboard and use it sort of like a Nintendo Switch, although you'll need to connect a controller. Graphics wise, it's not most powerful with a RTX 3050 Ti but it will do for 1080p gaming. We're also curious about how long the battery will last, so we'll have to see once we get one in for review.
Did you know that electric boating was a thing? Yep, now you can hang out on an all-electric luxury pontoon boat that cruises at 37km/h. Best of all, there's no emissions, petrol fumes or noise (apart from your party guests).  Pure Watercraft's 24'7" pontoon boat will have capacity for up to 10 people, and is powered by single or twin Pure Outboard motors and a GM battery pack of up to 66 kWh. Battery range depends on how long you're on the water and how far you travel. For example, you could go out for 7 hours and travel 65 kilometres and have about 10 percent battery left. Or go for a shorter trip but travel further. "Pontoon boating is booming, because people want to get out on the water and socialize with family and friends in the great outdoors. This boat gives them a more enjoyable experience, free from engine noise and the hassles of fuel and maintenance, at a price comparable to that of a conventional pontoon boat. This unprecedented value is a result of our relentless focus on efficiency", according to Pure. Pricing is expected to start at US$45,000 (single outboard) and US$60,000 (twin outboard).
We have doorbell cameras, so why our birds? The Bird Buddy is a great way of doing a little bird watching, right from your smartphone. The Bird Buddy includes the bird feeder itself, along with an embedded all-weather camera. Not only can you watch birds, the app will help you identify species, bird song, what foods they eat, when they visit and more. The makers of Bird Buddy also appreciate the value of data gathered and shared with the community about bird migrations and other details that may help keep our winged buddies happier and healthier.
2022 will likely see more foldable screens, especially in phones. Asus's Zenbook 17 Fold is an intriguing development on the laptop front, with a flexible 17 inch screen. You can open it up so it becomes a 17-inch touch-screen tablet, and there's a kickstand on the back so it can be used as a monitor. Otherwise, or fold it in half like a clamshell with the top half used a screen and the lower part as a touchpad or virtual keyboard. There's even a Bluetooth physical keyboard that snaps on so it can feel like a regular laptop. While still a concept, it will be interesting to see if it gains traction, and what it will cost. 
In more car news at CES, Mercedes-Benz has announced its advanced allelectric car concept, the Vision EQXX. While the German automaker has debuted it luxury electric EQS this past year, the Vision EQXX gives us a glimpse of what we can expect in upcoming electric models.
The standout feature is an unprecedented 1000km range, making it possible to drive from Sydney to Melbourne without range anxiety or planning charge-up stops. The EQXX's design is ultra-sleek with 4 doors, sloping roofline and a low wind-drag extended tail. While the design may polarise, it's all about efficiency with a smaller frontal area than a micro car and a rear track that's 50mm narrower than the front. 
Other efficiency-focused tech includes 20-inch forged magnesium wheels, low resistance Bridgestone Turanza Eco tyres, retractable rear diffuser, dynamic cooling shutters and front bumper 'air curtains'.
Power is delivered via an efficient electric "drive unit" on the rear axle, which has been developed by Mercedes-AMG's Formula One engineers. It's good for 150kW, so don't expect fast o-100 times. The battery is also advanced, with just under 100kWh, but 30 percent lighter than similar capacity units used in Mercedes's production cars. There's also a 900-volt electrical architecture, which is 100-volts higher than Porsche's system, for ultra-fast charging.
We don't expect the Vision EQXX to enter production in its current guise, but the technology demonstrated in it will seep into upcoming Mercedes electric models.
Ever wanted to change the colour of your car at the touch of a button? BWM has just shown off its new colour paint changing technology on an actual car at CES. The BMW iX Flow was shown to change from white to dark grey, which was triggered electronically.  with the help of E Ink, the stuff used in e-readers and the old Pebble Watch. Essentially, BMW has taken E Ink, the stuff used in e-readers and the old Pebble Watch, and figured out how to coat a car with it. Apparently, the surface coating contains millions of microcapsules with a diameter equivalent to a human hair. An electrical field changes the positioning of pigments inside the capsules, giving the car the desired shade. So far, the paint can go from white to grey to black. 
We won't be seeing this in BMW dealerships any time soon, however, as it's just an "advanced research and design project", according to BMW. Still, it has impressive applications apart from just being able to change colour on a whim. As white reflects heat from the sun, and black retains it, your car could automatically adjust its paint to regulate the internal temperature, depending on if it's summer or winter.