Microsoft's Surface didn't exactly hit it out of the park for us, what with how it looked like Windows 8, but didn't run apps found outside the Microsoft Windows Marketplace. Surface Pro 2 is a different beast altogether, though, bringing the Windows 8 experience to a tablet, letting you do practically anything on a highly portable machine.
Features
The sequel to last year's Surface Pro, the second-generation takes the same basic design from the previous model made from metal and updates the insides, the operating system, and changes the kickstand by adding an extra position.
From the outside, it's mostly the same design, with a slightly slanted metal tablet that looks nothing like any other tablet, made from a form of magnesium called VaporMg.
Like on the Surface 2, the kickstand has been changed to work in two positions, as opposed to the one on the first Surface Pro.
The screen is still the same 10.6 inch Full HD display used in the first generation, with ten points of touch supported, but underneath it, so much has changed.
Inside the Surface Pro 2 is a fourth-generation Intel Core i5 processor, paired with 4GB RAM on the 64GB/128GB storage models, or 8GB RAM on the 256GB/512GB storage models.
Our review unit was the 64GB model, so only came with 4GB. The storage can be expanded here, however, thanks to a micro SD slot found on the right edge.
Connectivity options are relatively standard, though not exactly up to the level we expect in a 2013 computer, with 802.11 a/b/g/n WiFi supported, Bluetooth 4.0, and a single USB 3.0 port. A display out is also included, in the Mini DisplayPort on the right side of the unit, while a headset jack is included on the left side.
Multimedia is catered for with two 720p HD cameras, one on the front above the screen, and the other on the back I nearly the same position, while the speakers are stereo and a microphone is included.
Microsoft has also built in two proprietary ports, just like on the Surface Pro and Surface 2, both of which are magnetic and use several pins: the five-pin magnetic port on the right is for charging the tablet and holding the included pen stylus, while the six-pin magnetic port on the bottom of the tablet is for the keyboard cases.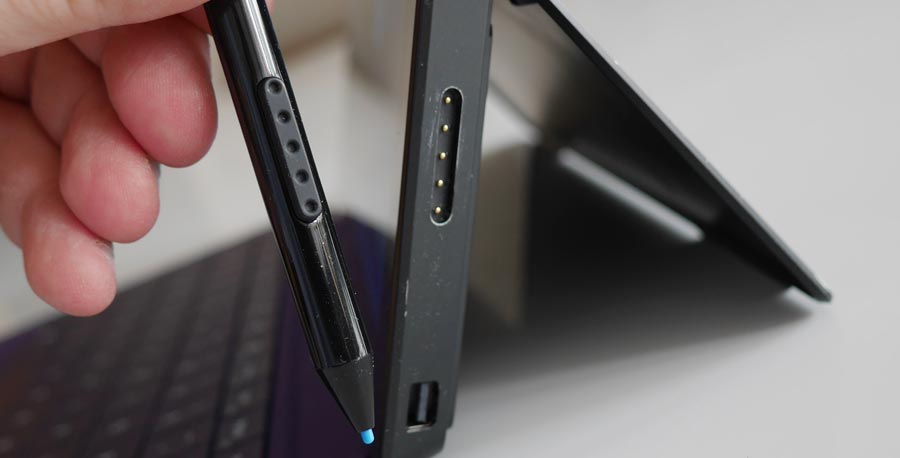 While this is a tablet, there are some buttons, including a power button up top, volume rocker on the left, and a Windows icon soft button just below the screen that acts as a link back to the modern Windows menu.
The included power pack comes with a USB port to charge smartphones and tablets (and any other USB compatible device) as you're charging the Surface Pro 2 tablet.
Performance
Let's start with the good, because in the Surface Pro 2, Microsoft has made sure there's a lot of that.
First there's the performance, and this is something that can be seen in processor choice Microsoft has made for the Surface Pro 2, with a fourth-generation Intel Core i5 used here, still a quad-core, but not quite the extent of power that is a Core i7. That said, an i5 is easily fast enough, and this one is clocked at 1.6GHz, and paired with 4GB RAM.
With a pairing like this, the Surface Pro 2 moves quite nicely, with virtually no lag as you jump between apps, and even enough power to let you play with some decent games on Steam, and with the proper version of Windows 8 (8.1 in fact), that can actually happen.
In fact, any app that is made for use on a regular Windows computer can be used here, including Google's Chrome, Valve's Steam, Adobe's Photoshop, and just about anything else. Not being restricted to the Windows Marketplace is certainly a feature in our eyes, especially when the Surface 2 handicaps you in that very way.
The CPU choice has no doubt had an effect on the battery too, as this generation of processors has been engineered with stronger battery life in mind.
Our battery tester reported that a maximum of 20 hours was conceivably possible if you didn't plan on doing anything or have the WiFi running, but the actual runtime seemed to be closer to 6 to 10 hours, which isn't bad altogether for a computer with this set of specs inside.
Microsoft's choice of screen is also quite nice, with a Full HD 1080p display with some solid touch support. The update to Windows 8.1 now means you can make apps support more than just a quarter or three-quarters of the display, with half-size two apps at once. No more than two apps can be run on the Surface Pro 2 at once, though, thanks to the 10 inch screen size.
That said, the 10 inch screen still makes for some decent writing and web browsing. Windows 8 apps don't always render in it perfectly, mind you, looking a little blurry, but the made-for-Windows 8 apps are perfect on this screen.
It has to be acknowledged, though, that Microsoft's Surface Pro 2 does not come with an included keyboard, so factor that into the cost. The Microsoft TouchCover and TypeCover keyboards from the Surface 2 are compatible with the Pro 2, and with a price of around $120 each, add to the total dollar figure you're paying.
That being said, when used together with one of these, typing is far, far better than the on-screen virtual keyboard of Windows 8, which isn't bad, but is nowhere near as speedy or efficient as either the touch or flat physical keyboard cases that Microsoft makes.
We used the same purple flat keyboard cover from the Surface 2, and wrote this review with it, and while it's thin and doesn't offer much travel, the keyboard still offers a very comfortable typing experience, so much that we forgot all about the lack of depth and focused merely on what we were typing.
One other thing that is quite good on the Pro 2 is the build quality, hardly surprising since it continues from where the Surface Pro left off.
It's not particularly light — just under a kilo, in fact — but the new Surface Pro 2 is very sturdy, encased in magnesium and feeling very sturdy. The two position kickstand also makes it easy to stand the tablet up in one of two ways, emulating the way you use a laptop when paired with one off the typing covers.
For what it's worth, Microsoft has nearly nailed this machine, but there are a few things going against it.
One of them is the price, which is just positively expensive. With a starting price of $1019 for the 64GB model, this is an expensive tablet computer. In fact, the pricing continues all the way up to $2039 if you want the 512GB model, with the keyboard case not included and adding another $100 or so to the equation.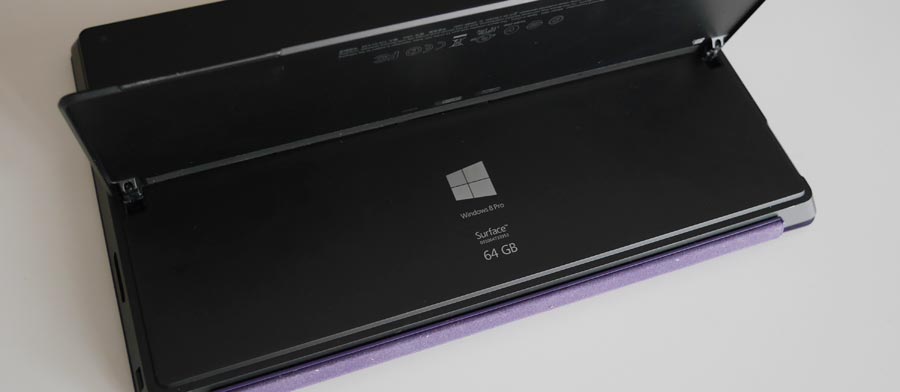 Now if you don't want to spend much, a thousand dollars is the minimum you can really put down for a Surface Pro 2, and with only 64GB inside, after Windows 8.1 is installed, you only find around 40GB for you to work with.
Thankfully, there's a micro SD card slot to expand this, but it's still a lot of money for what amounts to a tablet with not a lot of storage.
There also isn't a lot of room to move as far as connectivity options go, with only one USB 3.0 port. Essentially, it's a tablet with the innards of an Ultrabook, but only one USB 3.0 port means that very little can be plugged into this computer when you're on the go.
Conclusion
While the Surface 2 provided a decent tablet experience that looked like Windows 8 and yet provided virtually none of the compatibility Windows 8 users could hope for, the Surface Pro 2 is a different beast altogether, revealing a solid Windows 8 tablet experience with all of the compatibility you could want.
It's a little heavy and quite expensive, but between the speed, the excellent screen, and the solid battery life, customers who end up on the Surface Pro 2 will be very happy, if not a few dollars lighter than they might expect.
Recommended.
Excellent performance with Intel Haswell processors; Runs proper Windows 8, not that Windows RT thing that hates Windows apps; Supports USB 3.0; Metal build makes it very sturdy; Decent battery life; Stand can be positioned in two ways; Power adaptor can also simultaneously charge a device like a smartphone through the power pack's USB port;
Very expensive; Only one USB 3.0 port; Keyboard isn't included; Heavy;