A year has passed between Microsoft's tablet-turned-laptop, and for the fourth generation, it thinks it has nailed the bugs. Is this the best tablet out there?
Features
If you're keen for a new laptop but can't decide on whether it should be a laptop or a tablet, you have quite a few options available to you in the form of the hybrid and convertible machines.
Microsoft's Surface isn't quite in the same category, but has afforded Microsoft the opportunity to flex its muscle and design a computer in a way that matches the momentum of its operating system, which seems to be forward.
In this fourth iteration of the Surface Pro 4, we're seeing mostly incremental changed with a few nods to design, though we'll get to those shortly.
First there's what's on the inside, because that counts, and you'll find a 6th generation Intel Core m3, i5, or i7 processor here, with Intel's latest and greatest running on the "Skylake" processors, paired with either 4, 8, or 16GB RAM depending on the version you end up spending on.
Storage on the Surface Pro 4 is set to 128GB, 256GB, or 512GB, though some of this will be eaten into from the beginning thanks to Microsoft's Windows 10 Pro being installed on the new Surface computer out of the box.
Tablets and computers generally offer cameras, and the Pro 4 is no different in this regard, offering an 8 megapixel rear autofocus camera with 1080p Full HD video recording on the back, while the front-facing camera is set to 5 megapixels with an Intel RealSense 3D depth scanner sitting alongside.

Connections on this computer are pretty standard for a flagship computer, offering 802.11ac WiFi that is also compatible with 802.11a/b/g/n, while Bluetooth 4.0 makes up the other side of the wireless offering.
Wired connections are still included, too, part of why the Surface Pro 4 still appears thick, though the 8.45mm thickness is hardly a big deal, and neither is the 786 grams of weight.
Still, for wired connections, you'll find a full-size USB 3.0 port, a Mini DisplayPort, the typical 3.5mm headset jack, and a microSD card lot for expanding the storage, while Microsoft's Surface magnetic cover port is also here, as is the specific Surface Connect magnetic proprietary power plug.
A hinge also sits on the back connecting the Surface Pro 4 to its stand, with the hinge able to stand the Surface up and lie it down.
Covering all of this is the screen, which is a 12.3 inch 3:2 aspect ratio display offering 10 points of multi-touch and a resolution of 2736×1824. That resolution is enough to provide around 267 pixels per inch of clarity, while the screen is protected with a layer of Corning's scratch-resistant Gorilla Glass 4.
A digital pen stylus is also included in the box, providing a wireless method of tracking your input, complete with a magnetic edge to mount it to the side of the Surface Pro 4.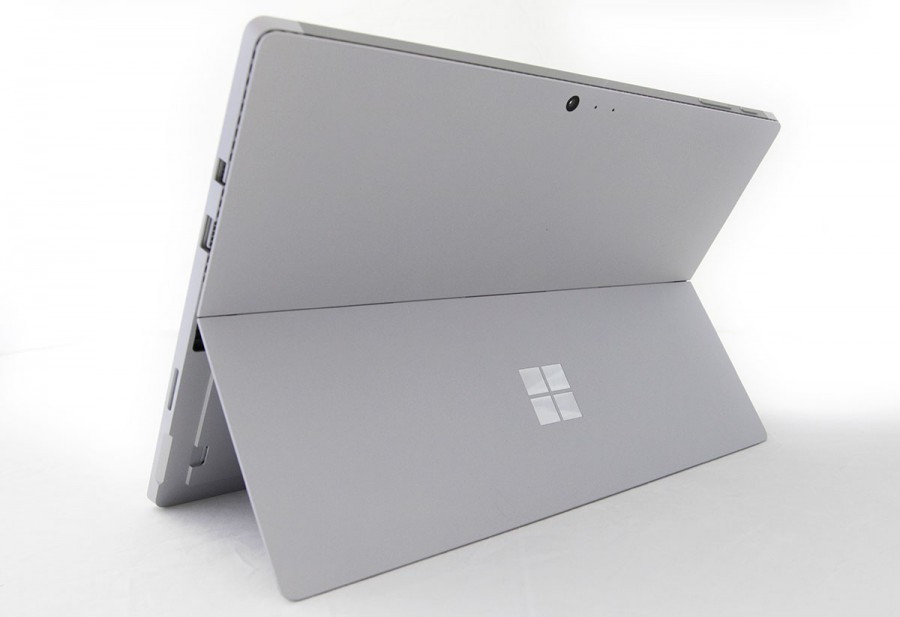 Finally, you'll find a few buttons on the casing, with a power button up top next to a volume rocker, with the ports located all around the body, providing the 3.5mm headset on the left edge, cover port at the bottom, and all remaining ports — USB, Mini Display, and Surface Charge — on the right edge.
Microsoft's Type Cover keyboard is different in this generation, also, but is an optional purchase for $199.95 (at the time of publishing).
Performance
Has it really been that long between Surfaces?
It might not feel like it, but Microsoft's Surface Pro 3 is now a year old, and it's time for a fourth-generation product. In that time, we've seen a jump from the fourth-generation Intel Core processors (Haswell) to the new sixth-generation models (Skylake), and while there are some incremental updates, some other bits and pieces have changed under the hood.
Let's get stuck into design first, though, because not a lot has been changed there. For Surface Pro 4, Microsoft took the point of view of "if it ain't broke, don't fix it", powering through the improvements by upgrading the screw, the processing, and making the design a little thinner, but generally leaving the formula the same.
And that makes sense, because last year's Surface was a huge hit with customers and reviewers alike, though several months after was a little hit and miss, so we're hoping this year's generation will turn it around and improve it for the new generation. We've had a new operating system officially arrive, and that should have given Microsoft the time to truly pull off a product made for Windows 10.
Is that what the Surface Pro 4 is: a computer and tablet designed for Windows 10 over everything?