One of the more frustrating things about being ahead of the game in technology is your accessories tend to cost more.
Take the new Apple MacBook, for instance: one of the reasons this new computer is so slim comes from the removal of every standard port you're used to, beyond that of a 3.5mm headset jack.
As such, Apple has managed to get the computer down to a super svelte maximum thickness of 13.1mm. That is positively tiny, but to do this, you can't have your standard USB or Thunderbolt ports, and Apple has had to roll with a new standard.
That "new standard" is USB Type-C, and it's one companies outside of Apple actually plan to support, making it more accepted than the single horse race that was Thunderbolt since it only really appeared on Apple computers.
Soon you'll see USB Type-C on PC laptops as well as more Mac laptops, more than just that singular MacBook model, and it might even start to pop up on phones, too.
Right now, though, it exists on merely one computer available in Australia, and since Apple makes it, you'll find Apple makes all of the accessories, a good chunk of them, anyway.
In fact, one of the downsides we cited in the review of the MacBook was that to return standard USB 3.0 to the MacBook — you know, the USB that lets you plug in USB cables, USB thumb drives, and USB-anything-else-you-can-think-of — you had to buy a $29 Apple-made cable doing this purpose, or go up to a $119 variant that brought HDMI, USB 3.0, and USB Type-C to the table which would let you access a USB drive and charge your computer simultaneously.
Yikes.
Not helping these cables was the quality, with the same sort of feeling as the Apple white earbuds: stable and durable, but made from white plastic, and hardly matching the metal body the MacBook was crafted from.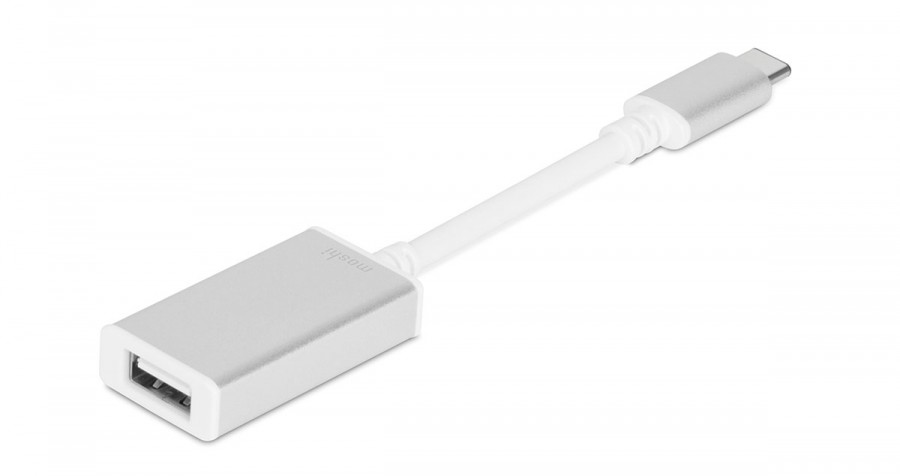 Accessory and peripheral maker Moshi has this week chimed in with a variant of its own, however, which takes the same basic $29 formula, adds 99 cents, and makes the product out of aluminium, matching the metal make of a MacBook a little better.
Unfortunately, you'll only find it in silver, so if you ponied up for either a gold or space grey MacBook, the Moshi USB-C to USB adapter won't quite look as good, but at least it will match the machine better from a material point of view.
You'll find this one in stores shortly, specifically JB HiFi as well as online stores, where it will retail for a recommended price of $29.99.