Motorola has mostly been missing in action from the 2012 smartphone release in Australia, but the company is back on track and ready to take the fight to big players like Samsung and Apple, with two new 4G devices landing in Australia for competitive prices.
Initially announced in New York a few weeks ago, the Motorola RAZR HD and RAZR M update one of the company's oldest brands with enough smarts, materials, and a focus on what customers need to really compete.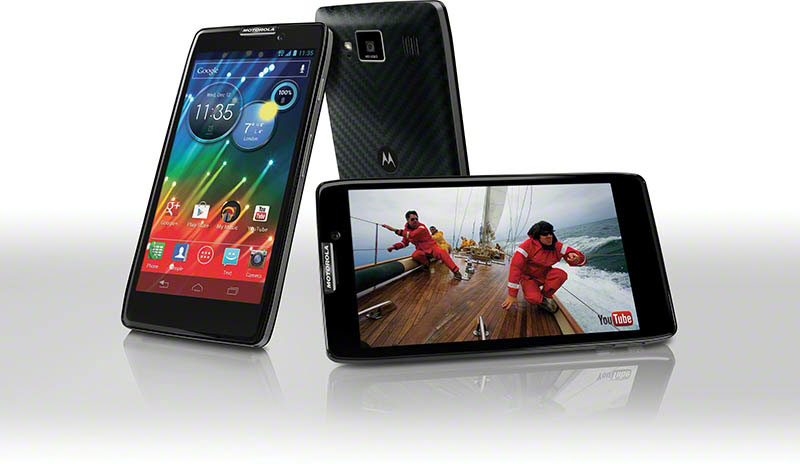 Two of the three products announced will be heading to Telstra this year, with the flagship RAZR HD hitting Telstra stores this week and offering a 4.7 inch HD Super AMOLED screen supporting 1280×720, dual-core 1.5GHz processor, 1GB RAM, 16GB internal storage with support for microSD, NFC, 4G LTE connectivity and dual-channel 3G, WiFi, Bluetooth, and an 8 megapixel camera.
Echoing last year's RAZR revival, the new HD model aims to be a device that survives your  life, and offers up Corning's scratch-resistant Gorilla Glass, more of that very sturdy kevlar fibre backing, and a splash-proof nano-coating on both the inside and outside of the phone which will better protect against the odd drips and drops of liquids.
Motorola is also promising a lot of life, with the RAZR HD featuring a built-in non-removable 2500mAh battery, a size that is 20 percent more than what the Samsung Galaxy S3 offers.
Available from Telstra now, the RAZR HD can be picked up for $720 RRP outright, or on a plan from $5 per month on a Telstra 60 Every Day Connect Plan.
Not everyone is after a big screened device though, and Motorola knows this.
As such, you'll also see the Motorola RAZR M released in November, a new smartphone sporting a 4.3 inch screen that tries to do away with the screen vezel and make the display edge to edge. The 4.3 inch here is a Super AMOLED like its RAZR HD brother, but instead offers last year's high resolution of 960×540.
Similar specs can be found inside the M, though, with a dual-core 1.5GHz processor, 1GB RAM, 8GB internal storage with microSD expansion slot, 4G LTE connectivity and dual-channel 3G, WiFi, Bluetooth, 8 megapixel camera, 2000mAh battery (just 100mAh off the Galaxy S3) and NFC support.
The RAZR M won't be out until November, where Telstra will take it for $0 on a Telstra $60 plan, or for $600 RRP without contract and outright.
Both the RAZR HD and RAZR M will arrive with Android's version 4.0, also known as Ice Cream Sandwich, with expectations that the latest version – Jelly Bean – will arrive as an update for its phones by the end of the year.
The latest version of Android brings changes to the menus, settings, and Google Now, which shows you relevant information for your area and schedule, adapting to your life and assisting where it can.