How evolved?
Well for starters, the Moto X is always listening, and takes voice interaction to as different level.
No longer do you have to press a button to bring up the voice commands, because you can simply say "OK Google Now" to kick the process into gear. Then you can say whatever you want, and hope that Google gets the message, with the phone passing the translation off to the Google Now service and then running the command.
It's a neat taste of what the future has to offer, and while it works brilliantly for some voice commands (and others less so, which we'll get to later), the Moto X's voice technology is one of those ideas we wish came in more phones, rather than the health related gimmicks we'll get tired of using quickly.
You don't have to talk to your phone, mind you, and there's a perfectly excellent interface for those of you who prefer to use the phone with hands and fingers. With that in mind, the Google launcher is pretty stock, with a shortcut dock you can easily change, a simple flowing menu system, multiple widget-ready homescreens, and a dropdown notification bar that shows you everything you need.
The performance is also not half bad across most things, even if the processor isn't that much better than some of the phones we were seeing last year.
Indeed, that Qualcomm dual-core Snapdragon S4 Pro clocked at 1.7GHz can't exactly hold a candle to the Snapdragon 800 quad-core chip being used in either the HTC One M8 (2014) or the Samsung Galaxy S5, but it still seems to work well across multiple apps.
In fact, with a fair stock version of Google's Android here, apps run without any real issues, with a hint of lag popping up only when heavy applications are trying to be loaded.
Mobile performance is also equally decent, and while the Moto X running on Telstra didn't totally blow our minds, we did see speeds between 20Mbps and 40Mbps through our tests.
There are also little touches that make the Moto X truly charming, such as "Spotlight Stories," an extra program that brings a dose of augmented reality to entertainment, and invites you to watch a lovely little animated show that's happening, in essence, all around you.
When run, each of these stories — there are only two at the moment — shows a little animated world that you're invited to see through your phone, with your world becoming that world.
It's cute, charming, and frankly the sort of thing you don't expect to be included, which is why it's so nice that Motorola has thrown it in.
Sometimes it even pops up without telling you, which can add a smile to your day.
Motorola's notifications system is also pretty cool, and finds a way to cut down on power usage by providing a simple way to read your notifications and messages without waking up the entire phone. When a notification comes in, it blinks in black and white on the screen.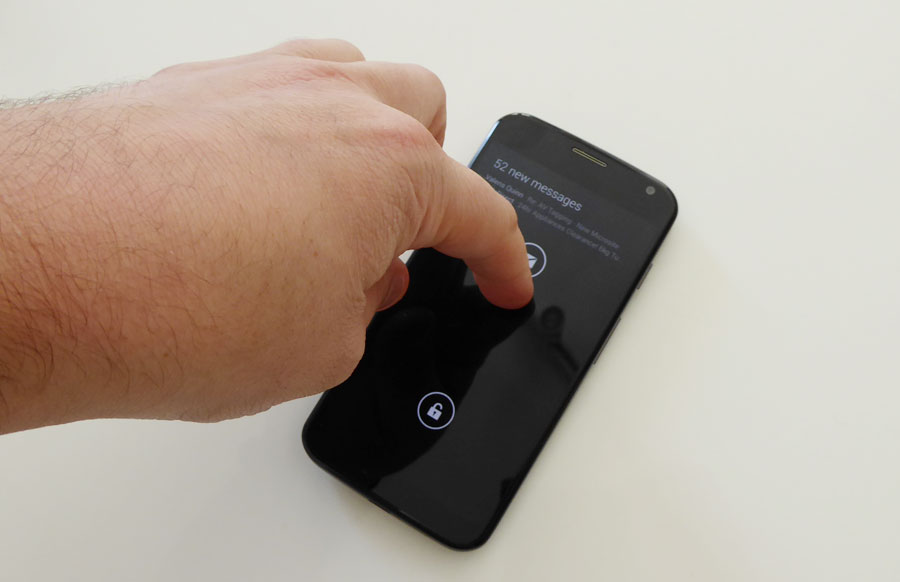 To read, you simply hold your finger down on the notification icon and the messages can be previewed at the top and bottom of the display.
In theory, this should cut down on the screen usage, which is one of the biggest killers of a smartphone battery.
Motorola Migrate is also a lovely addition, and makes the jump from another phone to this one particularly easy, even working with iPhone.
We've written about this one before and wondered if perhaps Motorola would release this Motorola-specific app to other devices, but to see it in action is pretty impressive, creating a direct network connection and grabbing your contacts, texts, photos, music and more.
It can take some time, but it eases the burden significantly of trying to get your stuff moved from point A — your old phone — to point B — that new one you just went out and bought.