And if you've ever criticised Olympus for not throwing a flash in its mirror-less interchangeable lens cameras in the OM-D range, the E-M10 will be the first in this series to get them.
We even have a great reason as to why there was a pentaprism in the design, but no flash, and that's because the pentaprism was, apparently, the perfect location for the 5-axis stabilisation sensors.
With that much technology inside, we've been told there wasn't enough room for a flash in either the E-M5 or E-M1 cameras.
But in the E-M10 being announced this week, the stabilisation technology has dropped a couple of pegs, moving from 5-axis to a 3-axis model. With this drop, the technology is smaller and can accommodate a flash sitting around it, which is why this particular camera houses a flash, and the others do not.
There's also a new lens for the kit, with a 14-42 that fits all of the elements in a slim profile that many in the photographic world refer to as a "pancake" lens.
This new lens is very small, and reminds us more of a compact camera, but is motorised, which helps Olympus keep it this small. There's also a manual focus ring at the front, which keeps the camera and lens feeling like a piece of yesteryear.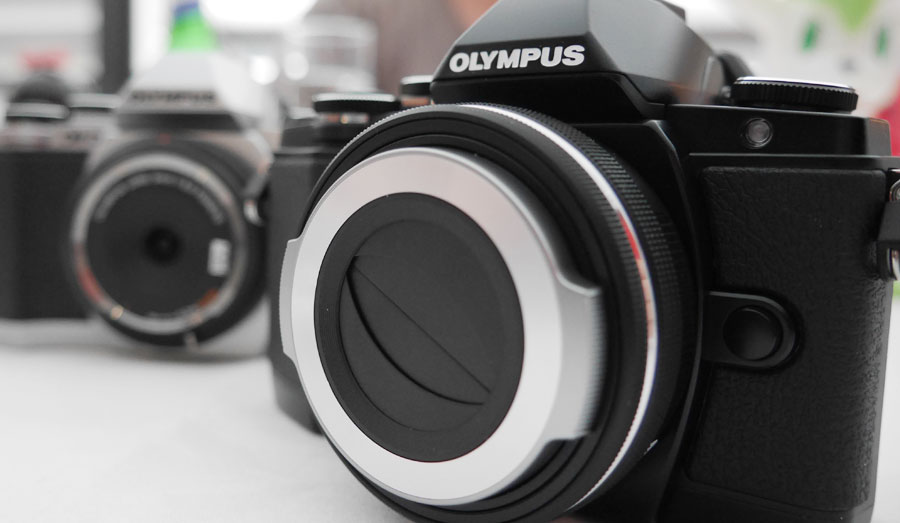 A slim lens is only part of the package, though, as a new style of lens cap can be bought separately for this.
The Automatic Opening Lens Cap has a pretty obvious name, but as you'll see from the animated picture below, makes it really easy to protect the lens by opening and closing for you when the camera turns on and off.
It'll come in at around $40, but this specialty lens cap fits over the front of the new 14-42mm and based on the retraction of the lens, will either open or close.
The 14-42mm is set to F3.5-5.6, and will be joined by a new 25mm F1.8, which is a much needed lens and essentially provides a low-light 50mm equivalent from the SLRs.
Pricing for these lenses will come in at $499 each, with black or silver available for either, while a new 9mm body cap fisheye lens (shown above and demonstrated below) will also be made available for $139, for people keen to get their feet wet with a bit of wide-angle goodness.
Meanwhile, the Olympus OM-D E-M10 will hit stores in March for a recommended retail price of $999 with a 14-42 lens, available in both black and silver.