With the new year now in full swing and everyone returning to work, it's time to find a way to bring you back to the couch and settle down with some games. Good thing that gaming companies are doing what they can to help out, releasing some top notch titles for 2012 and hinting at what looks like a good year for gaming altogether.
Coming out now…
The Australian Open hasn't been over for all that long, but many of you are pining for a bit of ball and racquet action, and that's wear EA's Grand Slam Tennis 2 comes in. Available this week for the Xbox 360 and PlayStation 3, it's the first Grand Slam Tennis title in years and features historical matches, a new racquet control system, and support for the Sony's motion-control system "Move" on the PS3.
If tennis isn't your thing, then you might want to try a game that encourages you to release the darkness inside of you. Literally. Based on the hit comic, The Darkness II is the sequel to The Darkness that first appeared on the Xbox 360 and PS3 in 2007. Available for those two consoles as well as Windows PCs, the new game lets you continue the role of a targeted man infected with a supernatural power from hell.
Old school gamers may remember Solid Snake, a character that has graced consoles since Nintendo's first video game system back in 1987. Well the creators have gone back and remade some of the older titles, bringing them to the next generation Xbox 360 and PlayStation 3 in Metal Gear Solid HD collection.
Over on the quirky side of things, we don't often talk about games on the iPad, but here's one title that's sure to raise eyebrows and give you a quizzical look or two. Eufloria HD is a new real-time strategy game available on the AppStore where you play a flower that's trying to create lots of other flowers by planting seedlings on asteroids. It's a strange premise that features relaxing sound and minimalist art, and it's already becoming a game we're quickly becoming obsessed with. It's so unusual, we've included a trailer to show you how it works.
And are we still buying video games based off running, jumping, and throwing javelin? Apparently we are, with Sega releasing Mario & Sonic at the London 2012 Olympic Games. This new Nintendo 3DS title features Mario, Luigi, Sonic, Tails, and a host of other characters from the two franchises competing in the upcoming 2012 Olympic games.
If none of that's that's your cup of tea, there's always the old faithful button masher Soul Calibur, now in it's fifth instalment in Soul Calibur 5. This one has lots of swords, characters, and a special guest appearance from Ezio, the main character from Assassin's Creed. We don't remember if there's a story to these titles, but we do recall the fourth game featuring Yoda and Darth Vader. Soul Calibur 5 will appear on the Xbox 360 and PlayStation 3.
The latest hardware…
You can't play games without good hardware, and there's certainly a lot of that coming up in the next few weeks.
First up is the Sony PS Vita, a new console that Sony's looking to launch locally in late February. We've mentioned it before, but the new portable gaming system features a 5 inch OLED capacitive touchscreen, WiFi, Bluetooth, motion control, and a quad-core processor.
The PS Vita looks like it's replacing the PlayStation Portable, although because the Vita takes a memory card, your old PSP cartridges won't work here. Available from February 23, the Sony PS Vita will fetch $350 for the WiFi-only model and $450 for the 3G and WiFi-equipped model.
Microsoft is also releasing a Star Wars special edition Xbox 360 console in April to coincide with the upcoming Kinect Star Wars title. Designed to match the Star Wars universe, the new Xbox variant paints the Xbox 360 console to look like R2-D2, the controller to look like C3PO, and offers a white Kinect accessory.
At $549, the pack also bundles in a copy of the Kinect Star Wars title, and you'll find this in stores from April 5.
In time for the new Soul Calibur title, HORI has released arcade-quality sticks for both the PlayStation 3 and Xbox 360. These massive controllers features artwork from the game, eight buttons, and USB ports to plug headsets in. We figure the old school hardcore fighting game fans will love it.
Finally, Razer is releasing accessories geared at the serious gamer. While we're still waiting for the company to release its 17-inch Blade gaming laptop into the world and the 10.1 inch Project Fiona gaming tablet, the company is talking up the Razer Onza, an Xbox 360 controller with two programmable buttons to let you do things the regular controller would never let you do. The analog sticks can also be tightened depending on how much resistance you want and the buttons have less bounce to make it easy for you to hit them faster. Because gamers want that sort of thing.
Coming up…
The worst part about this knowing what's coming up is realising just how much money we – the gamers of the world – will be spending, with some excellent games making their way out in 2012.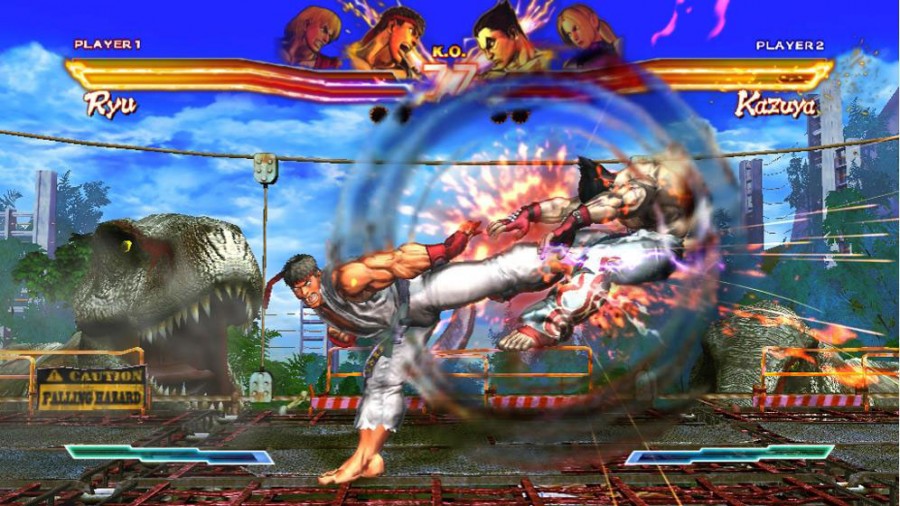 Button mashing is about to get uber-crazy with the release of Street Fighter X Tekken, a fighting game combining two of the biggest franchises on the planet. Will you play as Ryu, Ken, or King? We're told the art in this title is amazing, and we can't wait to get it, playing it in the office as productivity comes to a complete stop.
Our resident sports-gamer at GadgetGuy – we call him Bill – is more interested in the next soccer game to land, FIFA Street 4. Coming to the Xbox 360 and PlayStation 3, this soccer title takes to the streets to let you play soccer all over the world, in places like Tokyo, Paris, and London.
And unlike in real life, you won't have the police trying to stop you at every corner.
Kinect Star Wars is finally coming, with a release date of April 5 pencilled in for the first title that will try to make you feel like a real Jedi. Taking advantage of the Kinect motion gaming accessory, this Xbox 360-only title will let you fly use your hands to unleash the force, wield an on-screen lightsabre, and have a galactic dance off. We're actually not sure about that last one, although with "Star Wars-themed pop tunes" and a way to "battle Darth Vader on the dance floor", how can you go wrong?
Obviously there are lots of ways for it to go wrong.
We hope it doesn't create the same sort of zombies we're expecting out of the next horror title to come out, Resident Evil: Operation Raccoon City, a game that will once again take you to Raccoon City to kill zombies. Arriving in late-March for the Xbox 360, PlayStation 3, and Windows PC, it's sure to revive that zombie-killing bone that we're sure most gamers have.
And one of the most anticipated titles of the year has to be Mass Effect 3, a game that will plunge gamers into the customisable character of Commander Shepard, a hero that can become good or bad depending on the choices you make. If you've played either the first or second Mass Effect, aspects of the game and choices you've made will carry over into the third, making it one of the more evolving games out there. This one's heading to the Xbox 360, PlayStation 3, and Windows PC in early March, with an iOS game also on the way. Expect to lose gamers to this one for a month or so.