The biggest phablet: 7 inch Asus Fonepad reviewed

Price (RRP): $329 for 8GB; $399 for 32GB
Manufacturer: Asus
How big should a phone be? That's the question Asus is asking with the Fonepad, a product that aims to bridge the gap between phone, tablet, and really provide a proper middle ground for anyone that's unsure precisely what they want.
Features
Part phone, part tablet, the Fonepad is kind of what the name suggests: a merging of the two.
As such it has to have some pretty decent insides to do the job of two devices.
Inside the Asus Fonepad, you'll find an Intel Atom processor, a first for us as we've only seen Intel's system-on-a-chip (SoC) processor used in laptops and tablets with Windows up to this point, and certainly not a smartphone based on Android.
The Atom processor used here is one of two versions, with one model of Fonepad sporting the 1.2GHz Z2420 (available in the 8GB Fonepad, the one used in this review), while the 1.6GHz Atom Z2460 is used in the 32GB variant.
These chips are paired with 1GB RAM and Android 4.1 "Jelly Bean," working alongside either 8GB of storage or 32GB, depending on how much you need or want to spend. A microSD slot is available in the Fonepad, making it possible to expand that storage considerably.
Connection wise, it's all relatively standard fare, with 3G, Bluetooth 3.0, 802.11 b/g/n WiFi, and GPS. Unlike other phones we've checked out, there is no 4G or Near-Field Communication (NFC) in the Asus Fonepad.
There are cameras here too, though the rear camera is set to only three megapixel with no flash, while the front sits at 1.2 megapixels.
All of this sits under a 7 inch In-Plane Switching (IPS) display supporting the high-definition capable resolution of 1280×800, with ten points of touch supported on the touchscreen.
At 7 inches and with that resolution, the pixel aspect ratio is roughly 215, a little over one hundred lower than that of the iPhone 5, though with a bigger screen, the viewing distance will be different in comparison.
A microSIM can be thrown into the Fonepad, and in a first for 7 inch tablets, phone calls can even be made, with the SIM able to do more than just be used for mobile data.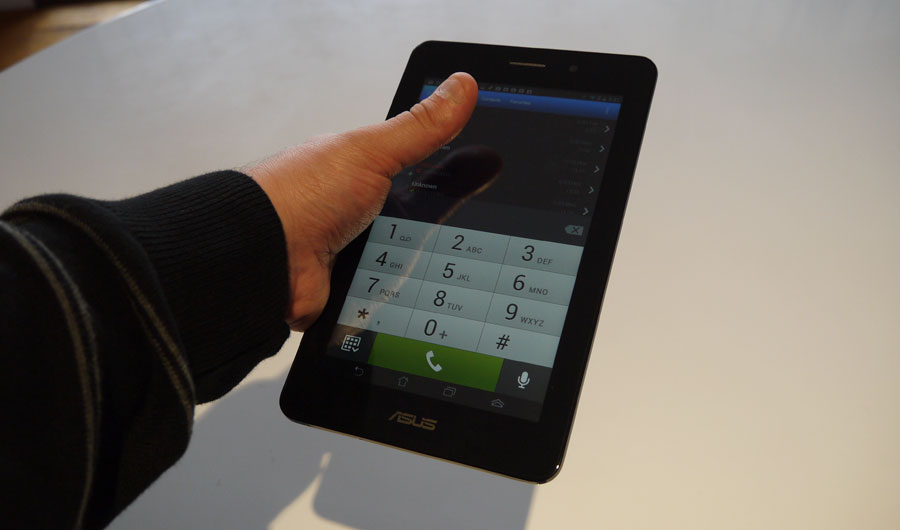 As with all phones and tablets these days, buttons are few and far between, with the soft buttons of an Android device based entirely on the screen from the Android software, and only a power button and volume rocker on the left side of the Fonepad making up the physical buttons.
Two ports can be seen at the very bottom of the device – microUSB and a 3.5mm headset jack – while the top plastic section of the phone's back can be removed, revealing the microSIM and microSD slots.
The battery is rated for 4270mAh.
Performance
Easily the biggest smartphone we've had in for review, the Asus Fonepad takes the phablet concept to new heights. Literally.
We're still not big fans of the term "phablet" – it's clunky, silly, and makes us think more of "fable" than "phones that look and feel like a tablet" – but if anything qualifies, this is certainly the product.
Bigger than both the 5.5 inch Samsung Galaxy Note 2 and 6.1 inch Huawei Ascend Mate, the 7 inch Asus Fonepad may as well be a Google Nexus 7 with an Intel chip and phone capability, because on first glance, that's what we're reminded of.
It's a pretty basic looking product, with a black frame, Asus branding, speaker up top, and a front facing camera.
The back is made from a light metal which is cool to the touch and arrives in either titanium grey (our review model had this) or champagne gold, with a top section that can be removed to reveal a microSIM and microSD slot.
In the hands, it feels just like any 7 inch device, and while the back is metallic and not the quilted rubber the Nexus 7 uses, we can see the design hasn't really moved far from that device, hardly surprising given both were made by Asus.
Turn it on and you'll find something you might not expect: the smartphone version of Google Android, with the menu dock at the bottom, drop down bar at the top, and none of the interface from Android made for tablets.
That's quite an intelligent decision, as that means this device can be used for phone calls, messaging, and will support practically every Android app normally design for phones, running them on a much bigger screen than most smartphones can muster.
Over in the performance section, the Fonepad is one unusual piece of kit.
While synthetic benchmarks don't rate this device highly, the Intel Atom inside keeps it running quite well.
The lack of scoring in the benchmarks probably comes down to the benchtesting software being developed for chips that weren't designed like the Atom, and thus it's seeing something different.
Sufficed to say, this chip has no problems running most of what we threw at it, including several multi-tasking tests.
Every so often, we would encounter a slow down when switching between apps, but these weren't often at all, and most pieces of software ran the same way they would on other devices.
Battery performance was equally impressive, with two days of life easily possible in the Asus Fonepad, and we suspect you could push it to three if you really needed to.
That's not bad for a device that can do both the job of a phone and a tablet, though given its massive size, you're less likely to carry it around as your full time phone.
And that's one of the negative points: it's just too big.
As a tablet, 7 inches is entirely logical. You hold it in your hand, you surf the internet with it, read books and magazines, watch movies, and do the regular tablet schlock you've always wanted to use a portable device for.
But hold it up to your hear and aside for having a poor grip, you will look like an idiot.
There were times when we held this to our ear where we hoped that no one would notice. Much to our surprise, no one batted an eyelid, and the only few who made fun of us were those who knew us already.
We felt silly, though, because holding a seven inch phone to your head makes you feel more self-aware, although we probably live in a time where big phones aren't that big of a deal, no pun intended.
Keeping it in your pocket is a different kind of silly altogether, and depending on the size and length of your pockets from a design point of view, sitting and walking can be very difficult.
Over the course of our review, we became accustomed to keeping our phone in our luggage, a messenger bag we carry around from place to place. Walking without a phone in your pocket when you're used to it brings a different level of being uncomfortable, and often made us feel less secure.
That's a problem with us, but filling the void of an empty pocket with a big phone just didn't work for us, though we met at least one person who had no concerns about keeping such a big phone in their pocket. Each to their own, we guess.
There is one thing that we all agree on, and it's that this isn't a one handed phone. You'll want two hands for this, except when it's held to your ear, and at that time, you're really going to be stretching those digits all across the body, which is quite well built, even though it is very wide.
Another thing we desperately want in this device is a 4G connection. There's nothing wrong with 3G, nothing at all, but as 4G begins to penetrate all sections of the market – even coming as low as $299 in some devices – we're left wanting a faster connection in the Fonepad, especially to make use of proper HD streaming video.
We can live with the 3G here, though, especially for the price. Most of our speeds were found between the 3 and 7Mbps mark, which isn't bad, and occasionally hit 10Mbps. But we'd still prefer 4G LTE. Maybe next time.
What we can't live with, though, is a smartphone camera that lacks flash.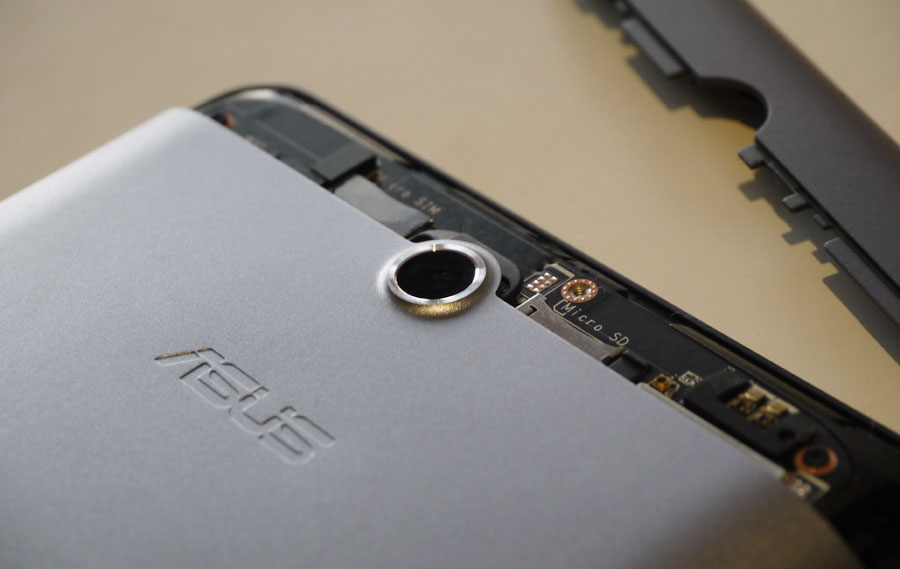 Yes, the almighty rear LED flash is missing in action on the Fonepad camera, and the rear module is only a lowly three megapixel, which is just far too low for a device purporting to be a phone.
Maybe we're snobs, but rear cameras start at five megapixel for the low-end these days, and three just feels positively two or three years ago, which is probably where this module comes from.
A better on-screen keyboard would be awesome, too. Spelling suggestions occur only when you haven't accidentally misspelled something, and at that point, they all just magically go away. Thankfully, you can replace the keyboard easily, which is a recommendation we're making for anyone who buys the Fonepad.
On a minor note, some apps may not work on the Fonepad because of its use of an Intel x86 chip, rather than the regular ARM variety we see in Android phones and tablets. We didn't find any that raised red flags, but you might.
Conclusion
Too big to be a phone for many (us included), the Fonepad is a neat device for customers unsure whether they need a big phone or just a tablet with a phone inside.
There's no doubt that there are many of you wondering why an iPad Mini and the other handheld tablets can't have a phone inside, and the Asus response is that you can, with this product able to do both things – tablet and smartphone – as well as each other.
We're not big fans of holding such a massive phone to our head, but if you need both, and want them in the same product, the Fonepad represents excellent value thanks to its low price solid battery life.
The biggest phablet: 7 inch Asus Fonepad reviewed
Price (RRP): $329 for 8GB; $399 for 32GB Manufacturer: Asus
Excellent value; Offers between two and three days of usage depending on how hard you go; Screen has great viewing angles;
No 4G; Too big to be a phone; You'll need big pants if you plan to haul this around in pockets; Camera lacks a flash and is low in megapixels;