Today's tablet: Microsoft's Surface Pro 4 reviewed

Price (RRP): $1349 (starting price); Surface Pro 4 ranges from $1349 to $3399 depending on configuration; review model was $1999;
Manufacturer: Microsoft
A year has passed between Microsoft's tablet-turned-laptop, and for the fourth generation, it thinks it has nailed the bugs. Is this the best tablet out there?
Features
If you're keen for a new laptop but can't decide on whether it should be a laptop or a tablet, you have quite a few options available to you in the form of the hybrid and convertible machines.
Microsoft's Surface isn't quite in the same category, but has afforded Microsoft the opportunity to flex its muscle and design a computer in a way that matches the momentum of its operating system, which seems to be forward.
In this fourth iteration of the Surface Pro 4, we're seeing mostly incremental changed with a few nods to design, though we'll get to those shortly.
First there's what's on the inside, because that counts, and you'll find a 6th generation Intel Core m3, i5, or i7 processor here, with Intel's latest and greatest running on the "Skylake" processors, paired with either 4, 8, or 16GB RAM depending on the version you end up spending on.
Storage on the Surface Pro 4 is set to 128GB, 256GB, or 512GB, though some of this will be eaten into from the beginning thanks to Microsoft's Windows 10 Pro being installed on the new Surface computer out of the box.
Tablets and computers generally offer cameras, and the Pro 4 is no different in this regard, offering an 8 megapixel rear autofocus camera with 1080p Full HD video recording on the back, while the front-facing camera is set to 5 megapixels with an Intel RealSense 3D depth scanner sitting alongside.

Connections on this computer are pretty standard for a flagship computer, offering 802.11ac WiFi that is also compatible with 802.11a/b/g/n, while Bluetooth 4.0 makes up the other side of the wireless offering.
Wired connections are still included, too, part of why the Surface Pro 4 still appears thick, though the 8.45mm thickness is hardly a big deal, and neither is the 786 grams of weight.
Still, for wired connections, you'll find a full-size USB 3.0 port, a Mini DisplayPort, the typical 3.5mm headset jack, and a microSD card lot for expanding the storage, while Microsoft's Surface magnetic cover port is also here, as is the specific Surface Connect magnetic proprietary power plug.
A hinge also sits on the back connecting the Surface Pro 4 to its stand, with the hinge able to stand the Surface up and lie it down.
Covering all of this is the screen, which is a 12.3 inch 3:2 aspect ratio display offering 10 points of multi-touch and a resolution of 2736×1824. That resolution is enough to provide around 267 pixels per inch of clarity, while the screen is protected with a layer of Corning's scratch-resistant Gorilla Glass 4.
A digital pen stylus is also included in the box, providing a wireless method of tracking your input, complete with a magnetic edge to mount it to the side of the Surface Pro 4.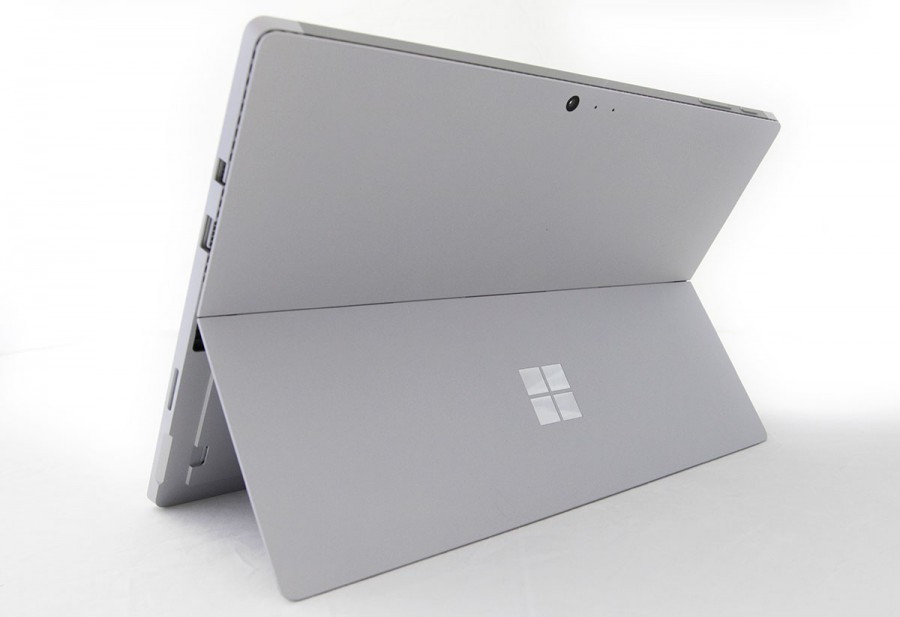 Finally, you'll find a few buttons on the casing, with a power button up top next to a volume rocker, with the ports located all around the body, providing the 3.5mm headset on the left edge, cover port at the bottom, and all remaining ports — USB, Mini Display, and Surface Charge — on the right edge.
Microsoft's Type Cover keyboard is different in this generation, also, but is an optional purchase for $199.95 (at the time of publishing).
Performance
Has it really been that long between Surfaces?
It might not feel like it, but Microsoft's Surface Pro 3 is now a year old, and it's time for a fourth-generation product. In that time, we've seen a jump from the fourth-generation Intel Core processors (Haswell) to the new sixth-generation models (Skylake), and while there are some incremental updates, some other bits and pieces have changed under the hood.
Let's get stuck into design first, though, because not a lot has been changed there. For Surface Pro 4, Microsoft took the point of view of "if it ain't broke, don't fix it", powering through the improvements by upgrading the screw, the processing, and making the design a little thinner, but generally leaving the formula the same.
And that makes sense, because last year's Surface was a huge hit with customers and reviewers alike, though several months after was a little hit and miss, so we're hoping this year's generation will turn it around and improve it for the new generation. We've had a new operating system officially arrive, and that should have given Microsoft the time to truly pull off a product made for Windows 10.
Is that what the Surface Pro 4 is: a computer and tablet designed for Windows 10 over everything?
Out of the box and into our hands, and there's no mistaking the computer, because this is clearly a Surface.
There's the unmistakeable slight skew of the Surface rectangular frame, the 3:2 aspect ratio from last time continued emulating that of paper, the "VaporMg" magnesium casing Microsoft no longer likes to talk up but still uses, and even that hinge from last generation has stuck around, one of the excellent inclusions that means you can make the tablet stand up anywhere, or even lie close to flat.
While the design is still the same basic rectangle, Microsoft has managed to put the tablet on a slight diet, dropping the thickness from 9.1mm down to 8.5mm, and getting 24 grams off the weight. It's not a huge dent, but in a world where size denotes quality and development level, it's a move Microsoft had to do.
Some other changes are quite noticeable from the design, too, and one is the omission of the Windows logo on the frame, a move which appears to add a little size to the screen, which is now not just a 12 inch display, but a 12.3 inch screen utilizing "PixelSense" technology.
Yes, that's a buzzword, or a buzz-name, anyway, but it also stands for something more than a new way of saying Retina, because for Microsoft, PixelSense demonstrates a new set of technology with a higher contrast ratio, wider colour gamut supporting the full sRGB range, and a minimal distance between the display and the Corning Gorilla Glass 4 protecting the display, with that last part measuring 0.4mm, something Microsoft says is the thinnest ever used on a device.
PixelSense isn't just a screen, as there's a custom processor, the G5, which can work with the display to figure out if it's a pen or a hand touching it and accommodate the control based on that input.
In action, we found the stylus was a little quicker than our fingers, though unless you're a stickler for total punctuality, you'd probably never even realise it.
Back to the screen, though, because the clarity is awe-inspiring, with the 12.3 inch display using a 2736×1824 display. That's a larger resolution than Apple has managed in its MacBook Pro 13 with Retina, and as such offers more 40 more pixels per inch in detail than the slightly bigger MacBook.
You might think that you won't notice it, but the detail is obvious to us, with clearer icons, less pixel-peeping, and an almost pristine look to it.
Seriously, we'll take screens like this from now on, because it is just utterly lovely. Everything looks better on the Surface Pro 4's display. More like this, please.
The sound is also better, and while the previous generation features front-facing side speakers, Microsoft appears to have tuned these, as they're now just so much clearer, something you'll pick up when Microsoft plays its default Windows sounds. We don't normally like them, but again, they're just so bright and bubbly that we found ourselves not being annoyed by their presence anymore.
Performance is the next area to improve, and in our review model, the Core i5 rarely felt like it was missing a beat, offering solid enough processing power to let us do the regular productivity and workday activities, but also a little bit more, getting in some image processing in Photoshop and sound-editing work via Audition.
That's the thing about a Surface tablet, because this ain't your ordinary iPad, Android, or content consumption device. Rather, this is built to make and create, and with the underlying chip and RAM inside set to 8GB in our review model, you can bet we got straight into that.
Few hiccups could be found here, and for once, the operating system design matched the hardware design, with the excellence that is Windows 10 and its combination of mouse and finger-based menus allowing us to get around the operating system clearly and easily. We prefer working outside of tablet mode in the not quite named "desktop mode", but Surface handles each swimmingly.
That generally sits well with Microsoft's "ain't broke, don't fix" design, because last year's performed very well, and this year's appears to, also.
There's even the inclusion of some neato tech from Intel thanks to the sixth-generation "RealSense" camera and 3D depth sensor technology, and this will come into play with how you login.
In Australia, we're not lucky enough to see a fingerprint sensor yet, though we're told this may be available later on. Instead, though, you can login with the pretty cool "Windows Hello" feature, which became our default way of getting into the Surface Pro 4.
Simply put, Hello relies on an Intel RealSense setup which consists of the camera and a Kinect-like 3D depth sensor to not just take a photo of your head, but also work out its size and shape in a 3D space. When this comes together, it acts as a virtual fingerprint, even if it's your head that's being scanned, and from our tests, it works a good 80 to 90 percent of the time, which is enough for us.
With Hello engaged, you simply look at the screen and it unlocks. Mostly, anyway, because some dark environments and odd angles (if you're looking down at your camera in a way too different from how you captured it) throw it off. Fortunately, you can login using the traditional password or PIN if you prefer, which helps when Hello fails every so often.
Overall, though, it's a pretty solid performance, and part of this is thanks to the accessories.
Accessories are part and parcel of the Microsoft Surface Pro 4 experience, and while one comes with the Pro 4, another does not and yet should.
In the box, you'll find a new generation of the pen stylus, offering a slight redesign that makes an edge of the pen feel more like a pencil, and this edge even sports a long magnet that now makes the pen properly adhere to the side of the Surface Pro 4.
In fact, this update — making the pen stick — is one of our favourite changes, because finally, Microsoft has gotten the message that some people would like to have their Surface hold the pen and charge at the same time, and has thus separated the areas. Previously, this could not be done due to the magnetic edge being on the same side as the power adaptor, but now your pen goes on the left and your power adaptor stays on the right. As a lefty, this reviewer is chuffed!
Design of the pen hasn't changed drastically, but the performance, as noted before, does feel slicker, and Microsoft even brings in tips for the pen, too, utilising as much as 1024 levels of pressure, which will make the difference for artists reliant on this sort of accuracy and control.
And there's even a rubber now on the back, which is an interesting inclusion if you need it, with supported apps allowing you to erase away your work simply by flipping the pencil and scrubbing it away, much like you would with a real pencil.
The other accessory that has changed is the keyboard, but unfortunately, Microsoft still makes this an optional $199.95 purchase. You'll want this, mind you, so add this into the cost of any Microsoft Surface Pro 4 purchase, because while the Pro 4 is a computer in its own right, a decent keyboard is what makes it a usable one, and this is definitely a decent keyboard.
We're a few generations into the Surface line-up, but we're glad to see Microsoft has given up on the whole membrane-based "touch keyboard" concept, because it wasn't really going anywhere with it, and has instead focused all its energy on making a super thin and easy to use button-based keyboard.
Over the years, the TypeCover keyboards have been getting better, but in the most recent iteration (Surface Pro 4 Type Cover), we feel like we have a keyboard with which we can call home.
Finally, the keys are spaced apart with gutter and margin, as Microsoft moves its super thin fabric-encased keyboards to the island-key design pretty much every keyboard arrives in these days, so that's positive, and finally the trackpad feels like it matches, now including a lovely and slick glass button with the whole thing supporting multi-touch gestures, so that's good too.
But perhaps what's best about this unit is how it feels, and it feels simply stellar.
We write on a lot of keyboards, with our computer and tablet reviews written on the devices when they can be, and sometimes we go a lot further and even write books on them, too, and after writing a good 20,000 words on the Surface Pro 4 in a little under two weeks, we can say with certainty that this a lovely set of keys, with just enough travel to feel like you're making the strokes count, an individual backlight for each key with four stages of backlighting, and a comfortable palm grip that feels more like a firm pillow than a cold hard block.
Microsoft Surface Pro keyboards don't have the greatest of track records with this reviewer, mind you, so we'll see how this goes, but the Pro 4 keyboard is already off to a good start, and being connected is part of what makes this good.
While some tablet keyboard cases rely on Bluetooth, the physical magnetic connection between the Pro 4 and its Type Cover case help it in the long run, not just because you can use it on every flight without the fear that flight mode will disable its functionality, but because it helps to make your words appear on the screen just that much faster.
Battery life hasn't changed much either, and while the Surface Pro 4 feels like it would technically be "ultrabook-class" if people still used that term, its battery performance isn't in the 6 to 12 hours that some ultra-light machines go for.
Rather, we're getting closer to 5 hours all up, sometimes a little more, dependent on what we're doing. Most of our work tests have had us writing (we write a lot) or working in Adobe Photoshop and Audition, though we've also spent a fair amount of time browsing the web in Google Chrome and even Microsoft's Edge browser. When we stick mostly to WiFi, writing, and web surfing, we've been able to stretch the time to around 6 hours of life, but once you throw something a little more performance intensive in there, you see the time drop, with Photoshop able to push the life down to 3 to 4.
That's not horrific life, but it's not absolutely amazing either, though it does give us a gentle nudge that perhaps Microsoft's Surface Book (or another laptop with a larger battery) might be a better option for our usage scenario.
We are a little critical over the "if it ain't broke" philosophy in some areas, though, because as good as the Pro 4 is, some of these areas did need fixing, and one of these is the paint job on the back of the magnesium body which picked up scratches all too easily last year and, wouldn't you know it, still picks up scratches too easily.
There's not much in the GadgetGuy reviewer backpack, but apparently there was enough to cause a couple of scratches only a few hours after grabbing the Surface Pro 4 out of the box, which is just maddening. In comparison, we've been hauling a 13 inch aluminium MacBook Pro around for the better part of six months and it hasn't picked up a single scratch.
That's the thing about high quality metal alloys: they make for super durable and fairly light computers, but if you don't treat them with the right coating, they can still look as cheap as plastic, and unless you treat the back of the Surface Pro 4 with kid gloves, it may just end up looking like that.

Microsoft should also have changed over one of its ports, and while its Mini DisplayPort gets a viewing here, left over from the last two versions, there should probably have been a changing of the guard.
What to, you ask? Why Type C USB, of course!
And here's why: Type C USB is already being called the next generation standard port, and while not many laptops support it yet, paired with the right chipset, it can provide faster speeds than USB 3.0, either using the slightly faster USB 3.1 or the ridiculously faster Thunderbolt 3. In truth, Microsoft could have probably found a way to get either of those in the Pro 4, and given how its upcoming Windows Phones both feature USB Type C power and data ports at the bottom in lieu of the current standard of microUSB, it's surprising to say the least the Microsoft didn't follow suit here.
Used as Thunderbolt, the Type C USB port could have easily replaced Mini DisplayPort since they kind of do the same thing, and it could have been used for data, too, which the Mini DisplayPort on the Surface Pro 4 cannot.
That's why the ports bother us a bit on the Pro 4: Microsoft wants the Surface Pro 4 to be a vision of the future, of what a tablet can be like when it is designed to be perfectly matched to its operating system, which it is for the most part.
When you pick up the Surface Pro 4 and start messing around with it, you'll find it's the first time Windows 10 really and properly shines. It's not just an operating system that does what Windows 8 should have done, and not expect us all to live in a touchscreen world. Rather, this focused and fine-tuned, and it's a vision of both a mouse-dependent and touch-possible Windows for people who love Windows.
This reviewers loves Windows, and is delighted to see hardware finally tweaked to take advantage of everything that is Windows, but the problem with Surface Pro 4 is that it feels like it is the "everything that is Windows" solely for today and not so much for tomorrow.
In a world where computers change every minute, this seems a little short sighted, and while Microsoft could have reduced the thickness of the tablet by ditching the full-size USB port, this isn't as big a deal to us. It's thin enough for a laptop, even if it's not thin enough for a tablet.
But no futuristic USB Type C port for high-speed data, 4K video output, and even the possibility of charging a Type C phone from late this year or next? That gets a sigh.
Finally, there are some catches to the Pro 4 worth noting, however, as these may occur with you, and they're your typical set of laptop bugs, though some of them seem to push more towards Surface than others.
Like not turning on at all.
This is definitely a Surface-specific bug we've come across before in Pro 2, Pro 3, and now Pro 4 — tada, it's a trio of troubles! — and it basically consists of the screen not powering on when you're trying to get the laptop up from sleep.
Such a helpful bug this one, we've seen it before, so we know you basically have to hold the power button for 30 seconds (count them) to kill all power from the machine, similar to the old PC trick of holding the power button for five whole seconds which would do the same on any laptop or desktop, and still does, for the most part.
After you've done this, let go of the power button, wait a second or two, and either press the power button quickly again to turn it on and see Surface come to life in its boot menu (which you can press restart from) or, alternatively, press that power button while holding the volume up for 15 seconds before letting go, as per Microsoft's support website.
It's frustrating to see this sort of bug on such a new machine, and again, it's such a Microsoft Surface-specific bug that it can really grind at you, especially if you just went out and bought the new machine. Still, there's a solution, and at least you can know something about it before it eventually happens. Here's hoping it doesn't eventually happen to you.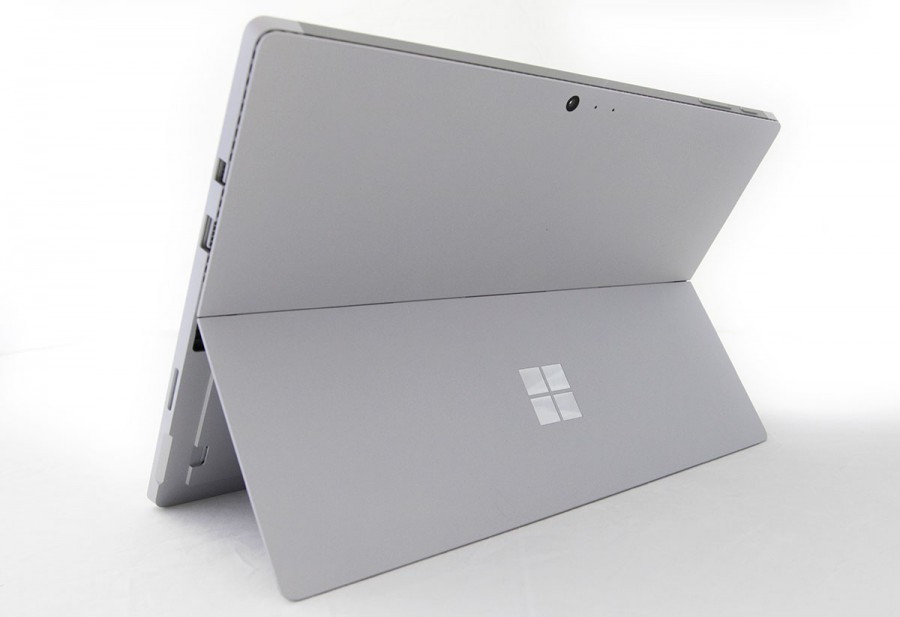 Conclusion
When it comes to Windows tablets, Microsoft's Surface Pro 4 easily leads the pack, and while the changes might not appear to be much, you have to look beneath the surface (sorry!) to see what Microsoft is doing.
Frankly, there isn't one thing in the Pro 4 that makes it excellent. It's not, for instance, the new processor, nor is it the tightening of the design, the improved pen, or the changes to the keyboard. It's not even the better screen, though it is a lot better, and we wish more displays were like this.
Rather, it's everything.
What makes the Surface Pro 4 brilliant is that Microsoft has made the entire tablet come together in a brilliant little package, warts and all.
While we wish the bugs would be squashed sooner rather than later and the keyboard were thrown in for the price, as well as Microsoft approving new ports to replace these older standards, the Surface Pro 4 is a brilliant little computer for today that could function just as well for tomorrow.
When version five rocks up, we suspect Microsoft will have totally nailed it, though, so if you want the best of the best, you may want to wait until then. If you can't wait, no worries, because the Surface Pro 4 is good to go today.
Today's tablet: Microsoft's Surface Pro 4 reviewed
Price (RRP): $1349 (starting price); Surface Pro 4 ranges from $1349 to $3399 depending on configuration; review model was $1999; Manufacturer: Microsoft
Fantastically sharp screen; Removal of Microsoft Windows logo feels like it makes the screen bigger; Excellent sound; Performance is top notch; Password-less login works by identifying your face, and is a treat; Magnetic pen attachment now sits on the left side of the tablet no longer requiring you to choose holding it or charging the tablet; Optional TypeCover keyboard feels better designed, complete with a glass track multi-touch trackpad;
Paint job on the back is very easily scratched; No Type C USB port; Magnet is stronger on the pen, but it still falls off all too easily; Still the occasional black screen of death where the machine won't return from sleep requiring you to go online;